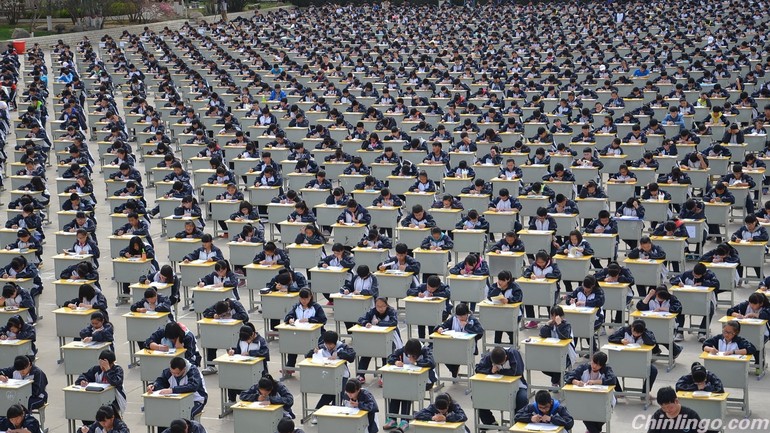 This evening the BBC will carry forward the great myth that Chinese education is "better" than Britain's. A documentary comparing Chinese and British teachers in a Hampshire school will show Chinese teachers appalled at how disruptive, challenging and idle British pupils could be. That, by implication, is why Chinese children do better, far better, in international tests.
4日晚英国广播公司(BBC)继续宣传中国教育比英国教育"更好"的伟大神话。这部对比汉普郡一所学校里中英两国教师的纪录片将展示中国教师震惊于英国孩子能捣乱、挑衅和懒散到什么程度。弦外之音是,这就是为什么中国孩子在国际考试中的成绩更好,而且好得多。
All this tells us about is tests. Only exam salesmen and Whitehall officials believe this has anything to do with education. The OECD/Pisa global league tables in maths have long been discredited, most recently by the Chinese educationist, Yong Zhao. It turns out they compared results for all British and American 15-year-olds with a few highly corrupt "testing factories" in China's richest city, Shanghai, and other urban communities in Hong Kong and Singapore. Like was in no way compared with like.
这一切要说明的就是考试。只有考试推销员和白厅政府官员相信这和教育相关。经合组织/国际学生评估计划的全球数学排行榜长期以来饱受置疑,最近提出质疑的是中国教育家赵勇。事实证明,他们是将全英国和美国15岁孩子的成绩与中国内地最富有城市上海的几个高度腐败的"考试工厂"以及香港和新加坡的城市社区作对比。这根本没有可比性。
In addition, the most publicised scores related to one subject, maths, for the obvious reason that maths could most easily be rote-learned and recorded. The fiasco was a classic of making what is measurable important, rather than what might be important measurable. Yet the BBC and the government still churn out the Pisa figures.
另外,媒体报道最多的分数都与一个学科相关,那就是数学,显而易见的原因是数学最易于靠死记硬背学到而且便于打分。这一惨败是典型的把可测量的变成重要的,而不是把可能重要的变成可测量的。但是英国广播公司和政府依然大量公布国际学生评估计划数据。
We have no knowledge of how well these children do later, the extent to which they lead busier, richer, happier, safer, more fulfilled lives. The scorers are not paid to care. What we do know is that America and Britain, after half a century of consistent poor performance in these league tables, have led the world in academic research, scientific patents, invention, innovation, prosperity, creativity, power and, to those for whom it matters, democratic vitality. It seems plain to me that Chinese education, like Russian education, is good at making communist automatons. Why does that so appeal to British ministers?
大家并不知道这些孩子后来表现如何,不知道他们在多大程度上活得更繁忙、更富裕、更开心、更安全和更充实。记分员根本不会关心去关心这些。大家知道的是,美国和英国虽然在这些排行榜上的糟糕表现持续了半个世纪,但在学术研究、科学专利、发明、创新、繁荣、创造力、实力以及——对切身相关的那些人来说——民主活力方面都走在世界前列。在人们看来很清楚的是,中国教育正如俄罗斯教育一样,善于制造思想僵化、只会机械行事的共产主义者。而它为什么对英国的大臣们如此有吸引力?
The irony is that, as Zhao writes, the Chinese are rushing in the opposite direction. They want to know why their pupils may be good at rote learning yet seem so enervated thereafter. Chinese parents crave the British private schools being set up across China. Chinese students cram into US and British universities. They can see that a dragooned, mechanically competitive schooling is no path to creativity, challenge or happiness in the long run in a dynamic economy and a critical open society.
正如赵勇所写,具有讽刺意义的是,中国人正涌向相反方向。他们想知道为什么他们的学生或许很擅长死记硬背但后劲不足。中国家长渴望在中国建立英式私立学校。中国学生塞满了美国和英国大学。他们可以看清,在充满活力的经济和极其开放的社会里,被迫的、机械竞争的教育从长远来看无法带来创造力、挑战或幸福。
Basing education on testing is as mindless today as when Dickens ridiculed it in Hard Times. Yet its appeal to British governments – from the days of Lord Baker to those of Michael Gove – is relentless. The reason is simple: it holds the easiest means of central control. It is the dictatorship of number. The Chinese are realising this, but not the British.
将教育基于考试之上的做法在今天一如狄更斯在《艰难时世》里所嘲讽的年代一样愚蠢。但是,从贝克勋爵时代到迈克尔·戈夫时代,历届英国政府都被它吸引。原因很简单:它握有最简单的中央控制手段。它是数字的独裁。中国人正意识到这一点,而英国人却没有。