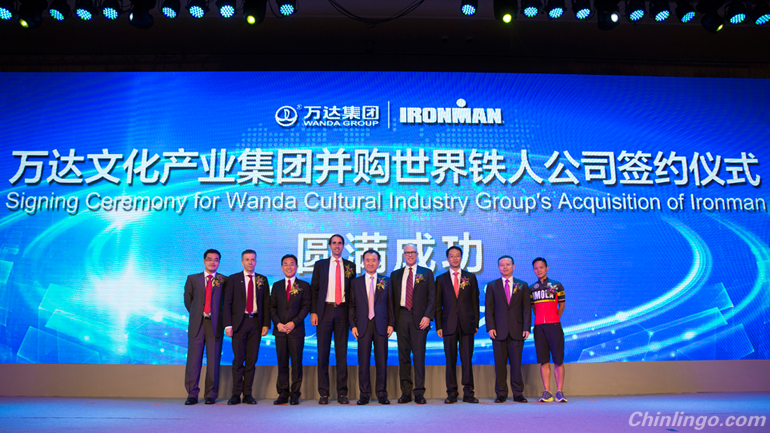 Dalian Wanda Group, the real estate and entertainment flagship of Asia's richest man Wang Jianlin, said today it will buy 100% of World Triathlon Corporation (WTC) for $650 million in its latest push into the global sports industry.
由亚洲首富王健林执掌的房地产和娱乐旗舰企业大连万达集团在周四表示,它将以6.5亿美元的价格收购世界铁人公司全部股权,以作为其挺进全球体育产业的最新行动。
Wanda's purchase of Florida-headquartered WTC, the world's largest operator of Ironman events, follows recent investments in Infront Sports & Media and Atletico Madrid.
在万达收购总部位于佛罗里达州的世界铁人三项赛最大运营方世界铁人公司之前,该公司先后收购了士盈方体育传媒集团和西班牙足球俱乐部马德里竞技。
Ironman is a triathlon completed within a strict time limit, and split into different levels according to age and ability. In the U.S. alone, over 480,000 people participate in triathlon events, with over 4,400 separate races held each year, Wanda said.
万达公司表示,铁人三项是奥运会正式比赛项目,并根据年龄和水平分为不同等级。仅美国就有超过48万人参与其中,每年举行的独立比赛超过4,400场。
WTC holds a 91% global market share in long-distance triathlon events. "China has millions of cyclists and tens of millions of runners, so the potential for triathlon participation is huge," Wanda's statement said.
世界铁人公司在全球长距离铁人三项运动的市场占有率为91%。万达发表声明表示,"中国拥有几百万自行车爱好者和数千万长跑爱好者,所以,铁人三项将面临巨大的发展潜力。"
Wanda believes that acquisition will expand the industry scale of Wanda sports. At present, major global sports industries are largely situated in Europe and America, and acquisitions are the only way for most companies to scale up efficiently, the statement said.
万达认为,此次并购将有助于万达的体育产业版图不断扩大。该公司在声明中表示,目前全球主要体育产业大部分位于欧洲和美国,而合并是大多数公司有效扩大规模的唯一途径。
After the WTC acquisition, Wanda said it will become the largest sports company in the world in terms of scale. It didn't quantify that claim. Wanda's sports businesses today include event organizing, athlete representation, event marketing and rebroadcasting.
在完成对世界铁人公司的收购之后,万达表示,它将成为全球规模最大的体育公司。不过,它并没有就这一目标提供具体的量化指标。万达目前的体育业务覆盖,体育赛事举办、运动员经纪、赛事营销和赛事转播。
Because triathlons are longer and more complicated than marathons, the economic benefits of hosting them are greater to host cities. "Statistics show that for a small triathlon with 1,000 participants, there are on average three friends or family members that come to support each participant. People are likely to stay for around four days and three nights, which translates into 5,000 hotel rooms being used in the host city," said Wanda, which also operates a hotel chain. "A triathlon brand owned by Wanda will become a much sought after event for Chinese cities."
相比马拉松,铁人三项要更费时和更复杂,所以举办该赛事给主办城市创造的经济效益会更大。"统计数据表明,对于一场千人参赛的小规模铁人三项比赛,每位运动员平均邀请三名朋友或者家人前来助阵,在赛事举办地的逗留时间平均为4天3晚,这意味着主办城市要提供5,000套酒店客房。由万达所有的铁人三项品牌将成为中国各大城市热力追捧的体育赛事。"