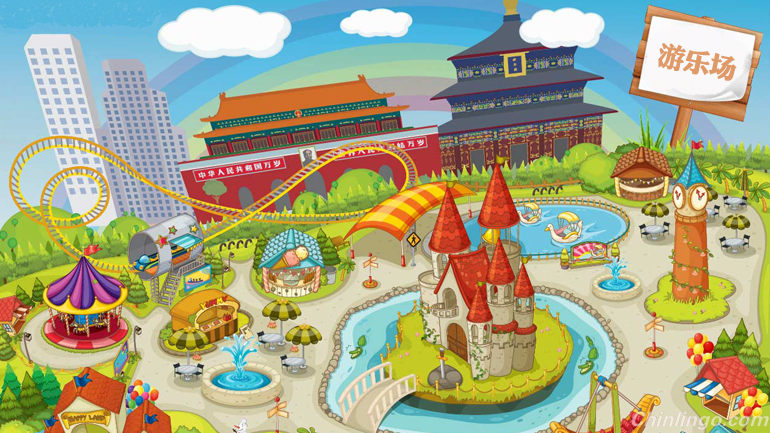 China's amusement park market, including theme parks and water parks, has been expanding at an 11% rate in revenue over the past five years. The sector is expected to see $3.3 billion revenue in 2015 and $4.8 billion in 2020. With late starters such as Disney and China's real estate juggernaut Wanda vying for a space, the market leader Overseas Chinese Town – which once made it into Forbes Asia's "Best Under A Billion" list – sure is facing challenge.
在过去五年里,包括主题公园和水上公园在内的中国游乐场市场的营收一直在以11%的速度增长。该领域营收预计将在2015年和2020年分别达到33亿美元和48亿美元。随着迪士尼和中国的房地产巨头万达等起步较晚的公司都来争夺一席之地,该市场领导者华侨城集团——曾经跻身福布斯亚洲"中小上市企业200强"(Best Under A Billion,指年营收10亿美元以下)——无疑将面临挑战。
Shenzhen-headquartered OCT claims a 10.6% share in the marketplace; none of its followers has more than 2%. The company opened China's first theme park in 1989 featuring miniature replicas of China's landmarks, and has become the world's fourth largest theme park group with a 28 million visitor count in 2014, a fifth of top operator Disney's attendance.
总部位于深圳的华侨城在该市场拥有10.6%的份额;但它的竞争对手无一能超过2%的市场份额。1989年,该公司创建了中国第一家主题公园,特色就是一座座仿照中国各个地标而建的微缩建筑,而该公司目前已成为全球第四大主题公园集团,2014年接待游客2800万次,相当于行业老大迪士尼的五分之一。
Today 850 parks has opened across China and Disney is adding to that number – it schedules to open a Shanghai park in 2016, its second China location after Hong Kong, in conjunction with investment firm Shanghai Shendi Group with $5.5 billion earmarked. Wanda debuted with a movie-themed park in Wuhan last year, and plans to pump $32 billion into a dozen more.
如今,中国各地已建有850座游乐园,而迪士尼也将加入其中——美国迪士尼和上海申迪集团合作开发的上海迪士尼主题公园预计将在2016年开业,这是中国继香港之后的第二座迪士尼主题乐园,投资总额达55亿美元。去年,武汉万达电影主题乐园开业,而万达计划投资320亿美元,再建十几个电影主题乐园。
Smaller-scale companies such as Hangzhou-based Songcheng have also been rising rapidly. Last year Songcheng's parks had a 104% jump in attendance to 14.6 million, outperforming billionaire Liang Guangwei's Fantawild, the world's ninth largest operator a year earlier. Songcheng's Song Dynasty-themed flagship park in Hangzhou attracted 5.8 million visits in 2014, making it the most popular one in mainland China.
此外,杭州宋城集团等规模较小的主题公园运营商也在迅速崛起。去年,宋城公园接待游客1460万人次,同比猛增104%,超过亿万富豪梁光伟执掌的华强文化科技集团,后者一年前是全球第九大主题公园运营商。2014年,宋城集团在杭州建造的宋朝主题旗舰公园吸引了580万人次参观,成为中国大陆人气最高的主题公园。
Domestic capital currently dominates the sector, accounting for 70%, but increasing overseas operators are tapping the momentum in joint forces with local partners. Besides Disney, U.S.'s Universal Studios and Beijing Tourism Group is pouring $3.3 billion into a new park in Beijing; and Australia's Village Roadshow is raising $500 million with financial conglomerate CITIC for a theme park in Chengdu.
虽然目前中国国内资本在该产业中占据主导地位(占到七成),不过,越来越多的海外运营商正通过与当地合作伙伴联手的形式利用这一趋势。除迪士尼外,美国的环球电影公司正与北京首旅集团合作,斥资33亿美元在北京新建一座公园;澳大利亚的威秀影业和中国投资巨头中信集团筹资5亿美元,在成都打造一座主题公园。