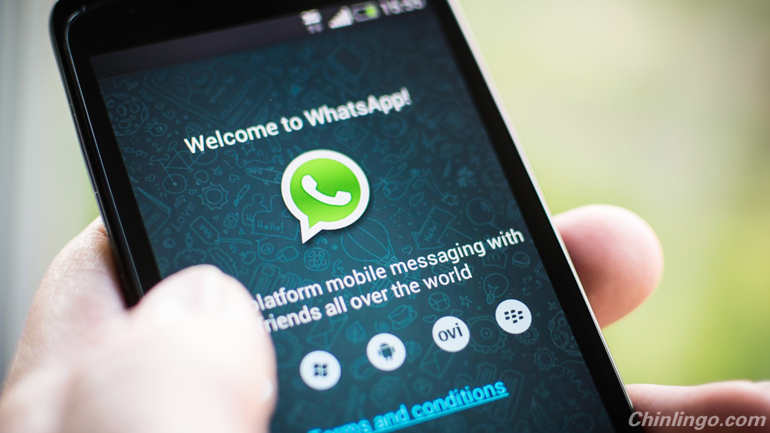 Perhaps the biggest challenge WhatsApp is facing now is from China's very own voice and messaging app WeChat.
移动聊天工具WhatsApp受到中国开发软件微信的强烈冲击,并且成为其最大挑战。
It is now becoming a worldwide phenomenon that has got wide popularity as well as many new active registered users every day. In fact, WeChat has just created a milestone by crossing a record number of 50 million registered users in just a short span of time!
微信已经成为最为流行的聊天工具之一并且每天仍然不断有新用户注册。最开始微信就以短时间内达到5000万的注册用户的佳绩创造了神话。
According to a recent report, it has been estimated that WeChat has garnered around 396 million users every month, thus showing a significant progress of the app in terms of user popularity and performance. As a native of China, WeChat is also popularly known as Weixin and therefore, it is no surprise that this app is undoubtedly the most powerful and rising mobile messaging application not only in China, but also in other parts of the world.
最近的一个报道显示,微信的月活跃用户约有3.96亿,这表现出了微信在用户中的受欢迎程度。作为中国本土研发的一款APP,微信不仅仅在中国范围内享有较高的知名度,在国外同样是最有流行,上升最快的聊天软件之一。
The most noticeable aspect about WeChat is its unwavering marketing strategy. In every country, they ingeniously roped in some of the most famous celebrities to promote their app which gives a boost to the popularity of WeChat. As a matter of fact, WeChat is giving tough competition to other popular messaging apps such as WhatsApp, Viber and Chaton when it comes to the mobile messaging app sector.
微信最为杰出的一方面是坚定的市场营销策略,在每一个国家,微信团队都会拉拢当地最有影响力的名人来推销微信这款APP,这也是微信如此盛行的原因。微信的兴起以及流行对于其它如WhatsApp,Viber以及ChatOn等移动聊天工具带来了巨大的竞争。
Like other voice calling apps, WeChat also comes up with free voice calling, instant messaging and HD video calling features that not only make it popular, but also useful to many users. However, there are some people who find it difficult to use this app's interface in the first glance. Once you set your contact list, you can start chatting with your friends and family members. WeChat is available for various mobile platforms and even desktop computers.
就像其它语音聊天工具,微信有语音通话的功能,信息功能以及高清视频通话功能。这些功能极大方便了用户,但也有些人反映称微信的界面难以操作。只要将通讯录与微信绑定,你就可以开始和你的家人朋友聊天,并且微信在大部分的移动设备甚至在台式电脑上都可以使用。
Apart from these, what make WeChat so popular are its handy features. The registration and signing up process is super easy. You just only need to give your mobile number and it will configure everything.
微信的便捷性仍然为大部分人所认可。除此之外,微信的便捷功能也是其流行的原因。注册和登陆都非常简单便捷,只需要输入你的手机号码,微信就会完成接下来的配置工作。
Therefore, it is said WeChat has around 100 million registered users across the globe and it will soon double the number as it is focusing on extending its reach in the Latin America and rest of Asia.
因此,微信才能在海外收获1亿的用户,据预测,这个数据将会由于微信在拉丁美洲与亚洲其它地区的拓展在短时间内翻倍。