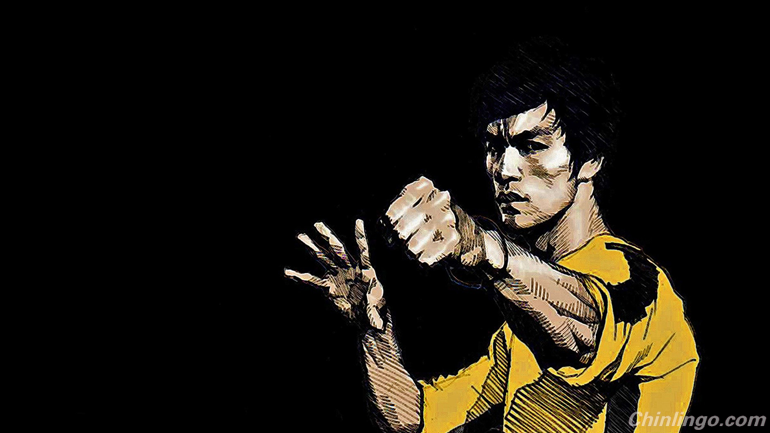 When the word 'kungfu' is mentioned, the first thing people think of is kungfu movies, scenes of great kungfu masters leaping onto roofs and over walls. Kungfu is also wushu (martial arts). People came to know about and become familiar with Chinese kungfu in the 70's of last century through the kungfu movies of Bruce Lee. In his opus consisting of films too few in number, through his graceful performances he conquered fans in every country and he also caused the whole world to begin to get to know the spirit of kungfu and martial arts.
提到"功夫"一词,人们首先想到的就是功夫电影中,功夫大师飞檐走壁的场景。功夫也叫武术,中国功夫被人们了解、熟悉,要从上世纪七十年代李小龙的功夫电影说起。他在为数不多的电影作品中,用帅气的表演征服了世界各地的影迷,也让全世界开始了解中国功夫和武术精神。
Bruce Lee was not only a hero with great talent in movies; he was also a martial arts master in real life. He grew up in San Francisco in California in the U.S. and started studying martial arts at the age of ten. When he was at university he opened a martial arts academy and took in students keen on martial arts and passed on skills in Chinese martial arts. He actively had interchange with practitioners of every school of martial arts and absorbed the strong points of other schools of martial arts and created 'jeet kun do'. 'Jeet kun do' fuses traditional Chinese Taoist ideology and advocates a high degree of flexibility in fighting.
李小龙不仅在电影中是身怀绝技的大侠,在现实生活中也是一位真正的武术大师。他在美国加州旧金山长大,十岁开始学习武术,大学时期便开设武馆,招收爱好武术的学生,传授中国武术。他主动和各个流派的武术家交流,吸取别的武术流派的长处,创造了"截拳道"。截拳道融合了中国传统的道家思想,提倡搏击的高度自由。
It's unfortunate that this martial arts master passed away due to an illness in 1973 at the age of only 32. Over 20,000 of his fans spontaneously attended his funeral. His sudden death caused kungfu films to sink to a low right up until the 80s and 90s until the appearance of Jet Lee and Jackie Chan who were to become world famous kungfu stars.
不幸的是,这位武术大师在1973年因病去世,年仅32岁。两万多名影迷自发参加了他的葬礼。他的突然过世,使功夫电影也陷入低潮,直到八九十年代,才出现了李连杰和成龙两位闻名世界的功夫明星。
Bruce Lee once said: 'ultimate martial arts represents an honest representation of self.' He also said: 'let your train of thought become blank space, formless, colourless, just like water; if you put water into a glass it will take on the form of the glass, if you put water into a bottle it will take on the shape of the bottle, if you put it into a teapot it will take on the shape of the teapot; water can bear a boat but it can also sink it. You must be just like water my friend.'
李小龙说过:"对我来说,终极武术,代表诚实地表达自我。"他还说过:"让你的思绪变成空白,无形无色,就跟水一样,如果把水放进一个杯子里,它就变成杯子的样子,把水放进一个瓶子里,它就变成瓶子的样子,把它放进茶壶里,它会变成茶壶的样子,水能载舟亦能覆舟,你得像水一样,我的朋友。"
Although Bruce Lee's life was short his martial arts philosophy made a deep and far reaching contribution to Chinese martial arts. His graceful screen image will forever live in the hearts of fans all over the world.
李小龙的一生虽然短暂,但是他的武术哲学对中国武术的贡献影响深远。他帅气的荧屏形象也将永远留在世界各地的影迷心中。