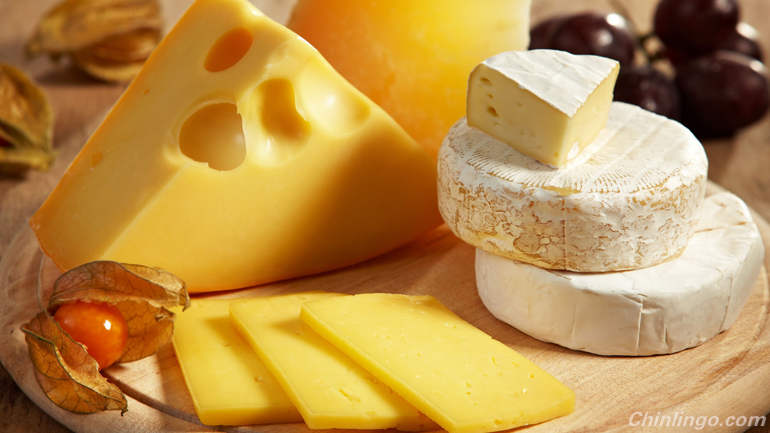 At the upmarket Black Swan bakery in Beijing, Jin Yuchen is buying a birthday cake for his mother.
在北京的高档蛋糕店黑天鹅,靳雨辰正在为他的母亲选购生日蛋糕。
Jin is one of a rapidly growing number of Chinese consumers with a taste for non-traditional foods such as rich cakes and pizza that is fuelling demand for imported cheese.
喜欢蛋糕、披萨等非传统美食的中国消费者群体正在快速扩大,靳雨辰便是其中之一。进口奶酪需求也随之增长。
Like many others, Jin chooses domestic producers for his daily milk consumption but wants that extra badge of quality for a special occasion.
与许多人一样,靳雨辰日常消费的牛奶来自国产品牌,但在特殊场合也希望选用品质上乘的产品。
"I drink milk produced domestically," Jin says as he selects a pink confection. "But for my mother, I insisted on buying a cake that uses high-quality ingredients."
"我一般都喝国产牛奶,但是因为这次是给我母亲买生日蛋糕,所以挑选了质量比较好的,"靳雨辰一边挑选蛋糕一边说。
The Black Swan bakery imports cream cheese and other dairy products from New Zealand's Fonterra, the world's largest dairy exporter, which is ramping up cheese production to meet the growing Chinese demand.
黑天鹅从新西兰恒天然进口奶酪及其它乳制品。恒天然是全球最大的乳品出口商,该公司正在加大奶酪产量以满足中国日益增长的需求。
Chinese diets have traditionally been low on dairy products, in part because most adult Chinese are lactose intolerant, meaning they have difficulty digesting the sugar found in milk. Cheese and cream contain lower levels of lactose than milk.
在中国的饮食中,乳制品所占比例一贯较低,部分原因是大多数中国成年人对乳糖不耐受。这意味着他们对消化乳品中的糖分有困难,但奶酪中的乳糖含量低於牛奶。
Euromonitor International expects the China cheese market to jump 23 percent to 3.5 billion yuan this year.
欧睿国际预计,今年中国奶酪市场规模将增长23%,达到35亿元人民币。
"The tastes of Chinese consumers are developing and more of them are becoming more accustomed to Western food culture," Euromonitor said in a report this month.
"中国消费者的口味正在改变,越来越多的人变得更加习惯西餐文化,"欧睿信息在本月的一份报告中称。
"With the rapid expansion of fast food chains such as Pizza Hut and McDonalds, the majority of Chinese people have already tasted cheese and have found they are able to accept it."
"随着必胜客、麦当劳等连锁快餐企业快速扩张,大多数中国人已经对奶酪有了印象,也发现他们可以接受奶酪。"
"Dairy import companies are really starting to think about developing their cheese segments," said Matthieu David-Experton, chief executive of Daxue Consulting in Shanghai. "The market is wide open."
位於上海的咨询公司Daxue Consulting的执行长Matthieu David-Experton称,"乳品进口公司真的开始在考虑发展他们的奶酪业务了,市场前景广阔。"
New Zealand is the largest cheese supplier to China with around 45-50 percent of imports, but other countries are snapping at its heels. Australia has around 20 percent of the market, the United States around 15-20 percent and Europe about 10-15 percent.
新西兰是中国最大的奶酪供应国,占进口量的45-50%左右,但其他国家紧随其后。澳大利亚占有中国奶酪进口约20%份额,美国约为15-20%,而欧洲也占有10-15%。
U.S. firm Kraft Heinz Co, which sells products such as Kraft Parmesan Cheese in China, said it sees "significant untapped potential" for many of its brands in China.
美国Kraft Heinz称,他们认为公司旗下的许多品牌在中国市场"有着巨大的未开发潜能"。
The United States has ambitions to lift China above its current position as the country's No.5 cheese export market, its Dairy Export Council said.
美国奶业出口委员会称,美国的目标是进一步扩大对中国的出口,后者现在是美国奶酪第五大出口市场。
"Just as Fonterra and other supplies from Oceania and Europe are seeing, we see China as a growing opportunity," said by Alan Levitt, the council's vice president of communications.
"与恒天然及其它来自大洋洲及欧洲的供应商一样,我们也认为中国市场蕴藏着更大的商机,"该委员会副主席Alan Levitt说。
But for many, part of the cache comes from using foreign-sourced cheese, no matter the expense.
对於许多中国国内企业而言,关键在於使用国外奶酪,无论成本如何。