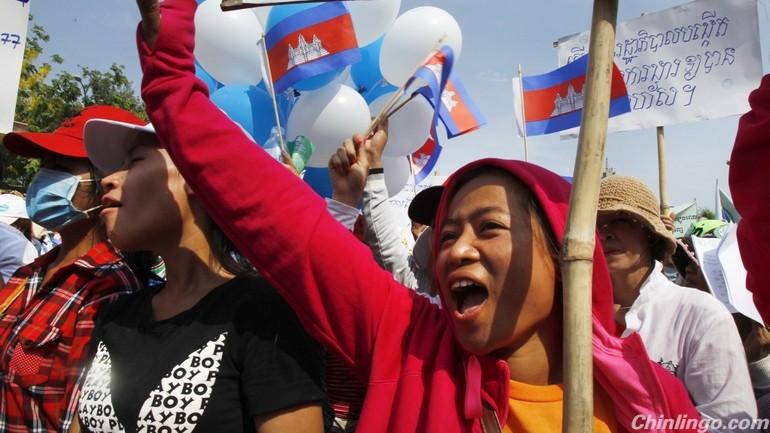 Faced with slower growth at home and rising labor costs, Chinese entrepreneurs are seeking foreign markets as never before. But as they rush abroad, they are grappling for the first time with unruly trade unions, independent courts and meddlesome journalists. And for many, navigating the unfamiliar waters of multiparty politics and confronting the power of public opinion makes for heavy going.
在国内增长放缓和劳动力成本上升的背景下,中国企业家前所未有地寻求开拓海外市场。但随着他们急匆匆地奔赴海外,完全没有经验的他们又要竭力应对难以驾驭的工会、独立的法院和爱管闲事的记者。面对不熟悉的多党政治环境和民意的力量,许多企业家步履维艰。
As they venture into foreign democracies, many Chinese companies experience culture shock. Having made their money in a one-party state, where political connections are the key to a successful business and the rule of law is easy to sidestep, they are finding things just aren't as simple abroad.
在冒险进入海外民主国家之后,许多中国企业遭遇了文化冲击。在一党制国家,政治关系是生意成功的关键,法律很容易规避。从这样的国家走出来的企业发现,海外的情况并非那么简单。
From the United States to Asia, Chinese entrepreneurs have a litany of complaints and have made a succession of costly mistakes. Even in tiny Cambodia, where China has become a major investor in the garment industry, they can sound bitter.
从美国到亚洲,中国企业家抱怨不断,也犯下了一连串代价昂贵的错误。即使在小小的柬埔寨,他们言语之间也流露出不满。中国已成为柬埔寨服装行业的主要投资者。
"In the last two years, things changed in Cambodia," complained He Enjia, president of the Textile Enterprise Association of the Chinese Chamber of Commerce in Cambodia, he explained that factory owners used to be able to hire police to suppress striking workers. "Now it's impossible. The influence of the opposition party is growing, with the help of the Western media."
柬埔寨中国商会纺织企业协会会长何恩佳抱怨说:"过去两年,柬埔寨的情况发生了改变。"他解释说,以前工厂老板能雇警察压制工人罢工,"现在不可能了。在西方媒体帮助下,反对党的影响力在扩大"。
By some measures, outward investment from China outpaced foreign investment into the country for the first time last year. But abroad, where the public often demands greater transparency and courts enforce stricter environmental and labor laws, it is a steep learning curve for many Chinese companies, experts say.
按某些标准来衡量,去年中国对外投资首次超过了外商对华外资。但在海外,公众往往要求更大的透明度,法院会执行更严格的环境和劳工法律。专家表示,许多中国企业在海外的日子十分艰辛。
Some of the first major movers were state-owned companies, extracting the raw materials, such as oil and iron ore, that China needed to fuel its booming economy. Construction companies have also followed government money abroad, as China builds roads, dams and other infrastructure from Asia to Africa.
中国对外投资的第一批行动者主要是国企。从石油到铁矿石,他们寻求获取中国所需的原材料。随着中国在亚洲乃至非洲建设公路、大坝和其他基础设施,建筑企业也跟随政府资金奔赴海外发展。
But, as rules governing outward investment have been liberalized, private companies, from garment manufacturers chasing lower wages in Southeast Asia to IT companies chasing new markets, are also moving abroad.
但随着对外投资规定日益宽松,从看中东南亚较低劳动力成本的制衣商到追求新市场的IT企业,私企也把目光投向了海外。
Official figures show outbound direct investment from the country rose to $103 billion, and the government says that if outbound investment through third parties is included, it would exceed foreign direct investment for the first time.
官方数据显示,去年中国对外直接投资达到1030亿美元,如果把通过第三方的对外投资也算在内,那么对外投资将首次超过境外对华直接投资。
That would be a major milestone for China, even if the figures are not exactly reliable. In any case, Rhodium's Hanemann said the hasty expansion abroad should not be seen as a sign that China is about to take on the world.
对中国来说,这是一个重大里程碑。美国荣鼎咨询公司的哈内曼说,无论如何,这种仓促的海外扩张都不应被视为中国登上世界舞台的标志。
"It's not a sign of strength; it's a sign of weakness," he said. In the past, Chinese companies could reap such handsome profit growth at home that "they neglected global value chains" and did not develop overseas expertise, he said.
他说:"这不是强大的标志。"过去,中国企业能在国内收获可观的利润增长,"他们忽视了全球价值链,也没学习海外专业技能"。
But as China's economy slows, as it confronts huge overcapacity in its steel and cement industries, and as labor and land costs rise, companies are being forced to diversify abroad, to "play catch-up" and learn new skills in order to survive.
但随着中国经济放缓,钢铁和水泥业面临产能严重过剩以及劳动力和土地成本上升的问题,企业被迫赴海外扩大业务范围,以便提升竞争力并学习新的生存技能。
It has not been smooth sailing. Indeed, there are countless examples of costly miscalculations.
这条路一直都不顺利。确实,昂贵的失算案例数不胜数。
In the United States, Chinese companies are facing hundreds of millions of dollars in damage claims over drywall imported to rebuild thousands of homes in the wake of Hurricane Katrina; it is alleged to have emitted toxic gas, caused respiratory problems and corroded electrical appliances.
在美国,卡特里娜飓风后对美国出口板墙的中国企业面临数亿美元的损害索赔。据称这些被用于重建数千座房屋的板墙散发有毒气体。
In Texas, state-owned Aviation Industry Corporation of China (AVIC) is beingsued for $7.5 billion by a former joint venture partner, Tang Energy, which claims it cheated on their deal to develop wind power — partly by creating competing businesses in the same field. It is something AVIC might have gotten away with at home but not in the West.
在得克萨斯,中国航空工业集团公司遭到前合资伙伴美国美腾能源集团起诉索赔75亿美元。后者声称前者违反了它们的风能开发协议。这种事情中航工业在国内也许能蒙混过去,但在西方是不可能的。
All over the world, Chinese companies have faced a political backlash for bringing in their own workers rather than employing locals.
由于引进自己的工人而非雇用当地人,中国在全球几乎都面临抵制。
There are, of course, very different problems in different places. Strict laws against pollution and corruption might pose problems in the West, but they are less of a concern in countries such as Cambodia, entrepreneurs say.
当然,问题因地而异。在西方,严格的防污染和反腐败法律可能构成问题,不过,在像柬埔寨这样的国家,这些问题就没那么棘手了。
But Li Yi, secretary general of the Guangxi province branch of the Chinese Chamber of Commerce in Cambodia, says Cambodia's many nongovernmental organizations are a nuisance. "To grab Western funds, they do everything they can to pick holes and deliberately target big projects," he said.
但柬埔寨广西商会秘书长李翼指出,柬埔寨的许多非政府组织"为获得西方资助,它们会吹毛求疵"。