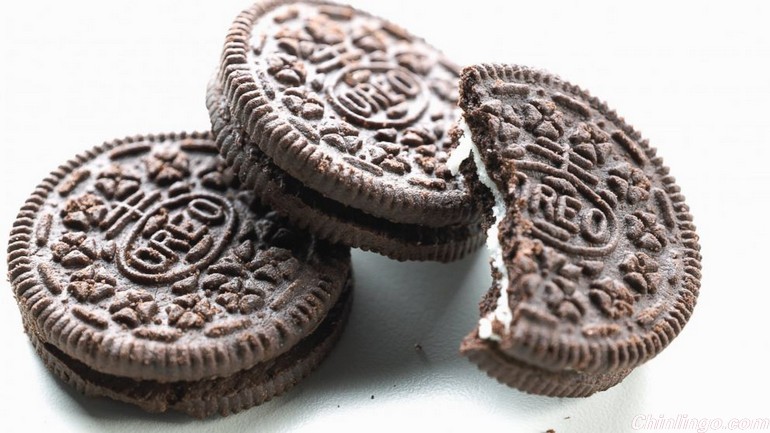 Three scant years ago, Shanghai celebrated the 100th birthday of one of history's most famous junk foods — the Oreo biscuit — with fireworks on the Bund and multi-storey neon adverts projected on to skyscrapers. But now China has put Oreo on a diet.
三年前,上海为历史上最成功的垃圾食品之一——奥利奥饼干——的100周年诞辰举行庆祝活动。他们在外滩放烟花,把几层楼高的霓虹灯广告投射到摩天大楼上。但现在中国人开始控制对奥利奥饼干的摄入。
But in the past few years, China has begun to discover that heavy metals are not the only things to avoid in snack foods. There is that small matter of fat and sugar, too. Last week, Chinese media carried stories saying that Mondelez, the maker of Oreo, was shutting down some Shanghai production because people were going right off biscuits.
在过去的几年里,中国开始发现在零食中重金属不是唯一要避免的东西。还有脂肪和糖的问题。上周,中国媒体报道说奥利奥饼干的生产商亿滋国际正关闭在上海的一些生产点,因为人们不再热衷于吃饼干。
That's not Oreo's only problem: many of the world's most successful brands made it to China early and had a long run almost unrivalled, but are losing their first-mover advantage. (KFC has that problem too, compounded by a spot of bad publicity on the food quality front.)
遇到这个问题的不止是奥利奥饼干:许多世界上最成功的品牌早早打入中国市场,并在很长一段时间里几乎没有竞争对手,但现在它们正在失去自己的先发优势(肯德基也有这个问题,再加上食品质量方面的负面宣传)。
Meanwhile, mainlanders have developed one of the most fickle palates on earth: Americans may want the same cookie Mum gave them with their milk after school; but Chinese want something new every day. Local companies are often nimbler than multinationals at introducing green tea or purple sweet potato alternatives to traditional flavours.
与此同时,中国大陆人发展出了世界上最善变的口味之一:美国人可能希望放学后吃到妈妈给他们的同样口味的饼干和牛奶,但中国人希望每天都有新花样。在推出绿茶或者紫薯产品来替代传统口味方面,中国公司往往比跨国公司做得更灵活。
And cookie companies are facing competition from an even more unlikely source: home bakers. When I moved here, ovens were rare in normal homes: I figured that was why mine didn't work too well. But now many a Chinese bride insists on having one. Sales of the countertop ovens preferred on the mainland have more than quadrupled since I started wielding a flour sifter on Chinese shores, and a 318-piece everything-you-could-ever-need baking set can be had on Alibaba's Taobao for only 137 devalued renminbi.
甜品公司甚至面临来自家庭烘培的竞争——这个竞争对手听起来似乎有些不可思议。当笔者刚搬到中国的时候,烤箱在普通家庭中还很罕见,但现在许多中国家庭主妇坚持要买一个烤箱。自打笔者在中国使用烤箱以来,大陆人所喜爱的台面烤箱的销售已经翻了两番以上。在阿里巴巴旗下的淘宝网上,只需花上137元就能买到一个318件的烘培工具套装,里面出售烹饪者所需的一切。
For, given that the vast majority of Chinese under 30 have never known an hour of hunger in their lives, let alone survived on roots and shoots, just filling the tummy is no longer the point.
考虑到绝大多数30岁以下的中国人在他们的生命中从来不知道饥饿的滋味,更不用说靠吃树根和树枝活下去了,所以填饱肚子不再是他们的目标。
They cook for fun — and for health reasons, says Qian Zhaoli, a 27-year-old marketing manager in Shanghai. She's started baking her own rusks because her first child is teething. "I wanted her to have the healthiest ones, without any additives," she says, adding that shop-bought rusks have such a long shelf life, and "who knows how many artificial colours and preservatives they contain?"
上海27岁的营销经理钱兆丽(音)说,他们做饭是为了乐趣——以及健康原因。她开始自己烤饼干,因为她的第一个孩子正在长牙。她说:"我希望她能吃到最健康的东西,不加任何添加剂。"她还补充说,商店里买来的饼干有这么长的保质期,"谁知道里面含有多少人工色素和防腐剂呢?"
Plus, western-style baking is far easier than cooking any of China's complicated cuisines, she says, noting that in Shanghai most cooking is done by men.
另外,西式烘焙比做复杂的中国菜要简单得多。钱女士还称,在上海,做饭的活儿大多是由男人完成的。
This is not just a tale of Oreos and ovens. It is a parable for a new type of Chinese consumption: more finicky, more fickle — potentially less profitable. Anyone selling almost anything here should watch it closely.
这不仅仅是奥利奥和烤箱的故事。这是中国人消费新形式的一个比喻:更挑剔,更善变——潜在的盈利较少。在这里做生意的每一个人都应该密切关注它。