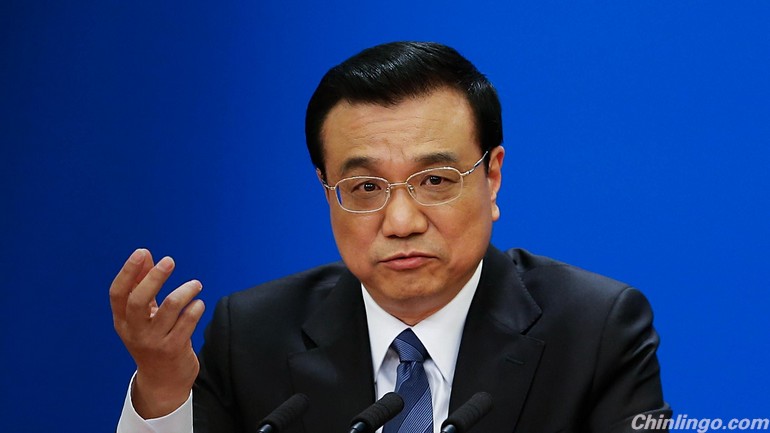 China expects an even sharper economic slowdown following the lowest growth in a quarter of a century last year, as the country struggles with deflation and an increasingly obsolete economic model.
继去年录得25年来最低经济增长率之后,中国预期将出现更大幅度的经济放缓。中国正在艰难应对通缩压力和日益过时的经济模式。
In an unusually candid annual "state of the nation" address to 3,000 members of China's ersatz parliament on Thursday, Premier Li Keqiang laid out a litany of flaws in the model that has driven the world's fastest-growing major economy for more than three decades.
中国总理李克强昨日对中国橡皮图章议会的3000名与会代表作了异常坦率的"国情咨文"式报告,他列举了推动全球增长最快的经济体已有30多年的模式的种种缺陷。
"Over the past year we have faced more difficulties and challenges than anticipated," Mr Li told the National People's Congress. But "with downward pressure on China's economy building and deep-seated problems in development surfacing, the difficulties we will encounter in the year ahead may be even more formidable than those of last year".
"过去一年,困难和挑战比预想的大,"李克强告诉全国人大。然而,"我国经济下行压力还在加大,发展中深层次矛盾凸显,今年面临的困难可能比去年还要大"。
In his annual assessment of his government's work, Mr Li set this year's GDP growth target at "around 7 per cent", down from "around 7.5 per cent" in 2014.
李克强在年度《政府工作报告》中,将今年国内生产总值(GDP)增长目标定在"7%左右",低于2014年的"7.5%左右"。
China grew by 7.4 per cent last year, the slowest pace since 1990 and only the second time growth has come in below the official goal since the government began publishing targets in the late 1980s.
去年中国经济增长了7.4%,这是1990年以来的最低增速,也是自上世纪80年代末期政府开始发表增长目标以来,经济增长第二次低于官方目标。
The economy grew 7.7 per cent in both 2012 and 2013 and until 2010 it had maintained an annual average growth rate of more than 10 per cent for over three decades. "The target growth rate of approximately 7 per cent takes into consideration what is needed and what is possible," Mr Li said.
中国经济在2012年和2013年均增长7.7%,而且截至2010年保持10%以上的年均增速已有30多年。"经济增长预期7%左右,考虑了需要和可能,"李克强表示。
Illustrating the breadth of issues Beijing is grappling with, Mr Li's 3 per cent target for consumer price inflation is a far cry from January's annual pace of just 0.8 per cent. The authoritarian Communist party has long believed its legitimacy comes mostly from its ability to deliver high growth rates and rapidly rising material living standards.
李克强提出的居民消费价格涨幅(CPI)3%的目标,与1月份CPI仅仅0.8%的同比涨幅相差甚远,突显北京方面正在应对的问题的复杂性。威权的共产党一直相信,党的执政合法性主要有赖于其实现高增长率和快速上升的物质生活水平的能力。
But a fixation on growth at all costs has been accompanied by shocking levels of industrial pollution, rampant corruption and disintegration of many social services while exacerbating imbalances in the existing model.
但是,不惜一切代价地专注于经济增长,已导致工业污染达到触目惊心的水平,腐败猖獗,许多社会服务瓦解,同时加剧了现有模式中的失衡。
"There are still many problems of public concern in medical services, elderly care, housing, transport, education, income distribution, food safety and law and order," Mr Li said. "As resource-related and environmental constraints grow and costs for labour and other factors of production rise, a model of development that draws on high levels of investment and energy consumption and is heavily driven by quantitative expansion becomes difficult to sustain."
"群众对医疗、养老、住房、交通、教育、收入分配、食品安全、社会治安等还有不少不满意的地方,"李克强表示。"资源环境约束加大,劳动力等要素成本上升,高投入、高消耗、偏重数量扩张的发展方式已经难以为继。"
Nevertheless, the party's prescription for what ails the nation appears to be more of the same, at least in the short term. The plans highlighted by Mr Li amounted to looser monetary policy, more government-led investment and more Chinese nationalism at home and abroad.
话虽如此,党针对国家的弊病开出的处方似乎与以往大体不同,至少在短期是如此。李克强介绍的计划相当于更为宽松的货币政策,更多政府主导的投资,以及在国内外更多的民族主义。
An ambitious government-led investment programme will build everything from roads to information superhighways, with plans to spend more than Rmb800bn ($130bn) on new railways and more than Rmb800bn on water diversion, irrigation and conservancy projects.
一个雄心勃勃的投资计划将建造从道路到信息高速公路的各类基础设施,拟支出逾8000亿元人民币(合1300亿美元)投入新铁路项目,另外逾8000亿元人民币投入引水、灌溉和水利项目。
While M2 money supply is forecast to grow by about 12 per cent this year, the "actual supply may be slightly higher depending on the needs of economic development", and Beijing "will adopt a flexible approach in our use of monetary policy tools," Mr Li said.
尽管今年的M2广义货币供应量预测增长12%,但李克强表示,"在实际执行中,根据经济发展需要,也可以略高些",同时北京方面将"灵活运用……货币政策工具"。
The People's Bank of China cut interest rates in November and again last week in an effort to curb the growth slowdown and prevent a rise in real interest rates amid the slowdown in inflation.
中国央行已在去年11月和上周两次降息,以求遏止经济放缓,并防止实际利率随着通胀下降而上升。
Mr Li also said it was essential "to strengthen the bonds of attachment and affection of all Chinese, whether at home or overseas, to our fatherland."
李克强还表示,有必要"使海内外中华儿女的向心力不断增强"。
"Perhaps Premier Li is appealing to nationalistic feelings because of a general conception that it will be almost impossible for the economy to even grow as fast as 7 per cent for much longer," said Willy Lam, of the Center for China Studies at the Chinese University of Hong Kong. "He is telling people that even if their standard of living is not improving as fast as the government promised they should still support the party and the government."
"李总理之所以召唤民族主义情绪,也许是出于这样一个想法,即中国经济就连7%的增速也保持不了多久,"香港中文大学(Chinese University of Hong Kong)中国研究中心的林和立(Willy Lam)表示。"他是在告诉人们,即使他们的生活水平提高速度没有政府所承诺的那么快,他们也应当继续拥护党和政府。"