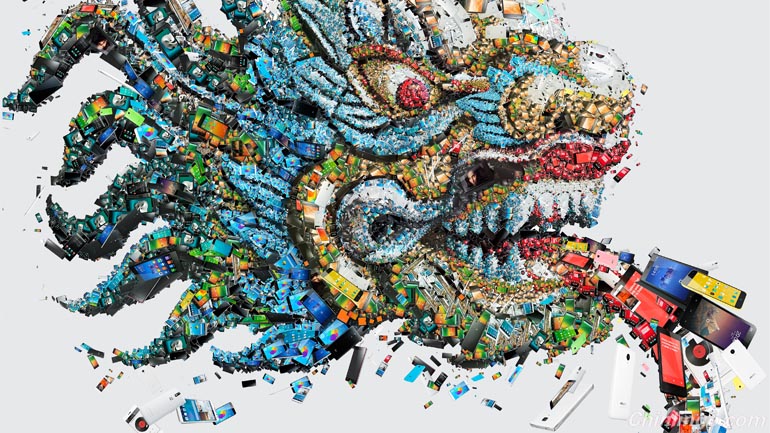 We're not using our phones to their full potential.
我们尚未完全发挥手机的潜能。
That we learned earlier this month at Converge, the Journal's Asian tech conference, where we met Chinese entrepreneurs, colleagues and friends—and of course immediately asked to play with their smartphones.
在本月的一次行业大会上,我们遇到了一些中国企业家、同事和朋友——当然,立即获邀玩一玩他们的智能手机。
In China, there are ways of living your life through a smartphone that left us jealous. China has even figured out a business model to legitimately stream the current season "Game of Thrones" on your phone, free.
中国人通过智能手机过上了丰富多彩的生活,这让我们艳羡不已。中国人甚至开发出一种商业模式,可以合法地在手机上播放新一季《权力的游戏》。
What's China's edge? Technology is often just cheaper, allowing for more frequent phone swaps. Then there's the world's largest Internet culture—some 649 million wired people, 86% on phones—who make an incredible test base for new ideas. Many young people leapfrogged over laptops right to smartphones as their main computing device, so phones have evolved to do more.
中国的优势是什么?技术往往更便宜,人们可以较频繁地换手机。还有,存在世界最大的互联网文化——大约6.49亿人上网,其中约86%用手机上网,这让新想法拥有大得令人难以置信的测试基础。很多年轻人直接从笔记本电脑跳到以智能手机作为主要上网设备,手机的功能因此变得越来越多。
Giant domestic rivals like Tencent and Alibaba compete for loyalty across all kinds of mobile services, including messaging, shopping, video and even food delivery.
腾讯和阿里巴巴等巨头在移动服务中争夺用户的忠诚度,包括即时通讯、购物、视频甚至送餐。
Here are five lessons the Chinese can teach Americans about smartphones:
以下是中国人在智能手机方面能给美国人上的5堂课:
Messaging apps as operating systems
成为操作系统的通讯软件
In China, a messaging app is much more than a way to text someone that you're running late for a meeting. It's a social network for keeping up with friends and celebrities.
在中国,通讯软件绝对不仅是一种给某人发信息、告诉他你会赴约迟到的方式。它还是一种与朋友和名人保持联系的社交网络。
But it isn't just social. It taps into your phone's GPS, microphone and camera to let you play games, check in to a flight, identify a song, book an appointment, call a cab, pay bills, you name it.
但是,不仅仅是社交。通讯软件还利用手机上的GPS、麦克风和摄像头,让你能够玩游戏、办理登机手续、找歌、预约、叫车和付账,应有尽有。
Messaging services like WeChat do so much, they're kind of like operating systems for your life, as venture-capital firm Andreessen-Horowitz's Connie Chan recently noted. WeChat hosts millions of other apps inside its platform, so you can really live your whole life inside WeChat.
风投公司安德烈森-霍罗威茨公司的陈梅陵最近说,微信等通讯软件的功能是如此强大,以至于它成了为你的生活服务的某种操作系统。微信平台内存在大量其他应用,因此你真的可以完全生活在微信中。
Phones really are wallets
手机事实上是钱包
In China, the tech elite are much more likely to pay for goods and services with their phones because it's widely accepted.
在中国,用手机付账的科技精英更多,因为这已被广泛接受。
Apps like WeChat allow you to pay from a mobile wallet (linked to a bank or credit card) without waving your phone over anything.
微信等应用软件使你能用移动钱包(与银行卡或信用卡相关联)付款,而无需在任何设备上挥动你的手机。
And WeChat has giant competition. Alipay has grown into a flexible replacement for cash in all kinds of settings—paying landlords, bills, friends and so forth. You can earn better interest with it than at a bank or get a loan.
微信面临巨大竞争。在很多情况下,支付宝等应用已发展成现金的灵活替代物——付房租、付款、给朋友转账等等。你可以通过它获得比把钱存银行更高的利息,或者获得贷款。
A new phone without waiting
无需等待,得到一部新手机
The tech savvy in greater China get a new phone nearly every year. Cheaper Android handsets from Xiaomi, Huawei and LeTV combined with contract-free mobile service enable people to always have the latest technology—better screens, processors and cameras.
在大中华区,科技发烧友几乎每年都换新手机。小米、华为和乐视等较廉价的安卓手机与非合约移动服务相结合,使人们始终能享用最先进的技术——更好的屏幕、处理器和摄像头。
Even iPhone owners, a colleague told us, sell their phones on the giant secondary market as soon as the new iPhone is announced.
一名同事告诉我,新款iPhone手机一旦发布,用户就会在庞大的二手市场上将旧款卖掉。
Customization is also part of the upgrade culture. Xiaomi had a special on for its omnipresent Mi Note phablets where you could swap out the glass back for bamboo at no cost.
按顾客要求进行改造也是更新文化的一部分。小米曾推出特别服务,为小米Note用户将玻璃后盖免费更换为竹质后盖。
The operating system gets better, faster
操作系统越来越好、越来越快
You don't have to wait around for the latest software in China, either.
在中国,你也无须为最新操作系统而苦苦等待。
In the U.S., updates to Android phones like the Samsung Galaxy can come as a trickle because the phone maker has to push them first to carriers. In China, Samsung rival Xiaomi bypasses the carrier and pushes out free updates as often as once a week.
在美国,三星Galaxy等安卓手机的更新慢得像挤牙膏,因为更新首先要通过运营商。在中国,三星的竞争对手小米绕过运营商,其操作系统会定期每周免费升级。
Xiaomi's system allows superfans to be more involved with generating ideas, and for improvements to come regularly. This includes features like a flashlight you can turn on from the lock screen just by holding the home button.
小米的系统使超级发烧友在创新方面参与更多,改进频率更高。包括在锁屏时长按home键就能激活手电筒等特色。
Could you imagine Apple crowdsourcing ways to improve the iPhone?
你能想象苹果公司将改进iPhone的业务众包出去吗?
Phones are TVs
手机成了电视机
In China, phones aren't second-class citizens when it comes to watching shows and movies.
在中国,手机在观看演出和电影时并非二等公民。
The best stuff is mostly available to stream online. China's historic challenges with protecting intellectual property have helped the market invent new business models for media.
最好看的节目通常都能在手机上通过流媒体播放。中国在保护知识产权方面面临的历史性挑战帮助市场为媒体创造出新商业模式。