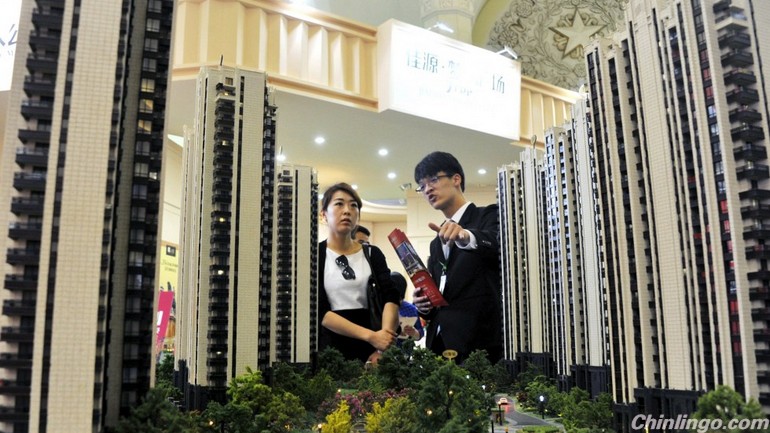 By Andy Rothman,an investment strategist at Matthews Asia
As China's equity markets cool and its currency is devalued, attention will return to the question of whether its property market is heading for a fall. In my view the boom days are over, but with buyers required to put at least 30% cash down, the risks of a crisis are low.
随着中国股市降温和人民币贬值,人们的注意力将重新回到中国房地产市场是否步入下行通道的问题。在我看来,房地产繁荣期已经结束,但由于房地产买家被要求支付30%的首付款,发生危机的风险很低。
The housing market is one of the most important parts of the economy, and one of the most misunderstood. Important because residential real estate and construction account directly for more than 10 per cent of gross domestic product. Misunderstood because few observers appear to grasp the structure of the residential property market.
住房市场是中国经济最重要的领域之一,也是被误解程度最深的领域之一。重要是因为住宅房地产直接占到10%以上的国内生产总值(GDP)。误解是因为似乎很少有观察人士真正理解中国住宅房地产市场的结构。
Under the Communist party most workers have been allowed to buy their government housing at a steep discount to market value, with the result that the home ownership rate is among the highest in the world: 89 per cent, compared with about 64 per cent in the US and the UK. But this does not mean the appetite for new homes has been sated. A large share of homes are substandard, so demand for upgrading is significant. Only 55 per cent of the population is urban, a share that will continue to rise, driving demand for housing.
在党管一切的时代,大部分工人被允许以大幅低于市场价的价格购买政府住房,结果是中国住房拥有率高达89%,跻身世界最高水平之列,而美国和英国的住房拥有率大约为64%。但这并不意味着中国人购置新房的愿望都得到了满足。相当大一部分住房不合标准,因此升级需求非常可观。只有55%的人口住在城镇,城镇人口比例还会继续上升,推动住房需求。
Almost all new homes sold in China are apartments, not single family homes. Some 80 per cent of those apartments are bought one year or more before construction of the building will be finished, known as presale. That is one reason it takes time for new Chinese cities to fill up.
在中国销售的几乎所有住房都是公寓,而非单户住宅。约80%的公寓是在建成一年或更早之前卖出的,这被称为预售。这是中国新城市需要一段时间才会人气上升的一个原因。
In Zhengzhou, for example, featured on many lists of "ghost cities", people bought apartments in a new area with the intention of not moving in for several years, based on the view that house prices would be higher after the subway lines were completed. The first line has since opened, and the new area is thriving. This pattern is repeated across the country.
例如,在众多"鬼城"榜单上被列入的郑州,人们在新区买房的意图就是要在几年后才住进去,他们的决策依据是房价将会随着地铁线路的开通而上涨。自那之后第一条地铁开通,新城开始繁荣起来。这种格局在全国各地重复出现。
One of the biggest misconceptions about China's property market is that most buyers are speculators. In fact the residential market is driven by owner-occupiers. Data collected from sales managers across the country reveal that during the past three years less than 10 per cent of buyers were investors.
关于中国房地产市场最大的一个误解是,大多数买家是投机者。实际上,住宅市场由自有住房者驱动。从全国各地的销售经理们收集来的数据显示,在过去3年期间,投资买家不足10%。
The 9 per cent average annual growth in residential property prices over the past 10 years may appear the hallmark of a bubble, but it was accompanied by 12 per cent average annual nominal urban income growth.
过去10年间住房价格年均上涨9%貌似符合泡沫的特征,但与此相伴随的是城镇居民名义收入年均12%的增长。
Unprecedented income growth not only supports China's remarkable consumption story; it also underpins a healthy property market. During the past decade inflation-adjusted urban income rose 7 per cent or more every year, while real rural income increased 7 per cent or more for each of the past nine years. In contrast over the past decade real income rose at an average annual pace of 1 per cent in the US and 0.3 per cent in the UK.
史无前例的收入增长不仅支持了中国引人瞩目的消费故事,还支持了健康的房地产市场。过去10年期间,经通胀调整后的城镇居民收入每年增长7%以上,同时在过去9年间农村居民实际收入每年增长7%。相比之下,过去10年期间美国和英国的实际收入年均增长率分别为1%和0.3%。
An important precondition for a bubble in any asset class is a high level of leverage, because in the absence of high leverage the consequences of a sharp price decline are limited. In China there is low leverage among homebuyers because about 15 per cent of buyers in the past three years have paid cash, while for those using mortgages a minimum deposit of 30 per cent is required.
任何资产类别出现泡沫的一个重要前提是很高的杠杆水平,这是因为如果没有高的杠杆水平,价格大幅下跌的后果就是有限的。在中国,购房者的杠杆水平较低,因为在过去3年大约15%的买家是全款购房,而贷款购房者被要求最低支付30%的首付款。
The market is soft, but it is far from the collapse that many are writing about. It is inevitable that the economy will, on average, grow a bit more slowly every year for the foreseeable future. This applies to the residential property market as well. New home prices are down about 6 per cent year on year, compared with an increase of about 4 per cent a year ago, but given that homebuyers are required to use a lot of cash, even steeper price declines would leave few mortgages underwater.
目前中国房地产市场低迷,但远未到许多人所说的崩盘的地步。在可预见的未来,中国经济年均增速难免将有所放慢。住宅市场也是如此。新房价格同比下降6%,而一年前同比上涨约4%,但鉴于购房者被要求使用大量现金购房,即便更大幅度的下跌也不会让房屋净值为负。
Fundamental demand for housing remains healthy. There are about 13m marriages every year, and new couples account for about a third of new home sales. Income continues to rise at a healthy pace and household savings have risen more than 300 per cent over the past 10 years to $8.5tn, greater than the combined GDPs of Russia, Brazil, India and Italy.
住房基本面需求依然健康。每年大约有1300万对夫妇结婚,而新婚夫妇占到新建住房销售的大约三分之一。收入持续以健康的步伐增长,家庭储蓄在过去10年里增长逾300%,至8.5万亿美元,超过俄罗斯、巴西、印度和意大利的GDP总和。
The boom days of China's property market are over, but this more mature market is far from a disaster. Chinese are still likely to buy about 10m new urban homes this year, almost double the number of combined new and existing home sales in the US last year.
中国房地产市场的繁荣时期已经结束,但这个更为成熟的市场远非一场灾难。今年中国人仍可能购买大约1000万套城镇新建住房,几乎是美国去年新房和现房销量总和的两倍。