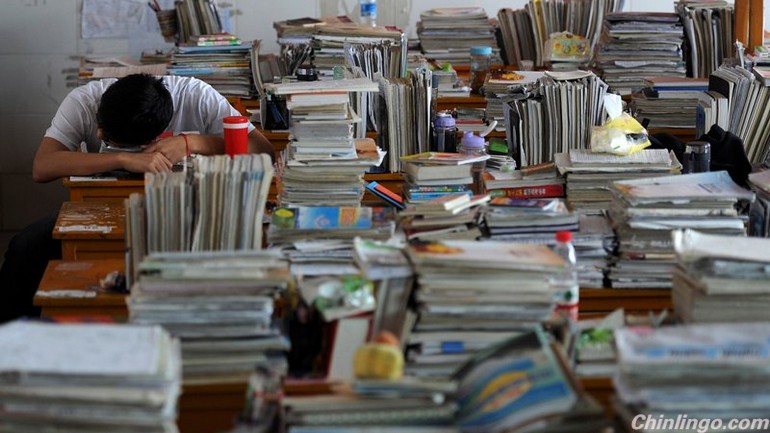 Every day during her final year, 17-year-old Shi Wan woke at 5:30am to an alarm booming through the dormitory at Hengshui High School. Shi would fold her quilt, grab her notebooks and race outside for the mandatory 5.40am run. On good days she got to the track at 5.34am, leaving six minutes to recite a chapter on politics, brush up on yesterday's maths or review a few pages of English vocabulary. Soon, though, the studious quiet would be shattered by the war cry of some 5,000 students jogging in formation and chanting slogans. 'We will win the entrance exam! I want to go to Peking University!'
高中最后一年,石婉(音)每天早上5点半在河北衡水中学宿舍的闹铃声中醒来。小石叠好被子,抓起笔记本,飞奔出去参加学校规定5点40分必须参加的晨跑。一切顺利时,她会在5点34分赶到操场,留出6分钟的时间背一下政治,温习一下昨天学的数学,或是复习几页英语单词。不过很快,宁静的学习氛围被彻底打破,大约5000名学生排着长队慢跑,边跑边呼喊"打败高考、考上北大"的口号。
Shi, now aged 20, is a graduate of one of China's 'super high schools', or memorisation boot camps, where students study non-stop for the notorious national university-entrance examination, the gaokao. It is difficult to overstate the significance of the exam for the nine million students who sit it over two or three days each June, since it forms the sole criterion for the relatively few admissions to Chinese universities.
今年20岁的小石是有着"超级中学"之称的衡水中学的毕业生。在这些中学,学生为了高考没日没夜地学习。对每年参加高考的900万考生而言,这一考试的重要性怎样说都不为过,因为它是决定能否获得相对较少的大学入学机会的唯一标准。
Gaokao introduced a measure of meritocracy into China's sprawling education system, offering students with few social or economic advantages places at the most prestigious institutions. In rural China a top gaokao score can lift the fortune of an entire family, promising a life beyond the fields for generations to come.
高考为中国庞大的教育体系引入了英才教育手法,为学生提供了最有声望的一些机构里的为数不多的社会或经济优势位置。在中国农村,考上大学可能改变整个家庭的命运,让子孙后代摆脱面朝黄土背朝天的生活。
It is of little surprise, then, that in poor provinces students are signing up to super high schools in droves. Of all the schools in Hebei province, Hengshui High pupils have won the most places at China's top universities for 15 consecutive years. 'My parents are working class, a family background of no repute,' Shi says. 'Working hard to get into Hengshui High School and a good university seemed to be the only way for me to change my fate.'
因此,贫困省份的学生蜂拥至超级中学读书也就不奇怪了。在河北,衡水中学的学生连续十多年在进入中国顶尖大学的人数上高居榜首。小石说:"我父母是工人,家里无权无势。努力学习考上衡水中学然后再考上好大学似乎是我改变命运的唯一途径。"
But when Shi received her gaokao result in 2013 her hopes were shattered. With a score of 579 out of a possible (though never attained) 750, she was accepted only by Hebei University, her fifth choice. Shi re-enrolled in Hengshui as a 'repeat' student, one of those so desperate to improve their score they pay 10,000 yuan (£1,000, the school's annual fee) to go through the gaokao again. 'What [repeat] students fear the most is that the final result is worse than the original,' Shi says. 'The fear is the driving force.'
但小石2013年的高考分数让她的这一梦想破灭。满分750分的卷子,她得了579分,只被作为第五志愿的河北大学录取。小石重新回到衡水中学,当了一名复读生,这所学校有很多和她一样渴望提高高考成绩的人,并不惜为此交1万元学费。小石说:"复读生最怕的是最终的成绩比复读之前还要糟糕。恐惧就是动力。"
In Chinese media Hengshui High is often compared to a prison camp, a reputation attained after the school affixed iron bars to its windows and balconies. Pupils there are subjected to a relentless cycle of lessons, revision and tests until deep into the evening; mealtimes are hurried and breaks are spent with books. Entertainment consists of 20 minutes of televised news each day. Flirting, another distraction, is forbidden.
在中国媒体上,衡水中学经常被比为监狱,这是因为这所学校将窗户和走廊都安装了铁栅栏。这里的学生课业任务繁重,周而复始上课、复习和考试持续到深夜,吃饭要匆匆完成,下课时间依然埋首书本。唯一的娱乐是每天看20分钟的电视新闻。谈恋爱是被禁止的。
Hengshui's methods may be extreme, but the pressure on students all over China is severe. During the gaokao year it is common for mothers to stop working to devote themselves to their child's needs.
衡水中学的做法或许是极端的,但在全中国,学生都承受着巨大压力。在孩子参加高考的年份,家长停止工作全身心地为孩子服务是很常见的现象。
Sun Xi says that it would be difficult to develop another system any time soon – 'after all, there are so many people in China'. In 2011 Sun received the highest gaokao score in the humanities stream in Jiangsu province, win a place at the esteemed Fudan University in Shanghai. 'Back when I was burdened by test papers, I would have roared, "China's high-school education is a piece of shit!"' she says. 'But when I calm down and think about it, the knowledge deep in my mind was amassed at high school, wasn't it?'
孙曦(音)说,很难在近期建立另外一种制度,"毕竟,中国的人太多了"。2011年,孙曦成为江苏省文科状元,考取上海复旦大学。她说:"回想一天到晚考试的那段日子,我真想高喊'中国的高中教育就是垃圾!'可是当平静下来并且思考这个问题时,我意识到,我头脑中牢牢掌握的知识不就是在高中阶段积累的吗?"
Few can deny that the gaokao has turned Chinese pupils into some of the world's most forbidding test-takers. Shanghai High School students have topped the triennial Programme for International Student Assessment (Pisa) league table for the past two cycles, suggesting that in maths 15-year-olds in the city are three years ahead of their English peers. The results so impressed the British government that dozens of Shanghai teachers were recruited to work in England's primary schools, part of an program e to boost maths performance.
几乎没人可以否认,高考让中国的学生变成了全世界最可怕的考试能手。上海中学生在过去的两次国际学生评估计划(PISA)中成绩第一。在数学方面,上海15岁的中学生与同龄的英国测试者相比,保持着3年的领先优势。这一结果让英国政府非常震惊,并为此推出一项旨在提高本国学生数学成绩的计划,数十名上海教师到英国小学授课。
Xiong Bingqi, the vice president of the 21st Century Education Research Institute, thinks that the system has insidious consequences for Chinese society. Since 'one exam determines one's life', the gaokao results in 'a test-oriented education, which is bad for mental and physical health as well as the development of individuality or other interests'.
但21世纪教育研究院副院长熊丙奇认为,高考制度给中国社会带来了负面影响。由于"一考定终身",高考导致中国出现"以考试为导向的教育,这对学生的身心健康不利,也不利于发展个性或其他兴趣爱好"。
To succeed students must memorise dense chunks of information and essay templates. Some argue the system robs them of the chance to develop their analytical thinking. 'The fact that students with high levels of education have little ability to innovate has already had a deep influence on society,' Xiong says. Many wealthy families simply opt out of the system, placing their children in private international schools or sending them to boarding schools abroad.
为了在考试中取得成功,学生必须熟记大量知识点和固定的写作模式。有人认为,这剥夺了学生自主分析思考的能力。熊丙奇说:"受过高等教育的学生没有多少创新能力的事实已经对社会产生了深远的影响。"许多富裕家庭选择避开本国教育体制,将孩子送入私立的国际学校,或让他们去海外寄宿学校上学。
For students who lack the means to study overseas, unyielding graft remains the only path to a better life. In the end, Shi Wan's backbreaking repeat year paid off. In June 2014 she received a new gaokao score of 625, enough to enrol in the top-tier Shandong University. 'It was the hardest I've worked in my life, but it taught me a lot,' she says. 'I believe I can conquer any difficulty in the future.'
对于没条件到海外求学的学生而言,坚持不懈努力学习是过上更好生活的唯一道路。最终,一年辛苦的复读给小石带来了回报。2014年6月,她取得了625分的高考成绩,足以进入一流的山东大学。她说:"这是我学得最累的一年,不过这一年让我学到了许多东西。我相信未来我能克服一切困难。"