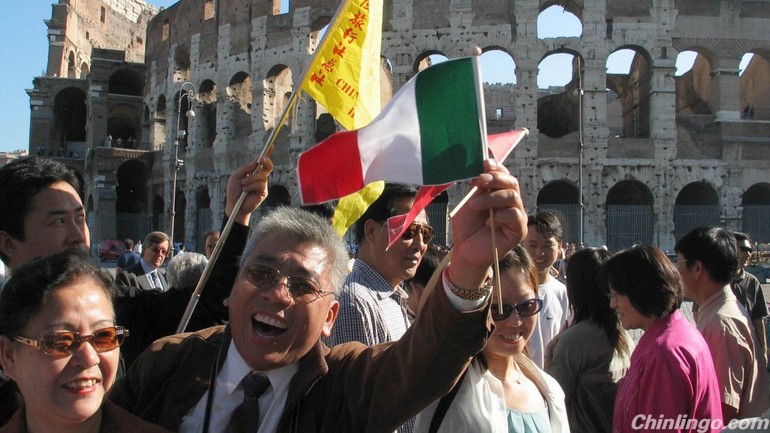 China is preparing for roadways clogged with cars and trains overloaded with travelers during its weeklong National Day holiday starting Oct. 1. But the real action for Chinese tourists will be happening overseas.
国正在准备应对十一黄金周的交通拥堵和人满为患。但中国游客真正的行动在海外。
Over the full year, 116 million Chinese tourists are expected to travel abroad and spend $155 billion, up 20 percent over 2013, projects a new report by the China Tourism Academy. That compares with less than $55 billion that will be spent by tourists inside the country, a gap of more than $100 billion. "The deficit will further increase in the future," predicts academy head Dai Bin, who was quoted in the China Daily.
根据中国旅游研究院最新发布的报告,预计2014年全年中国将有1.16亿游客到海外旅游,消费额将达1550亿美元,同比增长20%。而外国游客到中国国内消费不到550亿美元,两者相差1000亿美元。《中国日报》援引中国旅游研究院院长戴斌的话说:"未来这一差额还会扩大。"
China now sends more tourists abroad than any country in the world, according to China's National Tourism Administration. Favored destinations include Australia, South Korea, and Southeast Asian countries as well as, increasingly, Europe and the U.S. Chinese tourists abroad will exceed half a billion annually within five years, says Shao Qiwei, administration chief of the English language paper.
中国国家旅游局的数据表明,中国是目前全世界赴海外旅游人数最多的国家。中国游客钟爱的旅行目的地包括澳大利亚、韩国、东南亚等,欧洲和美国也越来越受到中国游客的欢迎。国家旅游局局长邵琪伟认为,中国出境游客数量将在五年内突破5亿人。
In the first half of this year, Chinese spent $70 billion on overseas travel, up 20.7 percent from the same period a year earlier. Chinese travelers abroad spend almost three times as much per capita as foreign tourists in China, says Fan Zhiyong, an economist at Renmin University in Beijing, the official Xinhua News Agencyreported.
今年上半年,中国海外游客消费700亿美元,比去年同期增长了20.7%。据新华社报道,中国人民大学经济学家范志勇说,中国游客出境旅游的人均花费相当于入境人均消费3倍左右。
Along with hotel lodging fees and restaurant meals, overseas spending includes plenty of purchases of such high-priced products as Rolex watches, Prada (1913:HK)shoes, and Chanel handbags. One-third of all Chinese travel expenditures goes to buy goods, often "luxury items—to take back home," says McKinsey & Co. in a June report. Total spending could reach $194 billion by 2015, Morgan Stanley (MS)estimated last year.
除了食宿方面的开销外,出境旅游的消费还包括购买劳力士手表、普拉达皮鞋和香奈儿手袋等奢侈品。麦肯锡咨询公司今年6月份的报告称,购物(常常是奢侈品)占中国游客海外消费的三分之一。摩根士丹利公司去年估计说,到2015年,中国游客海外消费总额可望达到1940亿美元。