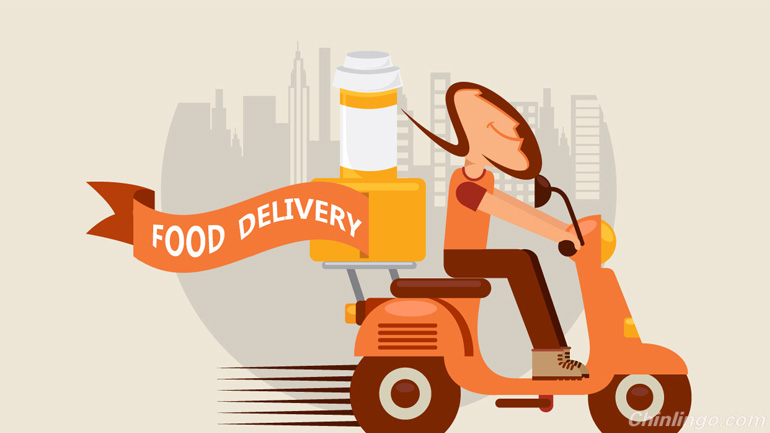 China's rapidly diversifying Internet giants are taking on Western food chains at their own game—door-to-door delivery—and finding a huge appetite among urban consumers.
中国迅速发展的网络巨头开始挑战由西方快餐连锁企业控制的上门送餐业务,而且他们发现这种服务能够吸引众多城市消费者。
The growing fleet of motorbike couriers on Chinese roads is the latest challenge to long-established but struggling Western companies such as McDonald's Corp. and Yum Brands Inc.. For years, the fast-food chains got a leg up over rivals by speeding hamburgers and fried chicken to buyers' homes and offices.
中国街道上越来越多的摩托车和电动车送餐员大军,成为麦当劳和百胜全球餐饮集团等西方餐饮企业面临的最新挑战。多年来,快餐连锁企业通过自己的送餐大军迅速把汉堡和炸鸡送到顾客家中或办公室,从而在竞争中占据了优势。
The Western chains became popular in China for two main reasons: "Because they were foreign and they delivered," said Nathan Snyder, a research analyst at brokerage CLSA. "That's no longer an advantage," he said, referring to the delivery.
里昂证券公司的分析师纳坦·斯奈德说,西方快餐连锁企业在中国的流行主要有两个原因:"因为他们是国外的企业,而且送餐。但现在这不再是一种优势。"
Startup companies Ele.me and Meituan Waimai, which operate via mobile applications and are backed respectively by Tencent and Alibaba, are getting economy of scale by teaming up with tens of thousands of food outlets across China. Their apps display menus of smaller local shops as well as big chains, and online customers are more likely to download a delivery app that gives them access to multiple menus than one for a single restaurant.
饿了么和美团外卖等初创公司通过手机应用软件来经营,而且分别得到了腾讯和阿里巴巴的支持,它们正通过与中国各地成千上万的餐馆合作实现规模经济。它们的应用软件上展示了大型连锁快餐店和本地小餐馆的菜单,而在线消费者更可能下载一个可以让他们获取多个菜单的送餐应用软件。
The services are attracting investment. Food sales running through the startups reached 97.5 billion yuan last year, up 54% from 2013, according to research firm iResearch.
这种服务吸引了投资,据艾瑞咨询集团说,去年餐饮O2O (即将线下商务的机会与互联网结合)市场规模达975亿元,比2013年增长54%。
The surge in delivery firms is evident from the proliferation of uniformed couriers zipping around major cities on motorbikes with insulated bags. Yan Shihui, who works for Ele.me, says he can deliver to five customers per hour on his motorbike in Beijing. Mr. Yan, 19, who has been on the job for only a few months, hits the streets as early as 9:30 a.m. until as late as 11:30 p.m..
送餐公司的激增,从穿着统一制服、骑着装有保温箱的摩托车或电动车的送餐员大军就可以一目了然。在饿了么工作的严时辉说,在北京他每小时可以骑着摩托车为5名顾客送餐。19岁的严时辉从事这份工作仅有几个月。他每天上午9点半走上街头工作,要一直忙到晚上11点半。
The trend for food delivery is boosting sales for smaller regional chains too. Beijing Weizhiwei Catering Ltd. has 50 outlets in Beijing and the nearby city of Tianjin. Employees in a Beijing branch of the chain say the shop pulls in an extra 1,000 yuan, a day from three different delivery firms, according to a manager at a branch in northeastern Beijing. The noodle shop also offers up to 20% off on some dishes ordered through apps, a key attraction for consumers. The noodle shop covers the discount, but in some cases the startups have absorbed discounts to build up their user-bases.
这种送餐趋势也促进了一些小型地区性连锁餐饮企业的发展。北京为之味餐饮公司在北京和天津两市就有约50家连锁店。据该公司在北京一家连锁店的管理人员透露,北京一家分店的雇员说公司每天与三个不同的送餐公司合作,可以额外收入1000元。该公司还为手机应用软件上的一些菜品提供高达20%的折扣,这对消费者有很大吸引力。公司为这些折扣埋单,有时初创公司为了构建用户群也会提供这种折扣。
The startups themselves are using investment money to try to become the dominant player in a so-far fragmented market. Tencent-backed Ele.me said it secured $350 million investment in January. Alibaba recently announced that it would plow nearly $1 billion into building up another food-delivery service called Koubei.
初创公司自身正利用投资试图成为群雄割据的市场上的霸主。腾讯支持的饿了么在1月份获得了3.5亿美元投资。阿里巴巴近期宣布,将投资打造另外一个名为"口碑"的送餐公司。
Industry experts say increased competition is hurting fast-food chains already fighting to regain business that they have lost to rivals as the cachet of their brand has waned and rival fast-food chains have spread.
业界专家说,日益加剧的竞争对传统快餐连锁企业产生重要影响,随着自身品牌的吸引力下降以及其他快餐企业的迅猛发展,这些企业为盈利而苦苦挣扎。