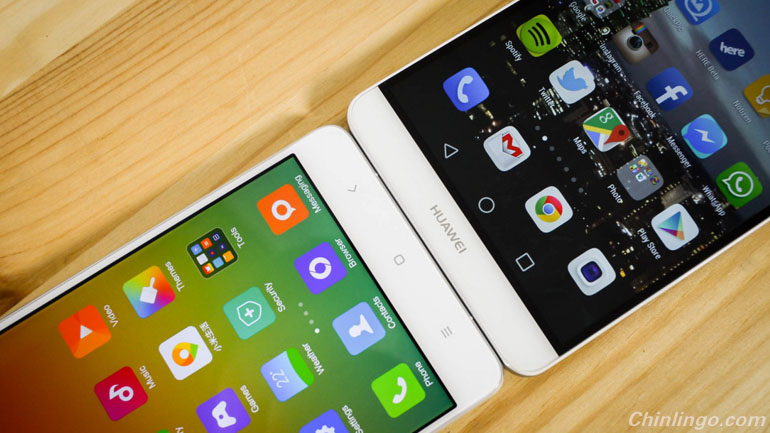 Despite Chinese consumers' unceasing ardor for Apple iPhones, two homegrown companies – Xiaomi and Huawei – have recently overtaken the California kingpin in smart phone market share in China.
尽管苹果手机一直受到中国消费者的狂热追捧,但最近两家国产手机公司——小米和华为,在中国智能手机市场上所占份额已超越了这一总部位于加利福尼亚的领军品牌——苹果。
One in three smart phones shipped in China were from Xiaomi Inc or Huawei Technologies Co Ltd in the second quarter of 2015, according to data released Monday by Canalys, a mobile market research firm.
据手机市场调研公司Canalys周一发布的数据来看,2015年第二季度中国三分之一的智能手机来自于小米公司和华为技术有限公司。
Xiaomi, headquartered in Beijing, holds a 15.9 percent market share, according to Canalys estimates. Huawei, based in Shenzhen, has a 15.7 percent share. Apple came in third, followed by Samsung and Vivo.
据Canalys公司估算,总部位于北京的小米占了市场份额的15.9%,而总部位于深圳的华为占了市场份额的15.7%。苹果则排名第三,三星和Vivo跟随其后。
"The China smart-phone market continues to mature, remaining stagnant quarter-on-quarter," said Jingwen Wang, analyst at Canalys. "Competition among major brands has never been so intense. Huawei recorded the highest smartphone shipments in its history without compromising its product margin or profitability."
"中国智能手机市场日趋成熟,季度间环比增长迟缓,"Canalys的分析师王静文说,"几大品牌之间的竞争也从未如此激烈。华为在没有弱化其产品利润和收益率的前提下,创下了其历史上智能手机发货量的最高纪录。"
"Apple and Samsung have both increased their sales activities in the China market, expanding rapidly in channel coverage through flagship stores and small-to-medium-size phone retailers, respectively," Wang said. "Xiaomi is under immense pressure to maintain its top position in the quarters to come."
"苹果和三星都加强了在中国市场的销售力度,分别通过旗舰店和中小型手机零售店的方式迅速扩大了渠道覆盖面,"王静文说,"小米在未来的季度想要维持领先地位,压力十分大。"
Huawei, which has a US division headquartered in Plano, Texas, reported in July that global shipments of its phones were up 39 percent year over year in the first half of 2015. The company focuses on mid- to high-end models.
华为在美国德克萨斯州普莱诺市设立了其美国总部,七月份报道说2015年上半年华为手机全球销量同比增长39%。此公司致力于中高端机种。
A Huawei executive said last month that his company and Xiaomi are selling to different market segments in China.
华为的一位高级管理人员上个月曾说其公司与小米在中国是有着不同的销售细分市场的。
"We're different than Xiaomi," Deputy Chairman Ken Hu told journalists, reported Agence France Presse. "No two companies are alike. If you want to compare us to other companies, you can see from the increase in sales volume that we have a lot of advantages."
"我们和小米不同,"华为的副董事长胡厚昆告诉法新社记者,"没有两家公司是相似的。如果你想要拿我们公司与其他公司相比较,你会从销售量的增长中看到我们是有许多优势的。"
Huawei is going after South Korea's Samsung in the battle for the Android space in China and is also investing in 5G technology for the future.
华为正在这场中国安卓市场争夺战中追赶韩国的三星,并且在未来会投资5G技术的开发。