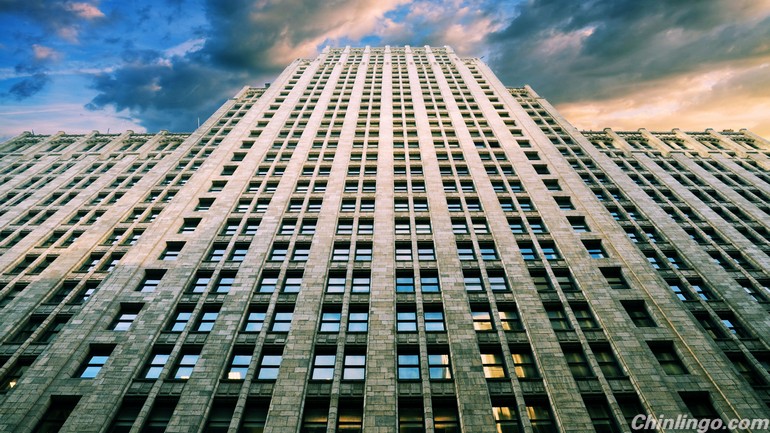 CHANGCHUN, China – The name of this city in northeastern China means eternal spring, a misnomer for a place where winter temperatures can reach as low as -30 degrees Celsius (-22 Fahrenheit). But while the housing markets in some big Chinese cities are starting to heat up, Changchun's shows few signs of thawing.
这座位于中国东北的城市长春在中文的意思是春天长驻,但对于这个冬天气温可以低至零下30度的地方来说有点名不副实。当部分中国大城市的房地产市场开始回暖的时候,长春的房地产市场却没有多少解冻的迹象。
After a yearlong slump, Chinese home prices started rising in May, with more gains reported in June. Sales volumes were up 18% in June from a year earlier, with Shenzhen and Shanghai leading the gains.
经过一年的低迷,中国的房地产价格从5月起开始上涨,6月份的升幅更高。6月,房地产的销售量同比增长了18%,其中深圳和上海的涨幅居前。
But most of the gains came in the big cities. The smaller cities in China's interior that make up the bulk of its housing market are still struggling with a buildup of vacant homes and little prospect for improvement as growth weakens and its young people flee.
不过,大部分上涨都出现在大城市。随着经济增速放缓、年轻人外流,中国内地的中小城市,虽然构成了中国房地产市场的主体,却仍然要面对空置房继续增加、回暖前景渺茫的问题。
In recent months, China has loosened rules on second-home purchases and lowered interest rates, but the changes have disproportionately benefited bigger cities because their local economies and the prospect of price appreciation in these cities are stronger, stoking demand from investors.
近几个月来,中国已经放松了对购买第二套房的规定,降低了利率,但这些变化更多地是惠及较大的城市,因为这些城市的地方经济和升值前景都更高,刺激了投资者的需求。
The gated Vanke Whistler compound west of Changchun has respectable occupancy rates, but around it are so many unsold apartments that residents occupying the villas and midrise apartments say vagrants have started to come in. The property-management firm built a barbed-wire fence around a pond last winter to prevent intruders from walking across it as it froze over. It makes the area look like a prison, one resident said.
长春西部的万科惠斯勒小镇有着可观的入住率,但是周边却有许多没有卖出去的公寓楼。别墅和中档公寓楼的居民说流浪汉开始住进这些没有卖出去的公寓楼里。去年冬天,物业管理公司在池塘周围修了铁丝网,阻止外来者趁池塘结冰的时候进入小区。一个居民说,这使得这里看起来像一个监狱。
Home prices in Changchun, the capital of Jilin province, fell 4.1% in June from a year earlier, and housing inventories reached the equivalent of 21.5 months of sales in June, compared with an average of 13.2 months across 28 Chinese cities, according to data from China Real Estate Information Corp.
据中国房产信息集团的数据,吉林省省会长春市的房价6月份同比下降4.1%,存销比达到21.5,而28个中国城市的平均存销比为13.2。
Part of China's rust belt known for its auto factories, Changchun has attracted migrants from smaller northeastern cities nearby and saw rapid construction activity in the past few years. But the pace of growth hasn't kept up. The result: empty and half-finished apartment towers.
长春是中国锈带的一部分,以汽车产业出名,吸引了来自于东北更小城市的移民,近几年来住宅建设速度很快,但是经济增长的步伐没有跟上,其结果便是:空置房和烂尾楼。
"Back in 2010, this area was bare," said Wang Yang, a Changchun-based real-estate consultant. "Now there are more than 30 developers there. Construction is still ongoing, but there are some spots that are overbuilt."
长春的一个置业顾问王洋(音)说:"早在2010年,这片区域还是光秃秃的。现在,这里有30多个开发商。施工仍在进行中,但是有些地方已经过度开发了。"
Builders with projects outside the country's major coastal cities are now halting already-started projects to reduce inventory levels. Investment in real-estate development has slowed to 4.6% in the first half this year from the double-digit figures for the past 15 years.
在全国各大沿海城市以外有项目的建筑商现在已经暂停了已开工项目以降低库存水平。今年上半年,房地产开发的投资已经从过去15年的两位数放缓至只有4.6%。
In the northeast, real-estate investors are also shunning Shenyang, the capital of Liaoning province, which is plagued with overbuilding. So-called third- and fourth-tier cities in China account for more than 70% of China's property market in terms of floor space under construction or completed.
在东北,房地产投资者也不愿碰饱受过度开发之苦的沈阳。中国的所谓三四线城市在在建楼面面积或已建楼面面积方面都占中国房地产市场的七成以上。
Another factor in the dimming prospects is China's aging population, which means that the size of the segment of property buyers—typically ages 25 to 49—has peaked. That shrinks the pool of potential home buyers in the future.
另一个让前景堪忧的因素是中国人口老龄化。这意味着购房群体——通常是25岁到49岁的人群——的规模已经见顶。未来潜在购房者的总量要减少。
"The underlying demand for first-time home purchases might have already peaked," saidDavid Wong, an economist at Shanghai-based property developer Shui On Land.
瑞安房地产公司驻上海的经济学家王必光说:"首次置业的迫切需求可能已经见顶。"
Cities such as Shenzhen and Shanghai, with a big influx of migrants, attractive jobs and good schools, illustrate the widening split in the recovery in China's property market. The rebound has been fastest in Shenzhen, where housing prices rose 13.7% in June from a year earlier.
有大量外来人口、提供有吸引力的工作和好学校的大城市如深圳和上海凸显了中国房地产市场复苏过程中不断拉大的分化过程,深圳的复苏速度最快,6月份的房价同比上涨了13.7%。
On a recent Thursday morning in a property showroom in Shanghai's suburbs, potential customers were trying to decide whether to put down a 1,000 yuan ($161) deposit to secure better chances for apartments in the Paradise Walk project a month before they were coming on the market. "We have around 500 sign-ups so far, and next week we're targeting 2,000," said Wang Meng, a sales consultant at the showroom.
近日在上海市郊区的一个楼盘展示厅里,有意向的客户正在决定是否要拿出1000元的定金进行登记,确保能有更好的机会买到一个月后开盘的龙湖虹桥天街项目公寓。展示厅里的销售顾问王梦(音)说:"到目前为止,我们已经有大约500人登记,下周的目标是2000人。"
Few activities make such direct contribution to economic growth as new home construction, but the excesses in the sector have now become an albatross on growth across the world's second-largest economy.
没有什么能像新房建设那样给经济增长带来直接的贡献,但目前在中国,行业的过剩已经成为一种沉重负担。
Facing weakened demand from builders, cement and steel producers in China are suffering from bloated inventories and have been cutting prices to get rid of stock. Prices of steel rebar were down 38% at the end of June from a year earlier.
面对建筑商的需求放缓,中国的水泥和钢铁生产商也遭遇着库存过大的问题,因而一直都在通过降价来减少库存。6月底,钢筋的价格同比已经下跌了38%。
Industries abroad also are getting hit. South Korean and U.S. exports of machinery and transport equipment to China moderated last year.
海外的产业也遭到重创。去年,韩国和美国向中国出口的机械和运输设备都出现了下滑。
To offset weakness in the real-estate investment sector, China is resorting to building airports, railways and other infrastructure to stabilize growth, including a plan to develop the Beijing-Tianjin-Hebei cluster in the Northeast.
为了抵消房地产投资行业的疲软,中国正在依靠建设机场、铁路及其他基础设施的方式来稳定增长,其中包括京津冀一体化的开发方案。
At Changchun's Eurasia Shopping Mall, possibly one of the world's largest, there were more salespeople than shoppers on a floor dedicated to furniture and bathroom and kitchen fixtures. Salespeople said they hadn't seen any spillover from a small improvement in sales in recent weeks. "Nothing has changed. It's still tough," said a saleswoman at a shop selling kitchen cabinets.
在也许是世界第一的长春市欧亚卖场,出售家具、浴室和厨房用具的楼层里销售员比购物者还多。销售员们称,近几个月来,他们还没看到销量有些许改善。一个橱柜销售员说:"什么都没变,还是一样难。"