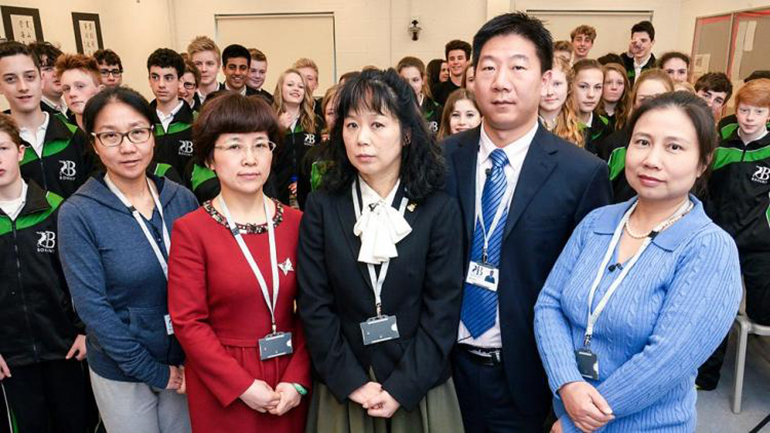 From The Telegraph:
Britain's generous welfare system is behind pupils' lack of ambition and ill-discipline, a group of Chinese teachers has said after spending four weeks in a comprehensive school in Hampshire.
在学校教了四个星期的课后,一伙中国老师说,英国慷慨的福利制度让学生缺乏雄心壮志以及纪律的约束。
The five teachers, who are part of a TV series in which they take over the education of a class of 50 teenagers, have said British pupils unruly behaviour is directly linked to welfare handouts that has produced adolescents with rude behaviour.
这5名中国老师是参与英国广播公司BBC制作的一个纪录片,他们接管了由50名十几岁青少年组成的一个班级,这些中国老师的结论是,这些孩子缺乏管教的行为与英国优惠的福利体制有直接的关系。
Wei Zhao, who teaches Mandarin said cuts in the welfare system will mean students will be more motivated to learn.
一位教中文的魏老师表示,如果英国削减福利将给学生更大的学习动力。
She said: "Even if they don't work, they can get money, they don't worry about it.
魏老师认为,这些学生即使不工作,也可以从政府那拿到福利,所以不用为自己的未来担心。
"But in China they can't get these things so they know, 'I need to study hard, I need to work hard to get money to support my family'.
魏老师说,在中国,学生们知道他们必须要努力学习,来养家糊口,因为没有福利做依靠。
"If the British Government really cut benefits down to force people to go to work they might see things in a different way."
她还说,如果政府削减福利,那就会迫使人们去上班,那时他们的看法就会改变。
Another teacher Li said: "When I handed out the homework sheets, I expected everybody to be concentrated on the homework. "But when I walked in the classroom some students were chatting, some students were eating, somebody was even putting make-up on her face. I had to control myself, or I would be crazy.
还有一位李老师说,当她把作业发给学生时,她期待学生们都会聚精神地做作业,但没想到当她走进教室时却发现有些学生在聊天、一些学生在吃东西,还有女生在化妆,她不得不强忍着怒火才不至于发作。
"About half of them tried their best to follow me. And the other half? Who knows what they were doing?"
她说,只有一半的学生比较听指挥,而另一半,天知道他们到底在做什么。
Yang Jun, a science teacher said: "In China we don't need classroom management skills because everyone is disciplined by nature, by families, by society. Whereas here that is the most challenging part of teaching."
教科学的杨老师则说,在中国不需要课堂管理学生的技巧,因为每个人都很守纪律,但是在这里教书则非常具有挑战性。
She was also confused by a teenage girl who left the classroom in tears after reading reports that singer Zayn Malik had quit the boy band One Direction.
杨老师不明白,为什么一名女生在听说英国男孩组合单项乐队中的一名歌手离开乐队的消息时哭着离开了教室。
She also challenged an individualised approach to pupil learning.
杨老师还对英国的所谓针对个体化的"因材施教"教学法方提出挑战。
She said: "You have different syllabuses to suit different students' ability. We don't. We have one syllabus, one standard; you survive or you die. It's up to you."
她表示,这里的教学大纲是根据学生个体的能力来制定的,但是在中国只有一个教学大纲,一个统一标准,学生要么被淘汰,要么胜出,全凭学生自己。
From Daily Mail:
Rude, bone idle… and cosseted by the welfare state! Chinese teachers' damning verdict on British children after spending a month in UK classrooms.
中国老师对英国学生作出了很差的评语:"无礼、懒惰、被福利宠坏了"。
A trailer for the programme shows a teacher shouting 'listen to me', 'just use your brain' and 'no talking, no questions' at bewildered looking British children.
中国老师让英国学生"用脑"、"不许讲话"、"不许问问题"。
But the Chinese methods did not appear to impress the Bohunt head teacher, Neil Strowger. He described the teaching techniques as 'mind-numbingly boring' and said usual standards of discipline at his school were not as loose as the Chinese teachers described.
但文章说,该学校的校长对中国式的教学方法似乎并不"感冒",他形容这种教学方法"非常枯燥",并说他们学校学生的纪律并不像中国老师形容得那么散漫。