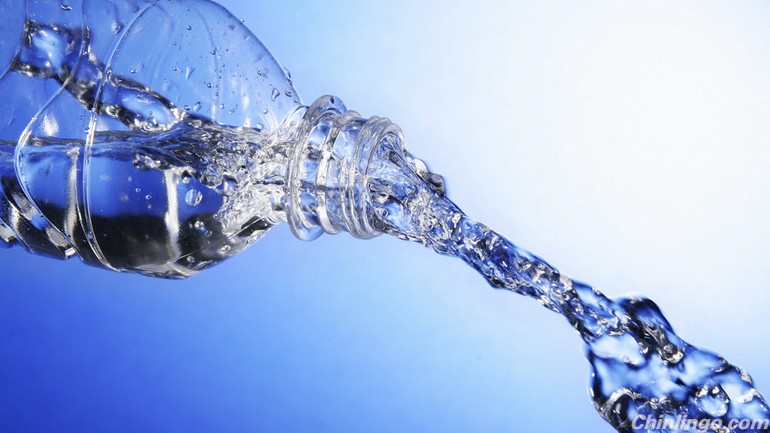 Water pollution is fueling the explosive growth of bottled water sales in China, where consumption of bottled water has doubled since 2006.
在中国,水污染正在推动瓶装水销量爆炸性增长,瓶装水消费自2006年以来增加一倍。
China has seven percent of the world's fresh water but 20 percent of its population, and its thirst for clean bottled water and purified tap water has, since 2010, also doubled, the research firm Euromonitor reported.
市场调研公司欧睿国际报告显示,中国人口占世界人口数量的20%,而中国淡水资源仅占全球淡水总资源的7%。自从2010年起,中国对干净瓶装水和净化水的需求增长了一倍。
Health concerns have forced China toward bottled water. In 2013, thousands of rotting pigs were discovered tossed into Shanghai's major supplier of water, the Huangpu River; oil from an industrial leak in 2014 put benzene in the tap water of Lanzhou's population of 2.4 million.
对健康的忧虑已迫使中国转向瓶装水。2013年,数千只腐烂的生猪被发现漂浮在上海市主要供水河流——黄浦江中;2014年,在人口达到240万的兰州市,石油泄露导致自来水受到苯污染。
The three biggest bottled water brands — Master Kong, Nonfgu Spring and C'esbon — are all China-based and account for one-third of all sales, although even bottled water, despite negligent government scrutiny, has been found to contain bacteria. The situation has opened the door to imported bottled water in China, perceived to be more pure than the domestic product and sold at premium prices by Coca-Cola's Ice Dew, France's Danone and Switzerland's Nestle. Together they account for about 13 percent of the market.
中国三大瓶装水品牌——康师傅、农夫山泉和怡宝均是中国本土品牌,这三个品牌的瓶装水销量占总销量的1/3。不过瓶装水也被发现存在细菌超标。这种情况已为在中国的进口瓶装水品牌打开了一扇门,可口可乐旗下的冰露、法国的达能以及瑞士的雀巢瓶装水被认为比中国本土产品更加纯净,售价较高。这些进口瓶装水品牌占13%的市场。
The surge in alternatives to tap water comes as China's premier planning agency accelerates anti-pollution policies. The annual report of the National Development and Reform Commission, delivered to Parliament Thursday, promises policies to curb air pollution, water pollution and coal burning.
在自来水的代替品激增之际,中国国家总理正在规划机构加速制定反污染的政策。国家发展和改革委员会3月5日提交给全国人大的年度报告承诺制定政策,遏制空气污染、水污染和煤炭燃烧。
"Environmental pollution is a blight on people's quality of life and a trouble that weighs on their hearts," Premier Li Keqiang said in the report.
中国国家总理李克强在作政府工作报告时表示:"环境污染是民生之患、民心之痛,要铁腕治理。"