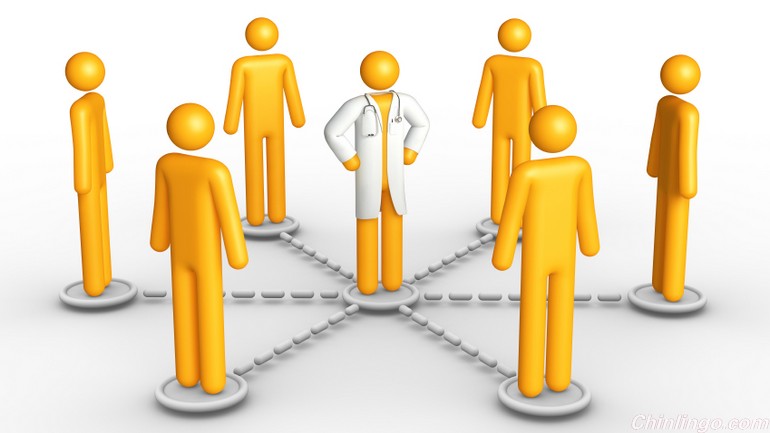 Ou Lizhi, a doctor in southeastern China, was making her morning rounds last week when a patient approached and demanded treatment. When she could not immediately help, he pulled a knife.
一天早上,在中国东南部地区工作的欧丽志医生正在医院病房查房时,一位患者走过来要求接受治疗。她当时无法立即为这位患者提供帮助,他随即拔出了一把刀。
In a scene of chaos partially captured by surveillance cameras at Longmen County People's Hospital in Guangdong Province and widely reported in the state-run press, the alleged assailant, surnamed Liao, slashed her legs and arms, deeply cutting her hand. He then chased her through crowded corridors until, at last, he was subdued.
当时一部分混乱的场面被广东省惠州龙门县人民医院的监控摄像头捕捉了下来,继而被官方媒体广泛报道。涉嫌持刀砍人者姓廖。此人向欧丽志的腿部和胳膊猛砍数刀,严重砍伤了她的手部。接着,他在拥挤的走廊上一路追赶欧丽志,直到最后被人制服为止。
In an online petition started in the wake of the bloody ordeal, some 600,000 Chinese physicians called for an end to what has become a familiar occurrence in the country's underfunded and overcrowded hospitals: attacks on doctors.
在上述血腥的痛苦事件发生后,约有60万名中国的医生开始在互联网上的一份请愿书上联合签名,要求终结该国资金不足、人满为患的医院中出现的常见现象——对医生的暴力攻击。
Reports of disgruntled patients wreaking havoc on hospital floors are alarmingly common in China, from the story of the ear, nose and throat specialist stabbed to death on duty, to photographs of mob scenes at clinic gates.
从耳鼻喉专家在值班时被人刺死到大量群众聚集在门诊部门口,有关心怀不满的患者对医院造成破坏的报道在中国十分常见,令人担忧。
Though violence against medical staff is not new, several studies suggest the problem is widespread — and may be getting worse.
虽然针对医护工作者实施的暴力行为并非新生事物,但有研究称,这一问题相当普遍,或许情况正愈演愈烈。
In May, the Chinese Medical Doctors' Association reported that 13 percent of 12,600 doctors surveyed said they were physically assaulted in the last year. Chinese state media reported 12 incidents in June.
5月,中国医师协会报告称,接受其调查的1.26万名医生中有13%的人表示,自己在去年遭到过身体上的攻击。6月,据不完全统计,中国官方媒体报道了12起类似事件。
A report by the China Hospital Management Association found that, between 2002 and 2012, attacks on medical personnel jumped an average of 23 percent each year. In 2012, that meant an estimated 27 assaults per hospital.
中华医院管理协会撰写的报告称,从2002年到2012年,袭击医护人员的事件数量平均每年增长23%。这意味着,据估算在2012年,每家医院出现了27起袭击事件。
Patient-on-doctor violence is a symptom of health system in crisis, experts say.
有专家表示,医患之间的暴力事件是医疗体系陷入危机的征兆。
Thanks to an ambitious set of reforms launched in 2009, most Chinese have some form of public health insurance. But coverage is spotty, and hospitals still struggle to meet the demand for decent care at an affordable price; patients complain about days-long waits, shoddy service and bills that bankrupt entire families.
得益于2009年实施启动的一系列雄心勃勃的改革,大部分中国人已经拥有了某种形式的公共医疗保险。然而,保险的覆盖范围并不全面。一方面,多家医院仍苦苦挣扎着满足相关需求,努力以患者可以承受的价格为他们提供像样的治疗和护理。另一方面,患者们则对长时间的候诊,劣质的医疗服务以及能让整个家庭破产的巨额账单抱怨连连。
Doctors are also aggrieved. While American physicians are generally well-compensated, Chinese doctors are considered civil servants and often paid a pittance compared to private sector wages. With lines snaking through hospital hallways, the pressure to treat ever-greater numbers is enormous.
医生们的权益同样受到了侵害。美国的医生总体而言都收入不错。而中国医生的待遇相当于公务员,与私营部门的医护工作者相比,薪水微薄。医院的走廊上排着长长的队伍,治疗人数不断增多的患者为医院带来了巨大压力。
If things go wrong — or when patients think they do — there is little protection. Absent malpractice insurance and fair courts, disputes between doctors and patients are all too often settled informally, or not at all. Some families take matters into their own hands, striking out at those who they believe made a mistake — or just the first person in a lab coat.
如果情况不对了,或者当患者认为出现问题的时候,没有什么保护措施可以采用。没有医疗事故保险可用于投保,法院审判也并不一定公正,在这种情况下,医生和患者之间的争端常常都是以非正式的方式解决,或者根本得不到处理。一些患者家属试图自行解决问题,袭击他们认为犯了错误的那些人,或仅仅是他们遇到的第一个身穿白大褂的人。
Morale could hardly be worse. The proportion of Chinese doctors who hoped their child would enter the profession dropped from 11 percent in 2002 to 7 percent in 2011, according to a survey conducted by the Chinese Medical Doctors' Association. In a 2012 letter to The Lancet, a medical journal, a Chinese student expressed "regret" about choosing medicine as his career.
医生的士气可能不会变得更加低落了。中国医师协会所做调查发现,希望自己的子女从事医疗工作的中国医生所占比例从2002年的11%下滑到2011年的7%。一位中国学生2012年在写给医学杂志《柳叶刀》周刊的一封信中表示"后悔"选择医生这个职业。
"The new generation of Chinese doctors feels lost," he wrote. "They do not know whether to continue to study medicine or not, and how to face the complex and uneasy relationship with their patients."
他写道:"新一代的中国医生感到失落。他们不知道应不应该继续学医,也不知道如何面对与患者之间复杂而窘迫的关系。"
They also wonder how to stay safe. After a 46-year-old specialist was stabbed to death at a hospital outside Shanghai last year, a nearby hospital started holding kung fu classes, where medical staffers practiced using things like folding chairs to thwart attacks.
他们还想知道如何能保障自己的人身安全。去年,在上海附近地区工作的一位46岁的专家在医院外面遇刺身亡。附近一家医院随后开设了武术课程。医护人员在课上学习如何利用折叠椅等物品阻止他人对自己实施攻击。
Officials in Guangdong Province, where Ou worked, are now calling for in-hospital police stations, alarm systems and more patrols — a move that may quell fear in the short term but seems unlikely to create an atmosphere of calm and trust.
欧丽志工作所在的广东省的官员目前在呼吁有关部门成立医院内部的警察派出所,在医院安装报警系统,并派出更多的巡逻安保人员。此举或许可以在短期内平息紧张情绪,但似乎不可能创造出平静和彼此信任的环境。
In a pointed editorial, the Lancet urged Chinese officials to look beyond policing. "Although turning hospitals into high-security institutions may be a necessary step, it is a short-term solution to this disturbing and desperate situation," it said.
《柳叶刀》周刊在一篇内容直截了当的社论中呼吁中国官员要把目光放得更为长远,不要仅局限在维持治安方面。它写道,"尽管把医院建设成戒备森严的机构或许是一项必要的措施,但它只是针对令人不安和绝望的现状的短期解决办法。"
Instead, the journal argued, "China needs to make medicine an attractive, respected, rewarding, and safe profession again" by tackling issues such as funding, pay and patient knowledge.
该周刊称,中国需要通过处理涉及医院资金、医护人员薪酬和患者掌握的医学知识等问题,把医学工作变为具有吸引力,受人尊重,令人满意和具有安全感的职业。
That could go a long way to protecting people like Ou, who is recovering from surgery. Her surgeon told the South China Morning Post that she may or may not regain the use of her hand.
要保护像欧丽志一样的人可能还有很长的路要走。目前,欧丽志正处在术后康复阶段。给她做手术的外科医生接受《南华早报》采访时说,她的手有可能恢复功能,也有可能无法做到这一点。