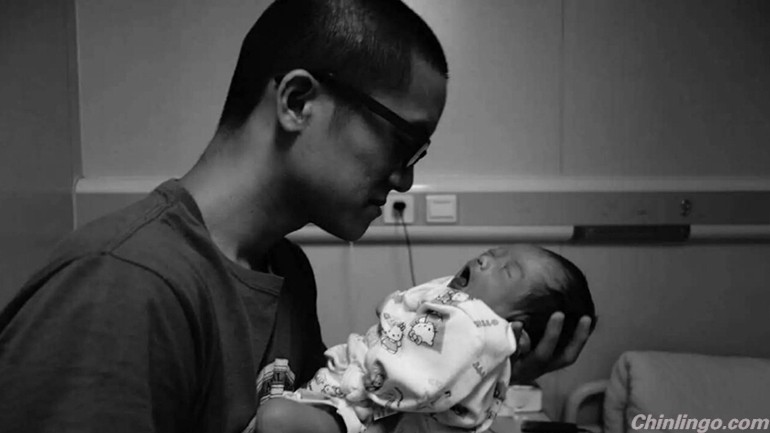 Shen Bolun held his newly-born daughter.

Shen Bolun and Wu Xia, who are not married, celebrated the smooth delivery of a healthy girl in Beijing on Sunday. But the joyous event came with a price tag: a government fine.
沈博伦和吴霞的女儿顺利降生。由于两人并没有结婚,因而这件喜事是有代价的:政府罚款。
The local family planning office had notified them in April that the two would have to pay a "social maintenance fee" of 43,910 renminbi, or about $7,200, to register their daughter's birth.
美国《纽约时报》6月25日报道,当地计划生育办公室4月份曾通知他们要缴纳43910元"社会抚养费",才能为女儿注册户口。
Governments across China impose the levy on parents who are unmarried or otherwise seen as violating family planning regulations.
中国各地方政府向非婚生子女的父母征收这笔费用,如不缴纳则被视为违反政策。
The couple shared their story online on Sunday, starting a debate about how involved the state should be in citizens' decisions to have children. Hundreds of people have since offered to contribute money to help the new parents pay the fee.
于是沈博伦和吴霞21日把他们的故事发到了网络,引发了就政府介入公民生育权问题的争论。数百人为他们捐资缴费。
"In this society, an abortion seems to be the easiest, most convenient choice," Mr. Shen, a 26-year-old artist, wrote in his post. "But we both really love children. And, no matter the timing, having a child was for both of us an immeasurably joyous event."
"在这个社会里,堕胎似乎总是最轻松最方便的选择。可是,我们都是非常喜爱孩子的人。而且无论在任何时候,拥有个孩子本身就是令我俩都无比高兴的事情。"26岁的艺术家沈博伦在其众筹项目中写道。
The Chinese government is gradually easing the country's once-strict family policy regulations. In the past, urban couples in which both parents came from single-child families were allowed to have a second child, but at the end of 2013 the government announced that couples in which only one partner was a single child could also apply to have a second child.
中国政府正在放宽一度非常严格的生育政策。过去,城市户口的夫妻只有双方都是独生子女才能生育二胎,但2013年底政府宣布只要夫妻一方是独生子女就可生育二胎。
Last year, members of China's legislature, the National People's Congress, publicly called for the social maintenance fee to be scrapped. The State Council, China's cabinet, is considering amending the regulations, the state news media reported at the time.
去年,中国多名人大代表呼吁取消社会抚养费。当时官方媒体曾报道,中国国务院正在考虑修订相关法规。
But for many, the easing of government controls is not coming fast enough. And the social maintenance fee, which has been collected since the 1980s, remains in place.
但对许多人来说,政策放宽的速度仍然太慢。而自1980年代开始征收的社会抚养费也依然如故。
"With a full year's well-established evidence of lukewarm response following the policy change, the government has made no progress in spelling out the next steps to lift controls over people's childbearing," Wang Feng, a sociology professor at the University of California, Irvine, who studies China's family planning policies, wrote in an email.
"经过修改政策后整整一年人们的漠然反应作为充分证据,政府在放开公民生育权上仍然没有进展。"加利福尼亚大学欧文分校社会学教授、研究中国计划生育政策的学者王丰说。
"Young Chinese couples, unlike their parents' generation, are much less tolerant of the bureaucratic control and harassment," he wrote.
"年轻的中国夫妇不同于父辈,他们不愿忍受官僚作风的控制。"他写道。
Liang Zhongtang, a demographer with the Shanghai Academy of Social Sciences, noted that unmarried couples were being fined even if they had only one child. "It doesn't matter if it's the first or second baby," he said in an interview. "Of course unwed parents shouldn't be fined for having kids. It's ridiculously wrong and should've ended already."
上海社会科学院人口统计学家梁中堂说,未婚情侣即使只生育一个孩子也会被罚款。"不管孩子是头胎还是二胎。"他在采访中说,"非婚生子女的父母当然不应该因生育而受到罚款。这是非常荒谬的,早就该废止。"
Wu Youshui, a lawyer based in Zhejiang Province who specializes in family planning issues, spelled out the rules: "You need a birth permit to give birth. To get a birth permit you need the marriage certificate. To get the certificate you need to get married."
对计划生育政策进行专门研究的浙江律师吴有水如此概括程序:"要生育需要准生证。办准生证需要结婚证。办结婚证需要结婚。"
Normally, parents in Beijing must be married when they apply for a hukou — a residency status that ties access to subsidized social services to one's hometown — for a newborn child. Without marriage, they would need to submit other documents, including a paternity certificate and receipts showing they have paid the social maintenance fee.
通常,如父母在北京为新生儿申请户口,两人必须是已婚夫妇。如果没有结婚,他们需要上交其他材料,包括亲子证明和缴纳社会抚养费的证明等。
The fee varies by locality. In Beijing, the fine for a child born "out of plan" is the average annual disposable income of local residents. Additional births in violation of family planning rules can lead to higher penalties, up to 20 times as high in Beijing.
社会抚养费因地区而异。在北京,"计划外"生育的罚款是当地居民一年可支配收入的均值。违反计划生育政策的超生会受到更高的罚款,甚至高达北京罚款的20倍。
In a case that received nationwide attention last year, the prominent film director Zhang Yimou was fined 7.5 million renminbi, or $1.24 million, for having had three children with his current wife before they were married. He also has a child from a previous wife.
知名导演张艺谋超生一事去年曾受到全国关注,他因与现任妻子婚前生育三个孩子而被罚款750万人民币。他和前妻也有一个孩子。