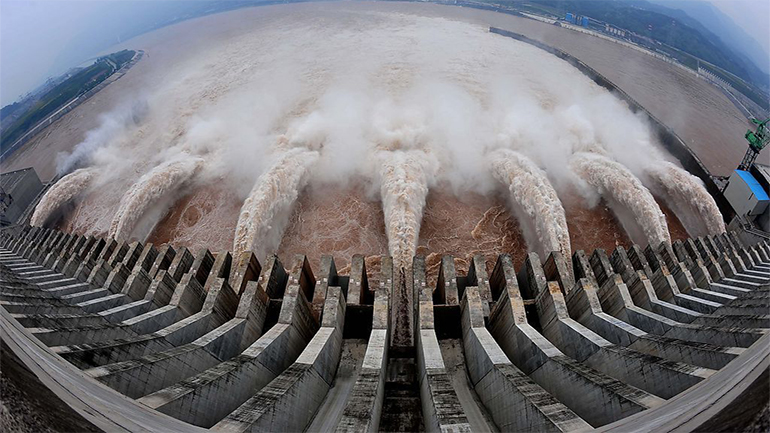 China could be wasting enough hydroelectricity to power Britain and Germany for a year, depriving its smog-bound eastern regions of huge volumes of clean energy as a result of poor planning and weak grid infrastructure.
中国浪费的水力发电量可能足以供英国和德国使用一年,糟糕的规划和薄弱的电网基础设施使中国被雾霾笼罩的东部地区失去了大量清洁能源。
An often controversial dam-building programme raised China's hydropower capacity to 300 gigawatts last year, but a preoccupation with capacity rather than efficiency and grid connectivity has created huge local surpluses that are often literally flushed away, executives said.
常常引发争议的筑坝计划使中国去年的水电装机容量达到3亿千瓦,但管理人员表示,注重装机容量而非发电效率和电网连接性造成了大量水电浪费。
Hydropower is a key component in China's efforts to cut coal use and meet pledges made during global climate talks to raise the share of renewables in its total energy use.In the first four months of this year, when power generationas a whole rose just 0.2 percent, hydropower generation rose15.3 percent.
水力发电是中国努力减少煤炭使用和履行在全球气候大会上所作出的承诺—提高可再生能源的总使用量的关键环节。今年前4个月,在总发电量仅增长0.2%的情况下,水力发电量增长了15.3%。
"If China fully exploited hydropower, total annual output should be around 2.2 trillion kWh, compared to about 1 trillion kWh now," Zhang Boting, deputy secretary-general of the China Hydropower Society, told Reuters.
中国水力发电工程学会副秘书长张博庭说:"与现在1万亿千瓦时左右的发电量相比,倘若中国充分利用水力发电,年发电总量应达到约2.2万亿千瓦时。"
Doubling Chinese hydropower usage could cut coal use by about 500 million tonnes a year.
如果中国的水力发电量翻一番,煤炭的年消费量就可减少约5亿吨。
In the southwestern province of Sichuan, where hydro output rose 19.1 percent in January through April, official National Energy Administration data showed that plants were forced to release water that could have generated an additional 9.8 billion kWh last year had the grid been able to absorb it.
今年1月至4月,四川的水力发电量增长了19.1%,但国家能源局的数据显示,如果发电厂放弃的水能被电网利用,四川去年可以增加90多亿千瓦时的发电量。
One of Sichuan's rivers, the Dadu, is emblematic of the problems. Developers there were encouraged to build dozens of dams with little regard to overall planning or the environment, creating a huge glut.
四川的大渡河是这些问题的一个缩影。这里的开发商几乎不顾总体规划或环境修建了很多大坝,从而造成了大量的水电浪费。
"It was like a piece of meat being chopped and chopped very badly," said Xie Changjun, the vice-president of the Guodian Corporation.
中国国电集团公司副总经理谢长军说:"这就像一块正在被胡乱切剁的肉。"
Chinese officials said they are currently looking for ways to solve such problems through reforms to the system.Some of those reforms could include plans to allow industrial firms to sign power supply contracts directly with local power plants instead of going through the grid, but that is unlikely to help hydro plants in remote southwest China, where industry is undeveloped and local power demand weak.
中国官员说,目前正在想办法通过体制改革解决此类问题。其中一些改革可能包括允许公司直接与当地发电厂签订供电合同,但这不大可能帮助到西南偏远地区的水力发电厂,那里的工业尚不发达,电力需求薄弱。
Long-distance ultra-high voltage lines built by the State Grid Corporation are dedicated to delivering power from central government-administered plants like the Three Gorges. Power from less prestigious projects is often left stranded.
国家电网公司搭设的特高压远距离输电线只负责为中央政府管理下的三峡大坝等发电站输电。知名度较低的项目的输电工作常常陷入困境。