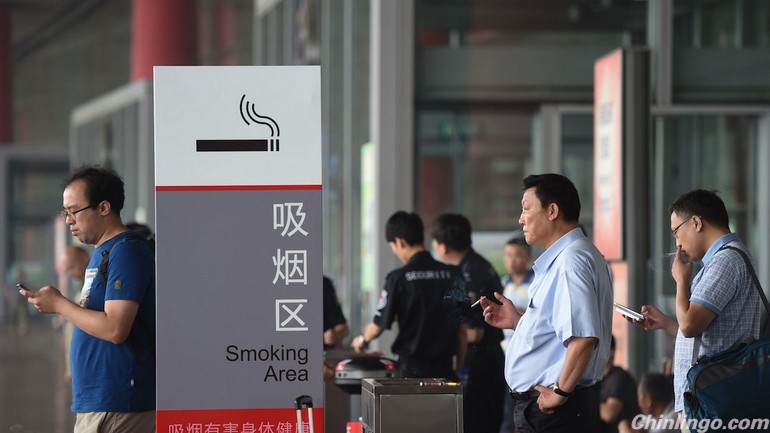 Beijing, the Chinese capital, introduced sweeping new rules against smoking indoors in an effort to further cut down on cigarette consumption.
中国首都实施全面的室内禁烟新规,目的是进一步减少该国的香烟消耗量。
Many harbor doubts here about how strictly the new ban will be enforced in local settings.
对于新禁令在具体执行时的力度会有多大,北京很多人心存疑虑。
Yet there is another, stronger reason to expect only slow progress on anti-smoking in China: the government agency charged with dissuading people from smoking cigarettes also runs the company that has a monopoly on making and selling cigarettes.
但中国控烟行动只会有缓慢进展还有更为强大的另一个原因:负责劝阻吸烟的政府机构也负责经营对香烟生产和销售有垄断权的公司。
"This is a conflict of interest… that it is impossible to reconcile," says Jin Jiyong, who teaches health policy at Shanghai International Studies University.
"这是一种利益冲突……不可能调和。"上海外国语大学国际关系与公共事务学院的晋继勇说。
"It is a challenge" for the State Tobacco Monopoly Administration (STMA) to both run the Chinese cigarette industry and regulate it at the same time, acknowledges Li Baojiang, deputy head of the agency's think tank.
国家烟草专卖局研究所副所长李宝江承认,专卖局既经营中国烟业又监管中国烟业"是个挑战"。
Critics say the STMA puts profits ahead of health at the behest of the government. Last year the tobacco industry in China earned US$149 billion – in tax revenue. That adds up to a whopping 6.5 percent of the national budget, according to state figures.
批评者称,烟草局在政府的授意下将利润置于健康之上。去年,中国烟草业创税收1490亿美元。根据国家统计数字,这占国家预算的6.5%。
"Today the economy is the prevalent priority in government," says Yang Gonghuan, a former deputy chief of the Chinese Center for Disease Control. "They [officials] don't risk the economy."
中国疾病预防控制中心原副主任杨功焕表示:"如今经济是政府的重中之重,他们(政府官员)不会拿经济冒险。"
The tobacco industry's economic importance gives it tremendous clout, and it also enjoys top level political connections.
烟草业的经济重要性给予了它巨大影响力,而且它与政界高层有着密切联系。
Still, Beijing's new municipal rules, which set high fines for smoking in enclosed public spaces such as bars, and offices and restaurants, are the toughest ordinances anywhere in China.
尽管如此,对在酒吧、办公室和饭店等封闭公共区域吸烟处以高额罚款的北京市新规是中国最严厉的禁烟令。
Smoking in China is still common, especially in the countryside. More than 300 million people smoke, including 53 percent of adult men according to the World Health Organization. The state-owned China National Tobacco Corporation, working under the STMA, manufactured more than 2.5 trillion cigarettes last year – 43 percent of total world production – and over 20 million people are employed, directly or indirectly, in the business.吸烟在中国至今仍很普遍,尤其是在农村。据世界卫生组织称,中国吸烟人数超过3亿,其中53%是成年男性。由烟草局领导的中国烟草总公司去年生产香烟逾2.5万亿支,占世界总产量的43%。中国烟业的直接或间接从业人员超过2000万。
The Chinese government signed up to the WHO's Framework Convention on Tobacco Control ten years ago. But it has not met all its obligations.
中国政府十年前在世卫组织的《烟草控制框架协议》上签了字,但并未履行其全部责任义务。
A nationwide ban on indoor smoking in public places, which should have become law in 2011, is still held up in the State Council, China's cabinet office.
本应在2011年成为法律的全国公共场所室内禁烟令至今仍压在国务院。
The government has shared responsibility for tobacco control among several ministries, including Health, Finance, and Industry. When the CDC evaluated government action in 2011, "We gave them a failing grade" of just 37 out of 100, says Dr. Yang.
中国政府的控烟责任分属若干部委,包括卫生部、财政部、工信部。杨博士说,2011年疾控中心评估政府行动时,"我们给了他们不及格",按百分制打了37分。
The authorities fell down on key tasks such as banning indoor smoking, raising cigarette prices, putting health warnings on packages, and helping smokers quit. The STMA's role in tobacco control, as a major player in the Ministry of Industry, "explains why our progress is so slow," says Yang.
当局未完成几个关键任务,比如禁止室内吸烟、提高香烟价格、在烟盒上标明健康危害警告和帮助烟民戒烟。杨博士指出,烟草局作为工信部的一个重要部门在控烟方面扮演的角色"解释了我们的进展为什么这么慢"。
The STMA, which runs the China National Tobacco Corporation, has been tasked with designing graphic health warnings and ensuring they appear on cigarette packages. Seven years after it was given the job, no such warnings have yet appeared.
中国烟草总公司所属的烟草局受命设计图形健康危害警告并确保它们被印到烟盒上。然而在它接到任务的七年后,这种警告标识仍未出现。
"Tobacco control is a process," says Mr. Li in explanation, adding that the WHO convention only "encourages" governments to use graphic health warnings, rather than obliging them to do so.
李宝江解释说:"控烟要有个过程。"他还表示,世卫组织的协议只是"鼓励"政府使用形象生动的健康危害警告,并未规定必须这么做。
That, argues Professor Jin, is a weak excuse. "Graphic warnings are the most effective way to bring down smoking rates in China," he says, "and the government should take peoples' health into consideration."
晋教授认为,这是一个根本站不住脚的借口。他说:"图形警告是降低中国吸烟率的最有效手段,政府应当考虑到人们的健康。"
To be sure, the STMA is not trying to expand its customer base by encouraging young people to take up smoking, Li insists. Advertising for cigarettes was banned last month.
诚然,李宝江坚称,烟草局并没有通过鼓励年轻人吸烟来扩大顾客群。香烟广告上月已被禁止。