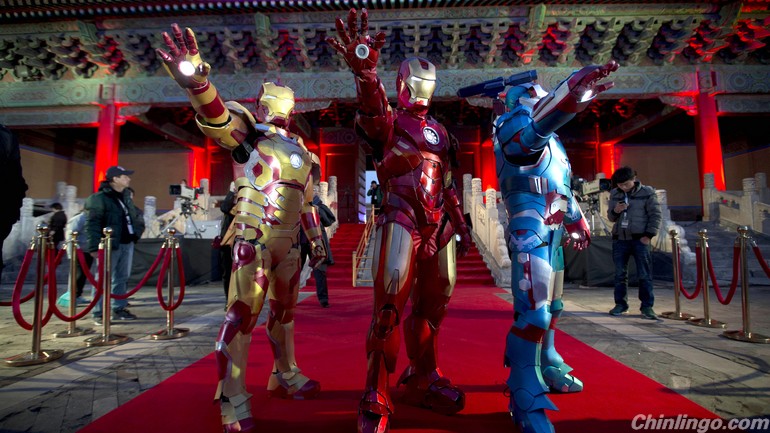 The boxing drama "Southpaw" released over the weekend has a seemingly unlikely partner in its corner: Chinese conglomerate Dalian Wanda Corp.
本周末公映的拳击题材剧情片《铁拳》背后,有一个看似不太可能的合作伙伴:中国企业大连万达集团。
Wanda financed the approximately $30 million production budget for the Jake Gyllenhaal movie. It was produced and is being released by Weinstein Co., which is paying for about $35 million of marketing expenses. The two companies will split any profits.
万达为这部由杰克·吉伦哈尔主演的影片提供了约3000万美元制作预算,制片方和发行方温斯坦影片公司则为约3500万美元的营销费用埋单,如果盈利,利润将由两家公司分享。
"They were on the set and involved in production, postproduction, marketing, everything," said Weinstein President David Glasser. "They wanted to learn how we do what we do."
温斯坦影片公司总裁戴维·格拉瑟说:"他们会去片场,参与制作、后期、营销等所有流程。他们想要学习我们的经验。"
In exchange, Weinstein is hoping Wanda will help the movie gain a favorable distribution arrangement in China.
作为交换,温斯坦希望万达帮助该片在中国获得较好的发行安排。
"Southpaw" represents one of several ways Chinese companies lately have been trying to tap Hollywood moviemaking know-how.
《铁拳》的制作,采取的是近来中国公司试图学习好莱坞电影制作经验的多种方式之一。
Four former heads of major studios and studio divisions have in the past year launched or taken jobs atop startups backed by Chinese investors.
去年,在中国投资者的支持下,一些前主要电影制片厂和电影公司的部门高管创立新电影公司,或在新公司担任要职。
They are launching amid a wave of Chinese investment in the entertainment business, technology and other U.S. industries. The Chinese companies aren't only looking to make money, people involved in the moves say, but to gain expertise in areas where they are currently not global leaders.
当前正值中国投资娱乐业、技术和其他美国产业的浪潮。据内部人士介绍,中国企业不仅希望赚钱,而且希望在他们目前没有占据全球领导地位的领域掌握专业知识。
"China is the fastest-growing movie marketplace in the world and the source of a tremendous amount of capital," said Sheri Jeffrey, a partner at law firm Hogan Lovells who focuses on entertainment finance.
霍金路伟律师事务所合伙人、专注于娱乐金融的谢里·杰弗里说:"中国是世界上增长最快的电影市场,也是惊人资金的源头。"
The wave of startup studios is unprecedented in recent Hollywood history and a sign of how much more accessible funding has become for a very risky proposition.
这股初创电影公司的浪潮在好莱坞近期历史上是空前的,它表明这种高风险生意的融资变得越来越容易。
"Many traditional sources of investment dollars are looking for a faster turnaround of their money," said Dick Cook. He has spent the past five years putting together a plan for his own entertainment venture and looking for investors. It took five months of talks, he said, to land a recently announced $150 million investment from Chinese conglomerate Citic Guoan Group Co. Ltd.
迪士尼公司前高管迪克·库克说:"许多传统的投资源寻求资金更快周转。"过去5年,库克一直在为他自己的娱乐公司奔走并寻找投资者。他说,在5个月的洽谈之后,中信国安集团最近宣布投资1.5亿美元。
China gets its own benefit from the deals: the advice of some of Hollywood's most experienced hands at a time when its government is pushing entertainment as a source of "soft power."
中国可从协议中获得自身利益:在政府力推娱乐业作为"软实力"源头之际,好莱坞最有经验的一些专家提供的经验是有价值的。
Though it has become the world's second-largest movie market, China has yet to produce a globally popular movie of the type regularly churned out by Hollywood. Allying with former studio chiefs is seen as a tool to change that.
尽管中国已成为世界第二大电影市场,但它尚未能像好莱坞那样生产出受到全球欢迎的影片。与前电影公司高层结盟,被视为改变这一局面的手段。
Hollywood is far from the only American industry benefiting from Chinese investment. Silicon Valley has also seen an influx of money from across the Pacific, with Chinese e-commerce giant Alibaba Group Holding Ltd. investing $200 million in Snapchat Inc.
好莱坞不是唯一从中国投资中受益的美国产业。大量资金已从太平洋彼岸涌入硅谷,中国电商巨头阿里巴巴集团向照片分享应用程序"阅后即焚"投资了2亿美元。
Still, the stream of capital comes at an opportune time, some believe, because major studios are making half as many movies as they did a decade ago, leaving holes in the market.
一些人认为资金来得正是时候,因为大型电影公司制作的电影数量只有10年前的一半,市场还是有缺口的。
Chinese companies have been investing in established Hollywood enterprises for several years.
事实上,中国企业多年来一直在好莱坞投资。
Though "Southpaw" is the first American movie in which it invested, Wanda acquired AMC Entertainment Holdings Inc., the second-largest theater chain in the U.S., in 2012 for $2.75 billion. Lions Gate Entertainment Corp. in March closed a film financing deal with Hunan TV & Broadcast Intermediary Co. worth up to $375 million.
尽管《铁拳》是万达投资的第一部好莱坞影片,但它在2012年以26亿美元收购了美国第二大院线美国电影院连锁公司。今年3月,狮门影视公司与湖南电广传媒达成了价值高达3.75亿美元的电影融资协议。