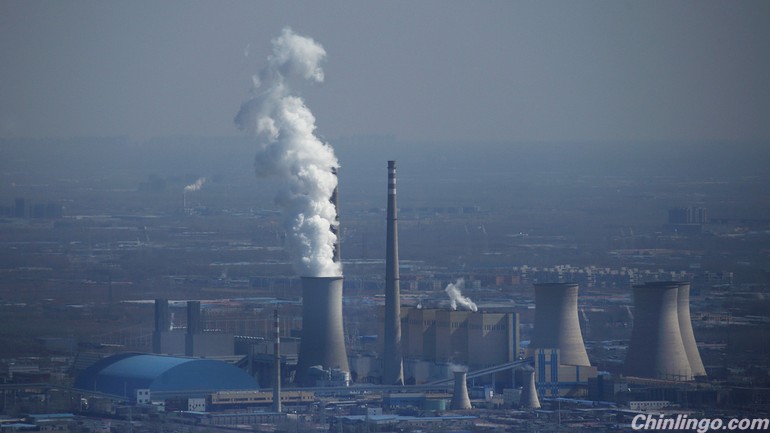 A "war against pollution" declared by China's leaders is getting a boost from the slowing economy as the government forces bloated industries like steel, cement and glassmaking to slim down.
随着政府迫使臃肿的钢铁、水泥和玻璃制造等行业瘦身,中国领导人宣布打响的治污战正从经济放缓中受益。
The results of cuts in overcapacity are already visible in notoriously smoggy Beijing. Official air-pollution data released by China's government and monitoring by the U.S. embassy show levels of fine-particulate matter damaging to human health—known as PM2.5—fell more than 15% in the capital in the first half of 2015, compared with a year earlier. The city's 21 million residents have been greeted with unusual stretches of blue skies.
在雾霾严重的北京,削减过剩产能带来的结果显而易见。中国官方公布的空气质量数据显示,今年上半年北京市对人体健康有害的细颗粒物(PM2.5)平均浓度同比下降15.2%。连续出现的蓝天成为2100万北京居民难得的享受。
While measures taken by Beijing are partly behind the change, just as important is what's happening in the sprawling industrial areas that encircle it.
北京采取的措施是导致这种变化的部分因素,但北京周围的大片工业区发生的变化也同样重要。
The bleak industrial city of Shahe, 200 miles south of the capital, boomed for much of this century. These days, small glass producers there that haven't already closed for lack of business have been targeted by local authorities to upgrade equipment or shut operations. Dozens are already gone.
河北省沙河市位于北京以南200英里(约合322公里),在本世纪以来的大部分时间里,这个萧条的工业城市曾一片繁荣。如今,该市尚未因缺少业务而关门的小型玻璃生产商已成为当局的整顿对象,后者要求他们进行设备升级或者停业。数十家小型玻璃生产商已经关门。
"The entire country is demanding pollution controls," said Li Jianglu, an executive at Jindong Glass Co., which had to close one factory last year and is now investing to move up the value-chain instead. "All we can do is to answer their call. There is no other way."
沙河市金东玻璃有限公司的高管李江路(音)说:"整个国家都在要求控制污染。我们唯一能做的就是响应号召,没有别的办法。"该公司去年不得不关闭一个工厂,目前正进行投资,向价值链上游攀升。
When they came to power more than two years ago, President Xi Jinping and Premier Li Keqiang promised to move away from a nearly four-decade-old model of economic growth that prioritized heavy industry, leading to overcapacity, while also declaring a "war against pollution."
本届中国领导人曾表示,将摆脱已实行近数十年的经济增长模式——这种优先发展重工业的增长模式导致产能过剩——同时"向污染宣战"。
To accomplish its goals, economists have said the government must let economic growth—which has already slowed to 7%—sag further in a transition that will see workers laid off but more money spent on environmental controls and better-quality manufacturing.
经济学家说,为实现这一目标,政府必须让经济发展速度——目前已降至7%——在转型中进一步下降。经济转型期间,有些工人将会下岗,但用于环境控制和提升制造业质量的资金将会增加。
In Hebei province, where Shahe is located, the government said it invested nearly a billion dollars last year on environmental protection, with most of the funding coming from the central government.
在河北省,政府表示去年的环保投入达到近10亿美元,其中大部分资金来自中央政府。
Interviews with executives, local officials and pollution experts show the government taking a multipronged approach, squeezing out small-time industrial producers that contribute to smog and overcapacity while tightening inspections of big producers and forcing them to upgrade equipment.
记者对企业高管、当地官员和治污专家的采访显示,政府采取的是多管齐下的方式:淘汰制造雾霾并导致产能过剩的小规模工业生产者,同时严格对大规模生产者的检查,迫使他们进行设备升级。
"The pollution problem was originally caused by distortions in the economy that favored very energy intensive industries over services sectors or the consumption side," among other reasons, said Anders Hove with the Chicago-based Paulson Institute, a think tank. "Improved environmental enforcement is one potential way to reduce those distortions."
保尔森研究所的安德斯·霍夫说,"污染问题最初是重视能源密集型行业、轻视服务业或消费的经济扭曲现象造成的",当然还有其他原因。他说:"加大环境执法力度是减少这种扭曲现象的一种潜在方法。"
Beijing has been a particular problem. Quality-of-life concerns have risen with incomes and middle-class professionals have complained volubly on social media about the air.
北京存在的问题尤为突出。随着收入的提高,人们越发关注生活质量,中产专业人士经常在社交媒体上吐槽空气污染。
As recently as January 2013, days of toxic pollution saw PM2.5 levels in Beijing rise to 35 times World Health Organization standards, drawing global and local scorn. In response, the capital shut down multiple coal-fired power plants and removed nearly half a million outdated vehicles from the roads last year.
2013年1月,北京的空气污染曾持续多日,PM2.5浓度升至世界卫生组织标准的35倍,引来国内外一片嘲笑。作为应对措施,北京去年关闭了多个燃煤发电厂,并淘汰了几十万辆老旧汽车。
Despite the modest improvement in and around Beijing, air-quality elsewhere remains a problem.
尽管北京及周边的空气质量有所改善,但其他地区依然存在空气污染问题。
Then a real estate glut swamped the market, prices and demand for plate glass crashed and Shahe's growth rate fell by half. "No one is making money here these days," said Liu Zhiqi,a vice president at Jindong Glass. Executives declined to discuss revenues.
像沙河这样的地方处于政府治污工作的前线。由于房地产市场供过于求,平板玻璃的价格和需求出现暴跌,沙河的经济增速大减。金东玻璃的高管刘志奇(音)说:"这些日子这里谁也赚不到钱。"
Today, Jindong Glass is investing in new equipment at the closed factory to produce reinforced glass, a process executives say has lower emissions than simple plate-glass production.
目前,金东玻璃正在已经关闭的工厂投入新设备,准备生产强化玻璃。一些高管说,强化玻璃生产过程中的污染物排放量要比平板玻璃低。
Others in Shahe are faring similarly, scrapping the low margins of plate-glass production and turning to value-added glass processing instead.
沙河市其他玻璃生产商的情况与之类似:放弃平板玻璃生产的低利润,转而进行具有附加值的玻璃加工。
One local official said Shahe is looking for guidance from places like Toledo, Ohio, America's "glass city," which also went through a transition to higher value, less polluting production.
当地官员说,沙河市正从美国俄亥俄州托莱多等地寻求指导。托莱多被称为美国的"玻璃城",后来向价值较高而污染较少的生产模式转型。