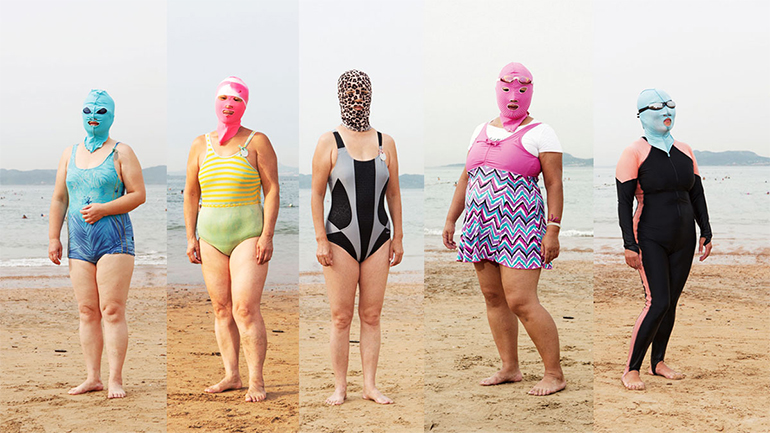 It may never rival porcelain or Peking duck in popularity beyond China's shores, but the "facekini" is being hailed by domestic newspapers as the country's latest cultural gift to the world.
尽管"脸基尼"(facekini)在中国海滩之外的地方,可能怎么无法与中国陶瓷或北京烤鸭相提并论,但它受到了国内报纸的称赞,被誉为中国向世界输出的最新文化礼物。
The recent publication by a New York-based style magazine, CR Fashion Book, of aphoto shoot showing models wearing "pool masks" has prompted the Qingdao Evening News to claim the look as a foreign variation on a familiar theme in the north eastern seaside city.
最新一期纽约时尚杂志《CR Fashion Book》刊登了戴着"游泳池面罩"的模特照片之后,《青岛晚报》(Qingdao Evening News)立刻声称,该面具是外国人抄袭了中国东部沿海城市青岛的一种类似面罩。
"As soon as this photo shoot was published, the sharp-eyed among our netizens immediately recognised that this was none other than a 'knock off' of our Qingdao old woman's 'facekini'," the newspaper said.
该报称,"大片一出,眼尖的网友立即认出,这不正是'山寨'咱青岛大妈的'脸基尼'!"
The upgrading of this "matronly style" (see left) to the heights of New York fashion has stirred a whirlwind of comment on Chinese social media, with around 12m posts on Sina weibo, China's version of twitter, so far.
这款"大妈式面罩"登上纽约时尚界的巅峰,在类似Twitter的中国社交媒体新浪微博引来热议,到目前相关帖子已接近1200万条。
Although the facekini owes its popularity to the protection it offers from the sun in a culture that prizes white skin, its origins may be more pragmatic.
尽管脸基尼由于其防晒功能而大受欢迎(中国文化崇尚白肤色),它的问世可能出于更实际的原因。
Zhang Shifan, a 58 year-old Qingdao local identified by the Qingdao Television website as the facekini's inventor, says that the headgear was first intended as protection against the nipping of sea crabs, which lurk offshore in large numbers.
青岛电视台网站找到了脸基尼的发明人、58岁的当地居民张式范。张式范说,当初设计这种头罩是为了防止被海蜇蛰伤,因为海里的海蜇数量非常多。
"Ms Zhang said that in 2006 she had the facekini idea, though it wasn't called that then, going by the more general name of 'face mask'," the Qingdao Television website said. "It was designed as a protection against sea crabs…as an underwater hat."
该网站称,"大妈说,2006年,自己有了脸基尼这个创意,当时还不叫这个名字,笼统叫做'面罩'。最早,它和水母衣一样,是为防海蜇设计的,灵感的来源是潜水帽。"
These days the masks are a common sight on Qingdao's popular beaches. "I went on down to the swimming area and although there were so many swimmers, I could very easily identify matrons wearing the facekini," the Qingdao Evening News journalist wrote. "They show only their eyes, with their nose and mouth covered just like a covered superman."
最近,脸基尼成为青岛热门海滩的常见景观。《青岛晚报》记者写道,"我来到了第一海水浴场,虽然前来游泳的人密密麻麻,但在人群中找出戴着'脸基尼'的大妈非常容易。她们只露着眼睛、鼻子和嘴巴,乍一看像一位'蒙面超人'。"
Others on Weibo thought that headgear made it look as if the beaches are being invaded by bank robbers.
新浪微博上也有人认为,这种头套戴上去,看起来像是海滩遭到了银行抢劫犯的入侵。