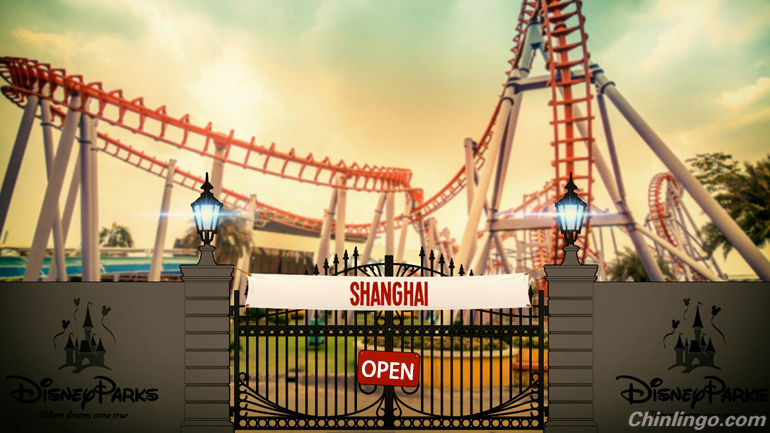 The Walt Disney Company unveiled the designs and attractions at the new megaresort that is expected to open here in Shanghai in the spring, its first theme park in mainland China.
华特·迪士尼公司公布了一座新的迪士尼综合乐园的设计和游乐项目。这片度假区将于明年春天在上海开幕,是中国大陆的第一座迪士尼主题乐园。
The company said it was completing work on a 1.5-square-mile area that will house the Shanghai Disney Resort, with six themed areas, including one devoted to the hit "Pirates of the Caribbean" film series, as well as live entertainment venues, a Broadway-style theater, two hotels and the "tallest, largest and most interactive castle at any Disney theme park."
迪士尼公司表示,即将完成占地1.5平方英里的上海迪士尼度假区的建设工作。该乐园包括6大主题园区,其中一个将围绕热门系列电影《加勒比海盗》展开,此外还包括多处现场娱乐场所、一家百老汇风格的剧院、两家宾馆,以及"一座全球迪士尼乐园中最高、最大、最具互动性的城堡"。
"We are taking everything we've learned from our six decades of exceeding expectations — along with our relentless innovation and famous creativity — to create a truly magical place that is both authentically Disney and distinctly Chinese," Robert A. Iger, Disney's chief executive and chairman, said at a news conference here.
迪士尼首席执行官兼董事长罗伯特·A·艾格在上海的新闻发布会上表示,"我们把过去60年来所积累的一切关于如何超越游客期待的秘诀,加以迪士尼永无止境的创新精神和丰富创意,来打造这样一个'原汁原味迪士尼、别具一格中国风'的神奇度假目的地。"
Shanghai Disneyland represents an enormous bet on China's shifting approach to westernized entertainment and leisure travel. Mr. Iger has said the company considers the $5.5 billion resort to be as transformative for the company as the establishment of Walt Disney World in Florida was in the 1970s.
上海迪士尼乐园代表的是一次巨大的赌博,押注的是中国向西式娱乐和休闲旅游方式的转变。艾格表示,这一斥资55亿美元的乐园对迪士尼公司的变革意义,不亚于70年代在佛罗里达州建成的华特·迪士尼世界。
Disney's goal is to create an engine that will drive demand in China for a wide range of Disney products: toys, clothes, furnishings, movie downloads and video games.
迪士尼的目标是要打造一个引擎,推动中国对大量迪士尼产品的需求,包括玩具、服饰、室内陈设,电影下载和电子游戏。
Despite Disney's efforts, however, plans for the park have leaked for months onto fan blogs. Generating particular interest online ahead of Wednesday's announcement was Disney's decision to build a major "Tron"-themed attraction. "Tron: Legacy" was released in China in 2010, but it took in only $19 million there. Disney recently decided not to move ahead with a sequel.
虽然迪士尼做出了种种努力,但几个月来各种相关方案还是泄露到了粉丝博客上。在周三官方正式公布整体方案前,网友们最感兴趣的是"创"主题公园。电影《创:战纪》于2010年在中国上映,不过只获得了1900万美元的票房。迪士尼最近决定不推进续集的创作。
To compare, the last "Pirates of the Caribbean" movie, subtitled "On Stranger Tides," took in $70 million in China in 2011. The strong audience response was one reason Disney felt comfortable in moving ahead with plans for a large "Pirates"-themed area.
相较之下,2011年在中国上映的最新一部"加勒比海盗"系列电影《加勒比海盗:惊涛怪浪》,获得了7000万美元票房。迪士尼之所以乐于推进一个以"海盗"为主题的大型园区的建设,一个原因就是观众对该片的热烈追捧。
In its announcement, Disney said the new resort had more technology and original features than previous parks, including many Chinese features blended into mosaics, gift items, performances and even the huge castle.
在发布的方案中,迪士尼称,和之前的迪士尼乐园相比,新乐园体现了更多科技和原创元素,许多镶嵌画、礼物、表演甚至大城堡中,都融入了中国特色。
Some of Disney's most iconic attractions, including Space Mountain, It's a Small World and Star Tours, a "Star Wars"-themed journey through space, will not be featured when the park opens.
乐园在开业时将不会包括迪士尼部分最具代表性的经典游乐项目,如飞越太空山、小小世界和以《星球大战》为主题的太空之旅星际遨游。
Perhaps surprisingly, "Star Wars" and the Marvel superhero movies will be represented upon opening, not by showpiece rides but by costumed character meet and greets, a comic book drawing area and a "cinematic experience." When the resort opens, its Broadway-style venue, the Walt Disney Grand Theater, will have a global premiere of Disney's hit show "The Lion King" in Mandarin.
或许有些意外的是,《星球大战》和漫威系列超级英雄影片会在开业时重现,但并非主题游览路线,而是通过身着戏服的演员见面会、漫画绘制区和"电影体验"的形式。开业时,百老汇风格的沃尔特·迪士尼大剧院将举行迪士尼大受欢迎的节目《狮子王》普通话版的全球首演。
Early this year, Disney said that it was moving the opening of the park to next spring, a delay from early 2016, and that the company and its Chinese partner would spend an additional $800 million to increase the number of rides on opening day, bringing total spending to $5.5 billion.
今年年初,迪士尼宣布将把开业时间从2016年年初推迟至春天,并称该公司和中方合作伙伴将再追加8亿美元,用于增加开业当天的游乐项目。这使得上海迪士尼的总投资增至55亿美元。