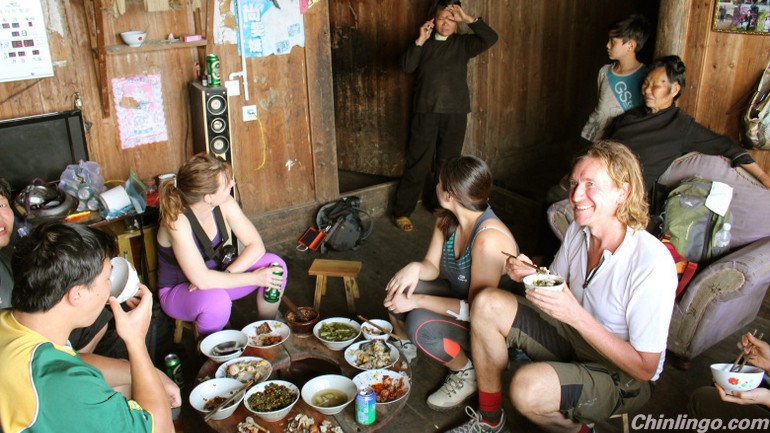 It's getting harder to get off the beaten track in China and see traditional village life, but a Bike Away tour shows the way in southeast Guizhou province.
On the third day of cycling through the rice terraces and rugged hillsides of China's southeastern Guizhou province, our group of eight needed a recharge. So we unsaddled in front of a store in Guochuan, a town we'd never heard of before.
As we expected, the store was stocked mainly with snacks and instant noodles. "Any restaurants in town?" we asked the shopkeeper. "No," she said. But after some minor bargaining, she agreed to make rice and was soon picking greens from her garden, while encouraging neighbors to contribute.
Within 40 minutes, pickled fish were on the grill, and steaming plates of stir-fried salt pork and greens had been laid out. Kids from neighboring houses came out to gawk at the laowai — foreigners. It appeared to be the first time they'd seen such oddballs bedecked in bike gear, eating Chinese food while sitting on tiny stools.
Getting off the beaten track is not as easy as it once was in China. Highways, air routes and high-speed trains penetrate nearly every corner of the country. Even harder is finding clean air, verdant scenery and intact villages. Guizhou, in southern China, offers all three.
A long weekend cycling through villages of the Miao and the Dong people, two of China's 50-plus ethnic groups, was a reminder that, amid China's economic boom, there are still rural areas that are achingly poor, occupied by proud people trying to preserve some of their culture.
Both the Miao and the Dong are known for their elegant weavings and embroidery, including indigo-dyed tunics with elaborate geometric patterns, butterflies and other motifs. We saw them nearly everywhere on this trip.
One of our guides, Wang Fang, bridged both cultures. Her mother is Miao, her father Dong. Wang said there are many differences between the two people, but the major one is where they choose to live.
"Dong people like to live near the river," she said. "Miao people like to live in the mountains." Asked why the Miao build their villages on such remote hilltops, Wang replied: "I think they want to watch for their enemies."
Modern world is coming
In a China of big cities, Guizhou is known for being a "backward" province. Its villages depend upon subsistence farming — growing rice, livestock and fish (in rice ponds) that are pickled and stored for the winter. Not many tourists — Chinese or foreign — plan vacations here.
But if Guizhou is somewhat undiscovered, it won't be so for long. A high-speed rail line now links it with Guangzhou — southern China's boom region. Some of our group arrived by train from Hong Kong; others (including this correspondent) flew into a new airport in Guiyang, the provincial capital.
From there we were whisked to Rongjiang, three hours east of Guiyang, on a new four-lane toll road that passed through more than 50 tunnels, some more than two miles long.
"Guizhou is still remote, but that is changing fast," said Bruce Foreman, an Australian who organized our bike tour. "In a few years you'll be able to ride for days here on nothing but paved roads."
Based in Hong Kong, Foreman runs BikeAways.com, a tour company that specializes in two-wheeled adventures. For our five-day trip, we were supported by two vans, eight high-quality mountain bikes, a mechanic, a driver and the wonderful Wang Fang. Foreman arranged for basic hotel accommodations on every night except for the second one, when we stayed in a Miao farmhouse.
The Miao — related to the Hmong of Vietnam and Laos — tend to live in fir-framed houses built on posts, with living space on the second floor. Animal pens and cooking areas are underneath.
Electricity came to this part of China only a few years ago, but now satellite TV dishes can be seen on nearly every house.
Yet those were among the few modern features. The nearest toilet was an outhouse up the path. The nearest water well was about 100 yards in the other direction.
Giant drum tower
A highlight of the trip was Zengchong, an old Dong town on the horseshoe of a small river that we reached after a long day's ride. After checking into our hotel, we meandered across an ornate bridge and through alleys to a spectacular drum tower in the town's center.
According to China's National Library, this Dong drum tower is the oldest of its kind in China, built more than 300 years ago. Back in their heyday, villagers constructed such drum towers to spot and warn of approaching enemies.
In Zengchong, the drum tower now serves as a community gathering point. There is a fire that burns continually at its base, watched and kept by a rotation of elders. In a nearby square, toddlers scooted around on tricycles, watched over by shopkeepers and clientele of local noodle joints.
Meeting the locals
That night, back at the hotel, I met a young family — a Guizhou government official and his wife and baby. They were back in their home village for the "tomb-sweeping" holiday, an annual long weekend dedicated to caring for the graves of one's elders.
Over a post-dinner drink, I started chatting with him, relating (in my rudimentary Chinese) that I was a journalist from the United States. Often such a disclosure makes Chinese people nervous, but his response surprised me.
He said that the United States was a good friend of China and that he had read several books about how U.S. forces helped his country defeat the Japanese during World War II. Given the frosty state of U.S.-Chinese relations these days, his appreciation of history impressed me.
We clinked glasses, smiled and toasted our shared bonds. Privately, I gave thanks to those serendipitous moments that come when one opts for the road less traveled.