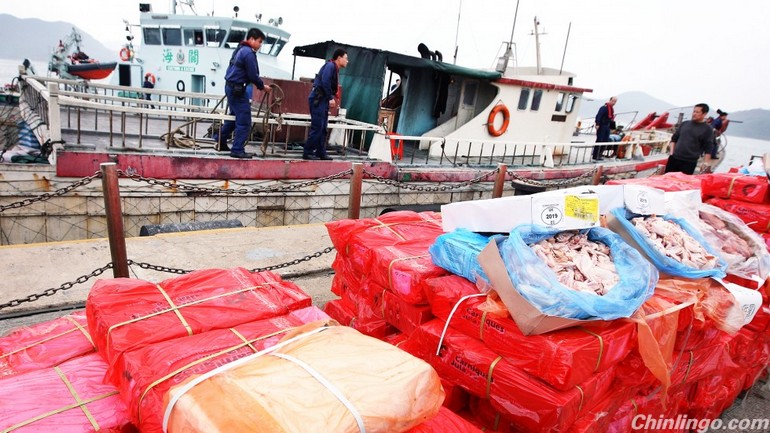 HONG KONG: In a dusty industrial lot in northern Hong Kong, a group of travellers sheltered in the shade away from the pressing July heat, packing old cloth bags and backpacks with Styrofoam to protect a more precious cargo: smuggled meat.
在香港北部一个尘土飞扬的工业区,有大约40个人躲在阴凉处,用泡沫箱包装旧布包和背包,以保护一种更珍贵的货物:走私肉。
Crowded amid the warehouses of Sheung Shui, a remote suburb near the mainland border, the group of around 40 are about to take frozen Brazilian beef into China to feed a growing demand for meat that is unsated by local produce or approved imports.
在靠近与内地边界的上水,他们将把这些巴西冻牛肉带入内地,满足那里对肉类日渐增加的需求—本地产品或合法进口肉无法满足需求。
The part-time smugglers, known as "feet" within the trade, are part of an underground industry that has boomed since Beijing launched a crackdown on meat smuggling last year.
这些兼职走私者是一个地下产业的一部分。自北京去年对肉类走私活动展开打击以来,这一行业欣欣向荣。
Hong Kong smuggler Alan Wong, 36, told Reuters, explaining smugglers could earn 200-300 yuan ($30-50) per trip. The meat now being carried across the border was of lower quality, he added.
36岁的香港走私者艾伦·王说,走私者每趟能挣两三百元人民币。他还说,现在越境带到内地的肉质量较差。
Wong's story, along with interviews with a dozen customs agents, anti-smuggling officials and traders, paints a picture of an illegal trade along China's borders with Hong Kong and Vietnam, where smugglers are taking bigger risks with food safety as the crackdown drives them deeper underground.
艾伦·王的叙述以及对10多名海关官员、反走私官员和贸易商的采访,描绘出一幅沿着内地与香港边界以及中国与越南边界进行非法贸易的画面。在这些地区,官方的打击迫使走私者的活动更加隐蔽,食品安全方面的风险随之增加。
The scale of the smuggling has infuriated legitimate exporters from countries such as Australia, who say black market meat is 30-60 percent cheaper due to high import duties, while the methods now being used raise consumer health concerns.
这种走私的规模令澳大利亚等国的合法出口商感到愤怒。这些出口商说,由于高进口关税,黑市肉要便宜30%-60%,而且目前的走私方式令人对消费者的健康担忧。
"You have people stuck with meat on the Vietnam side of the border they can't sell. They start taking it up and down the river and breaking it into smaller units to bring it in," said a Shanghai-based meat industry advisor. "It's more underground and therefore more dangerous."
一名住在上海的肉制品行业咨询人士说:"在边界的越南一边,很多人手上的肉卖不出去。他们就开始沿河寻找走私机会,并把肉切成小块运进中国。他们的活动更加隐蔽了,危险也随之增加。"
China is the world's top meat consumer, but the mainland has long kept a tight grip over imports, often citing safety worries such as mad cow disease as the main reason behind bans on major producers such as the United States and India.
中国是世界第一大肉类消费国,但中国内地往往以安全为由严格控制进口,例如,疯牛病就是针对美国和印度等肉制品生产大国的禁令的主要理由。
Consequently demand has run ahead of domestic production, creating an opportunity for smugglers. U.S. officials said in March "huge" amounts of beef were still getting into China.
因此,需求超过了本国产量,令走私者有机可乘。今年3月,美国官员说,仍有"大量"牛肉在进入中国。
Seizures of smuggled meat have jumped close to threefold this year and generated headlines that have alarmed consumers even in a country wearily familiar with food scandals.
中国今年上半年缴获的走私肉已几乎增至去年同期的三倍多,相关头条新闻甚至令这个已对食品丑闻司空见惯的国家的消费者感到震惊。
Local media reports said in June authorities had seized 100,000 tonnes of smuggled frozen meat, some of it so-called "zombie meat" up to 40 years old.
6月,中国内地媒体报道,当局查获了10万吨走私冻肉,其中一些所谓"僵尸肉"的生产日期距今已有40年。
The greater scrutiny means customs agents often no longer turn a blind eye to refrigerated trucks coming into China, forcing smugglers to take more hazardous routes.
加强检查力度意味着,海关官员往往不再对驶向中国境内的冷冻卡车睁一只眼闭一只眼,这迫使走私者走更加危险的路线。
Once in China, the meat is transported, often in unrefrigerated trucks, to massive wholesale markets across the country's south, where it is sold on to supermarkets, processing plants and rural markets around China.
进入中国后,这些肉制品往往装在没有冷藏设施的卡车中运往该国南方的大型批发市场。在这些市场,这些肉制品被再次冷藏,并售往全国的超市、加工厂和农村市场。