An elite is a small group of people who control a disproportionate amount of wealth or political power of a country. In general, elite means the more powerful group of people. A selected part of a group that is superior to the rest in terms of ability or qualities, or has more privilege than the rest. To some degree, the elites are almost always the wealthy people of a country.
精英往往是控制着一个国家大多数财富和政治力量的人群。总的说来,精英是指更有权利的人。在能力、素质和其他方面,这部分人优于其他人。某种意义上,精英是一个国家的富人。
Talking about the wealthy in China may seem odd during the middle of a global economic downturn. Yet for many companies around the world, wealthy Chinese represent a rare opportunity in an otherwise dismal picture. Despite the global downturn, the number of wealthy households in China continues to grow at an astonishing pace. By 2015, the country will hold the world's fourth-largest concentration of wealthy people. With the emerging of this group, one may be curious about their ways of life. What hobbies do they have? Are the hobbies the same with those of American elites?
在全球经济衰退的大环境下提到中国富人显得有点格格不入,但对全球的许多公司而言,中国富人能给他们创造难得的机会。尽管全球经济处于衰退期,中国的富裕家庭数量仍以惊人的速度增长。到2015年,中国拥有的富裕人群数量将位居世界第四。随着这些富人的崛起,有人不禁会好奇他们的生活方式,他们到底有哪些业余爱好?这些爱好是否和美国精英的爱好一样?
Chinese people think the American elites prefer to do extreme sports and go on adventures, while Chinese people would imagine that they have decent jobs, live in Western-style houses and keep dogs. But is it true?
美国精英的潮流是玩极限运动,而提到中国的精英,多少人的梦想是像精英一样有一份得体的工作,住洋楼,养番狗。在中国,精英身份真的那么光鲜吗?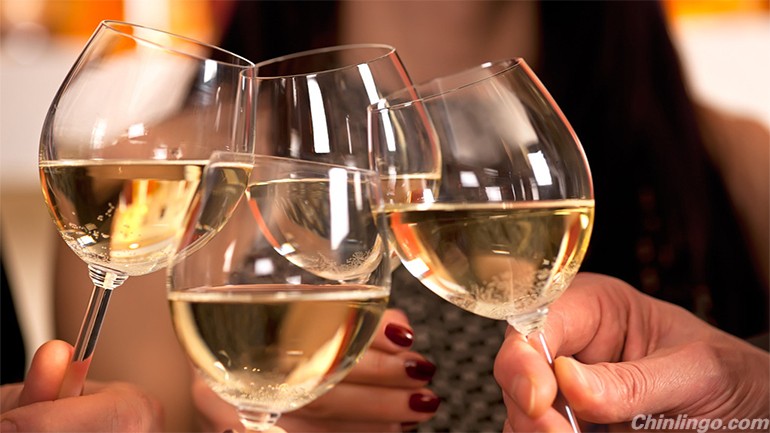 Recently, a professor from Beijing University complained about his age and poor physical condition. He attributed these to the typical lifestyle of Chinese achievers, most of whom eat out often. They attend a lot of meetings and appear in various deluxe clubs, they eat a lot and drink too much. They go out by car, but seldom walk. Lack of exercise is the top culprit.
有位在北大当教授的朋友,可以说在本领域是顶尖了。最近电话交流,他抱怨自己年纪大了,身体越来越不好。他把一切归结于中国成功者典型的生活习惯。应酬多,大场合多,一席一席地吃,一杯一杯地喝,出行足不沾地,总坐在车里。缺乏运动是罪魁祸首。
In China, success means to reap a profit. The successful people seem to have entered a special layer of society. Therefore, the culture of success lies in enjoyment. Some luxury meetings and conferences provide them with high-end services, while cycling has become an outdated lifestyle that would make them feel awkward.
在中国,成功意味着摘取"果实"、坐享其成,成功者仿佛都进入了既得利益集团。所以,在中国,成功者的文化,以享受为上。一些豪华的会议往往提供这种服务。骑车反而成了很土的生活方式。
On the contrary, the American elites have totally different lifestyles that keep them more competitive and energetic. They do exercise frequently. Some often take part in long-distance cycling races, or compete with colleagues in running and long-distance cycling.
相反地,美国的新经济技术含量高、竞争性强,需要年轻人的精力和开创性。另外一个在美国的朋友,在夏日里参加过一次长距离自行车比赛。距离超过200多公里,奋斗十个小时以上。她在大科技公司工作,同事平时就不停地互相比长跑、长距离自行车。这就是我接触到的外国精英的生活氛围。
An American female owner of two companies, aged 41, is keen on long-distance triathlon and mountain bike cycling. She gets up at 6:00 in the morning and starts to exercise for at least 90 minutes. There's a world of difference between the lifestyle of the American elites and their Chinese counterpart.
一法学院出身的41岁的女士,拥有两家公司,但热衷于超长距离的铁人三项、山地自行车赛(一天160多公里)。她早晨从六点开始训练90分钟,有时则要训练两小时,每周两次在晚间插半个小时的训练课。她消费和生活的方式,和中国的精英大异其趣。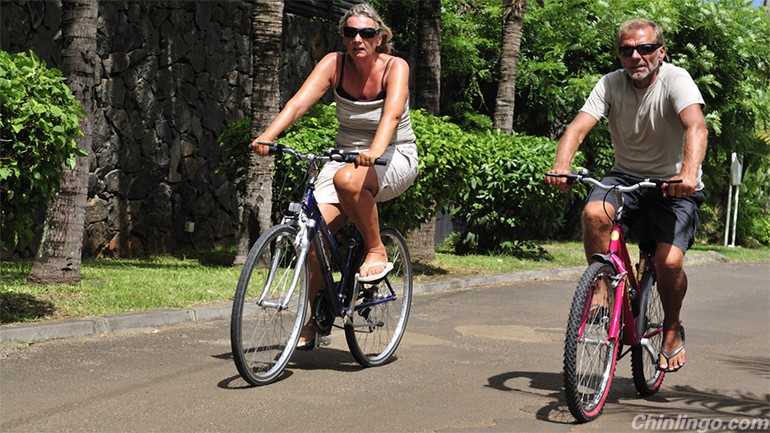 Cycling has become the latest fashion among the middle class in the United States, and golfing is gaining popularity among the working class. The most prominent difference can be singled out in the following: the American elites pay more attention to their future potentials, but not their current belongings. Great physical condition is not the only concern to Chinese elites. They should also start paying attention to more than just short term financial benefits.
最近美国的生活趋势是:骑车渐成了中高产的时尚,高尔夫则开始在劳动阶层大为流行。着眼点不在于你现在已经有的东西,而在于你未来的潜力。所以,我为中国的精英阶层所担心的,不仅仅是他们的身体,更是他们的精神。