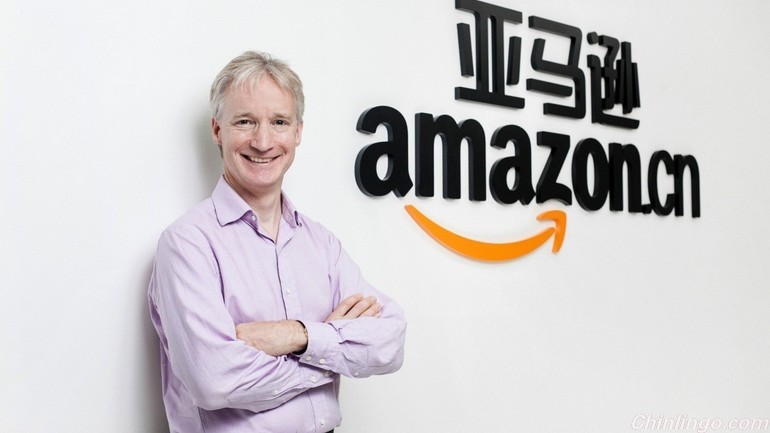 Doug Gurr, president of Amazon China, assumed office in China in last July when China's international e-commerce was undergoing a crucial year. Doug regards international e-commerce as the core of Amazon China since he took over the position. He thinks that the strategy of international e-commerce corresponds to the policy of 'Belt and Road Initiative'.
去年7月到中国出任亚马逊中国总裁的英国人葛道远,赶上了中国跨境电商步入关键的一年。葛道远赴任后更是将跨境电商当作亚马逊中国的核心法宝。葛道远表示,跨境电商策略与"一带一路"国家政策相一致。
On June 24, 2015, Amazon China established partnership with commercial department of Embassy of the United States in China, aiming to promote the trade development between China and America and providing Chinese customers with high-quality products from the U.S., especially the middle and small-sized enterprises.
在刚刚过去的6月24日,亚马逊中国和美国驻华大使馆商务处建立合作伙伴关系,共同推动中美间贸易发展,为中国消费者提供更多源自美国特别是美国中小企业的高品质商品。
China is ushering in the golden age of international e-commerce
中国正在迎来跨境电子商务的黄金时代
Doug felt more confident after he took over the position in China. He realized that the international e-commerce is flourishing in China when he came to the country 6 months ago, which got proved by the achievement of Amazon China.
来到中国任职后,葛道远觉得"更有信心了"。葛道远回忆,半年前来到中国时,他已经意识到,跨境电商正在中国兴起,而亚马逊中国在跨境电商方面取得的成绩也证明了他的想法。
"I would ask Chinese customers about the last time when they went shopping in stores. Usually they answer that they seldom go to stores except to buy fresh groceries," Doug said, "That means China's retail or business activities have skipped several stages of development, reaching the e-commerce stage, the most efficient one currently."
"我经常会问中国的顾客,你最近一次去商店购物是什么时候?他们通常的回答是:除了买一些生鲜食品以外,几乎很少去逛商店了。"葛道远说,"这意味着中国的零售或者说商业业态跳过了一些发展阶段,直接跳到目前最有效率的电商阶段。"
Chinese team determines where Amazon China is headed
中国人决定亚马逊中国
Amazon has over 5,000 employees in China, with less than 1% of foreign workers. "That number means Amazon China completely depends on Chinese team's leadership and management," Doug said.
亚马逊中国有5000名以上的员工,其中外籍员工不足百分之一。"这个数字意味着亚马逊中国是完全仰赖中国自己的团队来领导和管理,"葛道远说。
"The headquarters understand that the Chinese team is aware of what customers need in China's market and what development pattern should be adopted in China. The development strategy for Amazon China is subject to the Chinese team's decision." Doug thinks that the Chinese team is the decision maker of Amazon China.
"总部了解中国的团队自己知道中国市场上的消费者需要什么,中国正确的发展模式应该是什么样子,亚马逊中国的发展战略是由中国团队来决定的。"葛道远认为中国团队才是亚马逊中国的决定者。
Making Amazon the best oversea shopping platform for Chinese customers
打造成中国消费者海淘的最佳平台
In regards to the relations between Amazon China and the headquarters, Doug said the headquarters discuss with Amazon China regularly on the local business strategies "We won't depend merely on the success of Amazon Global and replicate the market strategies in China", said Doug.
对于亚马逊中国与亚马逊总部之间的关系,葛道远表示,亚马逊总部会定期和亚马逊中国探讨中国业务。"我们的团队实际上是在重新打造亚马逊中国在中国市场上的定位。我们不会只仰赖亚马逊全球在其他市场的做法或者成功的经验,原封不动照搬到中国市场。"
Doug said that "Amazon China might not become the biggest e-business in China's market, but we are creating our own unique competitive advantages." Amazon China is making efforts to become the most important and best e-commerce platform for Chinese customers to purchase international quality products.
葛道远说,"亚马逊中国可能不会成为中国市场上最大的电商,但是我们正在打造自身的独特竞争优势。"亚马逊中国正努力成为中国消费者购买国际正品的一个最重要的渠道和最佳电商平台。
To cooperate with competitors in the international e-commerce
跨境电商大背景 需要与对手合作
International e-commerce has become the business all e-commerce enterprises are working on. About Amazons competitors, Doug said, "We always keep an eye on what the competitors can do and what can we learn from them."
跨境电商已经成为所有电商企业都在大力布局的业务。对于竞争对手,葛道远说:"我们经常关注竞争者能够做什么,我们从他们身上学到什么。"
Doug's attitude towards competitors is completely different from others'. "I don't think one company can solve all problems. For now, we have established partnership with some logistics companies and commercial enterprises. "
葛道远对于竞争对手的态度与众不同。"我并不认为一个公司可以解决所有问题,我们目前和物流公司、贸易公司都有合作关系。"
The strategy of international e-commerce corresponds to 'Silk and Road' policy
跨境电商策略与"一带一路"相一致
For the 'Belt and Road Initiative' policy proposed by China, Doug said, "international e-commerce connects all the demand from the entire world. On one hand, we help Chinese customers get the things they wish to buy around the world; on the other hand, we hope to promote the export business of Chinese enterprises."
对于中国提出的"一带一路"政策,葛道远表示:"跨境电商可以链接全球消费需求,一方面我们帮助中国消费者去买到他们希望从全世界买到的东西,另一方面我们也希望促进中国企业的出口。"
"We will make international e-commerce the online 'Silk Road'." Doug thinks that many foreign brands have masses of fans in China even though they do not have business or agent channels in the country. Now, these brands can enter Chinese market through the online oversea stores on Amazon, which is nearly cost- and risk-free for them.
"我们要让跨境电商成为线上的丝绸之路。"葛道远表示,一些在中国没有做生意也没有代理渠道的国外品牌,但是在中国却有相当体量的粉丝。这些品牌现在可以通过亚马逊的海外购商店进入中国市场,这对于他们来说几乎是零成本零风险。
"These brands will get to know that there is great consumer demand in the Chinese market and realize the feedback and preference of Chinese customers, which will build confidence for those brands that knew little about the Chinese market before," Doug said.
葛道远还说,"这些品牌会发现,原来在中国市场上存在这么大的消费需求,也可以看到客户对他们的反馈和喜爱,这让这些之前对中国市场了解甚少的品牌商建立起了对中国市场的信心。"