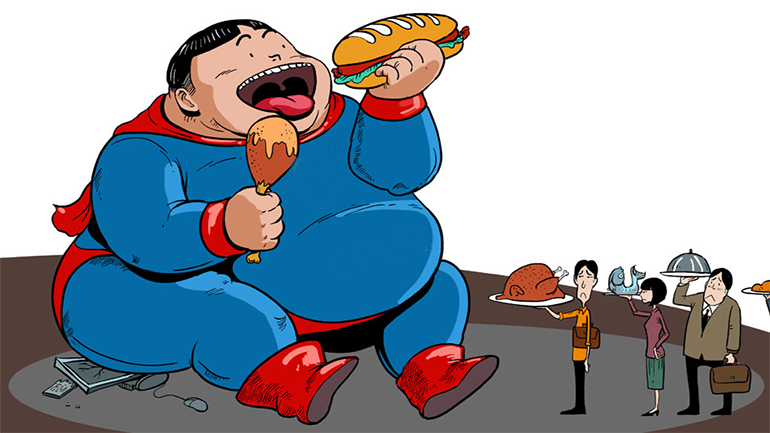 When flying to the US for our summer holiday each year, my family has a foolproof method of locating our check-in queue at Shanghai's Pudong airport: look for the passengers with the greatest girth. The largest people fly to America.
每当要飞到美国度暑假时,我们全家有一个确定在上海浦东机场的什么地方排队办理登机手续的简单方法:寻找腰围最大的旅客。飞往美国的旅客都是一些大胖子。
But according to last week's Chinese newspapers, we may soon have to find a new strategy (something radical like looking for our flight number on the departures board). Xinhua, the state news agency, reported that China now has a higher percentage of overweight and obese people than the west.
中国媒体近日称,不久之后也许就得寻找新办法了。官方的新华社报道说,目前中国超重和肥胖增长幅度都高于发达国家。
Even more interestingly, Xinhua further asserted that the reason that China has supposedly overtaken the US as the world's obesity superpower is not the one most of us would imagine. Relax KFC: apparently it's not your fault for once.
更有意思的是,新华社进一步表示,中国或将成为世界肥胖超级大国的原因并不是我们大多数人想象的那样。肯德基,不要紧张,这次显然不是你的错。
It's more likely to be hotpot that's making the country fat. Even vegetables, it seems, make Chinese people plump these days: growing affluence means people can add more oil to their meals, and that's the real culprit.
让中国人变得肥胖的原因,火锅的可能性更大一些。如今,甚至蔬菜似乎也在使中国人变胖:越来越富裕意味着人们饭菜中的油水多了,而这显然是真正的罪魁祸首。
Xinhua based its story on a study by the National Health and Family Planning Commission, which found that 30 per cent of the country's adults were overweight in 2012 — and that the rate had swollen by almost a third since a decade earlier. Nearly 10 per cent of children aged six to 17 were overweight, double the rate in 2002, the report said. No definitions, or comparative statistics for other countries, were given.
新华社的报道基于中国国家卫计委的一份研究报告。报告发现,2012年,中国18岁及以上成人超重率为30.1%,比10年前上升了7.3个百分点。报告说,9.6%的6岁到17岁儿童超重,占比是2002年的两倍多。报告没有给出相关定义,也没有提供其他国家的统计数字。
But even if China hasn't yet trounced the world on this measure, it will do soon. The most recently published international study of the issue had China already at number two behind the US, and rising rapidly.
不过,即使中国尚未在这方面打败世界,该国也会很快做到这一点。根据最近公布的有关该问题的国际研究报告,中国已排在第二位,仅落后于美国,而且正在迅速"崛起"。
One 2011 study found that Chinese youths who ate more vegetables and less fast food, and came from richer households, were fatter than those who didn't. "Overweight-related correlates seem to play different roles in the Chinese culture than in western cultures," the study's authors conclude. Translation: fat is cultural; and fat fads are even more so.
2011年的一项研究发现,多吃蔬菜少吃快餐、来自较富裕家庭的中国青少年比不是这样的人胖。报告作者断言:"与超重有关的各种因素似乎在中西方文化中扮演着不同的角色。"换言之,肥胖是一个文化问题,肥胖流行更是如此。
For example, it's obvious that the Chinese middle class can afford to eat more steak these days; what's not so obvious is why they think it's such a good idea. Yu Peidi is one of this new generation of gung-ho meat-eaters — and like many of his compatriots, he believes it's actually the healthier option. We had lunch with Yu, nicknamed Little Fish, on his 30th birthday. "I think beef is good, it's high in protein . . . if it's fattening, it has much more nutritional value than pork," he said. Was he aware that many westerners think beef is bad for the heart, I asked. He was astounded. Did he know lots of non-Chinese think shrimp is bad for cholesterol? He hadn't heard that one either.
例如,中国的中产阶级如今显然吃得起更多的牛排,但不太明显的一点是为什么他们认为这是一个好主意。余佩迪(音)是新一代酷爱食肉者中的一员。像许多人一样,他认为这其实是比较健康的选项。30岁的他说:"我认为牛肉非常好,蛋白质含量很高。虽然吃牛肉容易发胖,但牛肉的营养价值比猪肉高。"我问他是否知道许多西方人认为牛肉对心脏不好,他很惊讶。他是否知道许多外国人认为虾对胆固醇不好?他也没有听说过这种说法。
I've got no idea which of us is right: the point is that our two cultures' beliefs about food are so different. I think Chinese food is, on balance, healthier than western food; and he, on balance, thinks the opposite. My Chinese colleague piped up to say she forces herself to eat an avocado a day to lose weight; I mentioned I hadn't touched one in decades, for exactly the same reason. Veins and arteries must be cultural too.
报道称,我不知道我们两人谁的看法正确。问题在于我们的两种文化对食物的看法迥然不同。我认为,总体而言中餐要比西餐健康,而他认为总体而言西餐要比中餐健康。我的中国同事说,为了减肥她每天强迫自己吃一个牛油果。我说,出于同样的原因,几十年中我没吃过一个牛油果。
Luckily we all agree we should go to the gym more often (or, in Little Fish's case, at all). His parents rode bikes and walked everywhere so they didn't need to work out; but his generation of middle-class professionals knows they have no choice. Health clubs are booming in every Chinese city, and Little Fish plans to join up soon. There's doubtless one opening in that shopping mall near him — right next to all the new steak restaurants.
所幸,我们一致认为应该增加去健身房的次数。余佩迪的父母去哪里都是骑车或者步行,所以他们不需要锻炼,但余佩迪这一代中产专业人士知道自己别无选择。健身俱乐部正在每个中国城市遍地开花,余佩迪打算不久后加入其中。