6. Tea and a Show | 2 p.m.
6. 茶室表演 | 下午2点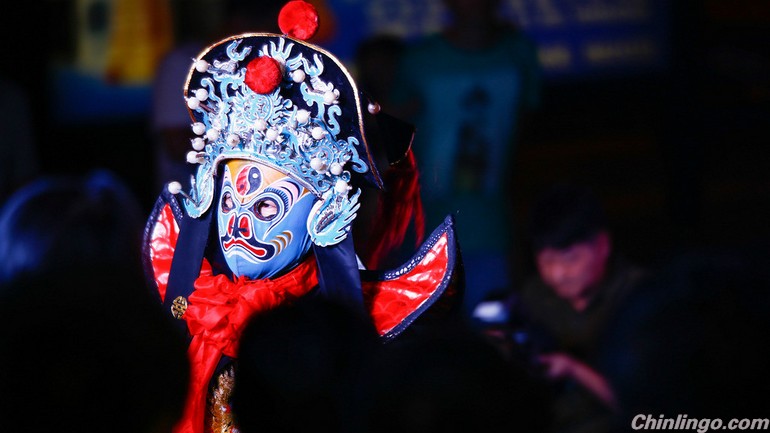 With its
earsplitting falsettos and crashing percussion instruments, Chinese
opera is not for everyone. But for a taste of one of Chengdu's most
famous and enduring art forms — without the commitment of a pricey,
hours-long performance at a theater — drop in to Yuelai Teahouse to
watch for a bit in a more informal setting. Once a week, troupes from
the Chengdu Sichuan Opera Theater perform on the small, lantern-lined
stage at the century-old teahouse, one of the oldest in Chengdu, for a
tea-sipping crowd of retirees (a ticket, with tea, is just 20 renminbi).
There are no English subtitles, but the elaborate costumes and
acrobatic, sleeve-twirling dancing can be entertaining enough without
our necessarily following the plot.
中国戏曲因为有着高亢尖锐的假声和惊心动魄的打击伴奏乐器,不是所有人都能消受。如果单是想略微感受一下成都最著名、也最经久不衰的艺术形式,又不想花太多钱上剧院看几小时的长演出,你可以去悦来茶园,在更加日常的环境里欣赏一些川剧表演。成都川剧院的剧团会来这座百年老茶馆(成都历史最久的茶馆之一)演出,每周一次,地点是园内一个挂满灯笼的小戏台,下面的观众多是啜着茶的退休人员。一张门票(含茶饮)仅需20元。演出没有英文字幕,但是单看那考究的戏服、长袖飘飘的杂技式舞蹈,已是极具娱乐性,跟不跟得上剧情,也不那么重要了。
7. Taste of Tibet | 4 p.m.
7. 体验西藏 | 下午4点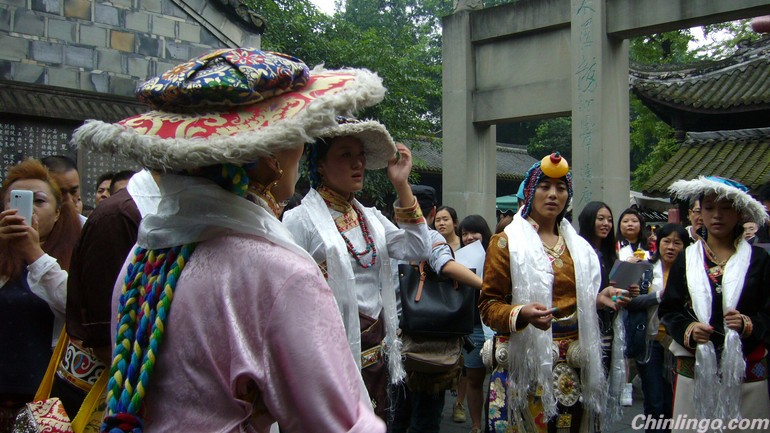 Known as Little
Lhasa, Chengdu's colorful Tibetan quarter is as close as one can get to
Tibet without traveling to the remote Sichuan countryside or crossing
the border to Tibet itself. Wander down Wuhouci Heng Jie, directly
opposite Wuhou Temple, and take in the sights: monks wrapped in maroon
robes counting beads behind their backs, vendors selling yak butter on
the street, and shop after shop of Tibetan Buddhist religious icons,
prayer flags and wheels, tapestries, incense, wildly patterned leather
boots, and beads of every hue, size and price. Don't pay the asking
price in any shop; bargaining is a must.
这个被为"小拉萨"的富有特色的藏族街区,是你在没有费力去四川乡下或越过省界直赴西藏的情况下,最能感受西藏风情的地方。沿着武侯祠正对面的武侯祠横街走下去,就可以看到:身穿红褐色长袍的藏族僧侣手背在后面捻着佛珠,路边卖酥油的小贩,和一间挨着一间的商店,里面售卖着藏传佛教的佛像、经幡、经轮、挂毯、佛香、图案粗犷的皮靴,还有颜色、
大小和价格不一的无数珠子。在任何一家店里,都不要直接按报价付费,讨价还价是必须的。
8. Searing Stew | 7 p.m.
8. 沸腾的汤锅 | 晚上7点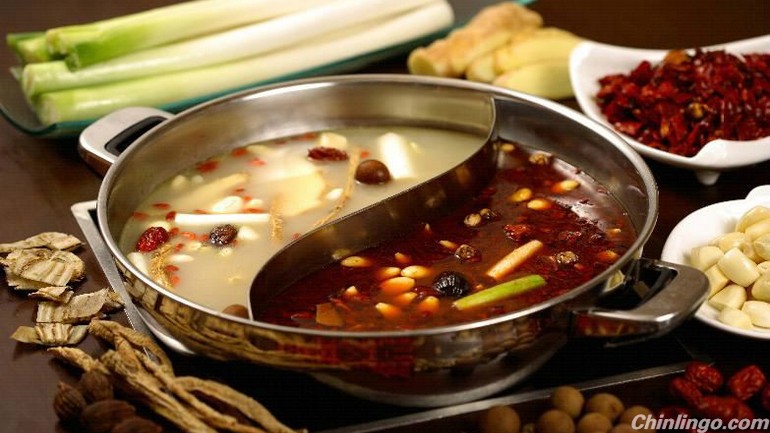 The quintessential
Chengdu dining experience is crowding around a furiously boiling pot of
broth and dunking in every manner of sliced meat, balled seafood and
leafy greens while throwing back copious bottles of Snow beer. While
there are hot pot restaurants on practically every corner, Lao Ma Tou is
one of Chengdu's most famous, as much for the noisy, convivial
atmosphere as for the throat-burning spiciness of the hot pots. (The
pots can be divided into spicy and nonspicy broths for those wary of too
much heat; prices start at 78 renminbi for broth, other ingredients
vary by plate.) Servers in crisp white shirts prepare the dipping sauce —
sesame oil mixed with garlic, sugar, vinegar, soy sauce and a little
MSG — and supervise the cooking process for hot pot neophytes.
成都最有代表性的饮食体验是围坐在一个猛烈沸腾着的汤锅旁,一边往里面放入各种肉片、海鲜丸子和绿叶蔬菜,一边畅饮一瓶瓶雪花啤酒。虽说成都的火锅店遍布大街小巷,但老码头火锅堪称其中最著名的之一,除了灼人喉咙的火锅料之外,店内热闹欢乐的气氛也久负盛名。(怕吃辣的游客可以选鸳鸯锅,一半辣一半不辣;汤底价格最低78元,其他涮料价格不一。)穿着挺括白衬衫的服务员会为你准备蘸料(香油混合大蒜、糖、醋、酱油和一些味精),也会指导第一次吃火锅的新手如何操作。
9. A Little Night Music | 9 p.m.
9. 一点晚间音乐 | 晚上9点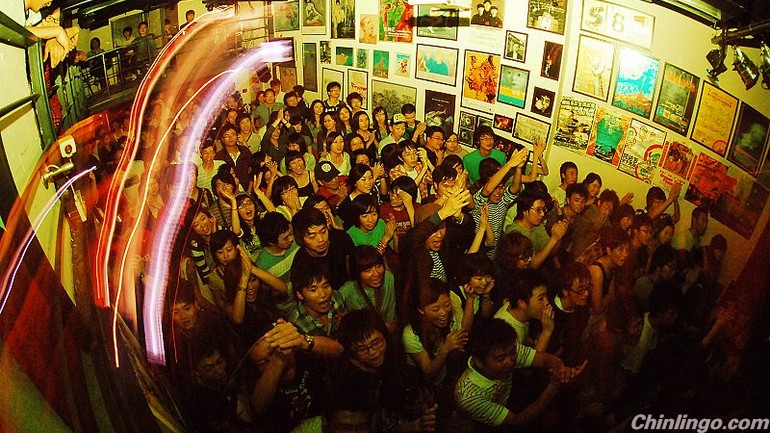 When it comes to
live music, few Chinese cities are as rocking as Chengdu. The pioneer of
the local scene is Little Bar, which opened nearly 20 years ago and
became a hub for the city's underground artists and musicians. (The
longtime owner, Tang Lei, is known by regulars as Sister Tang.) These
days, the bar has a second, larger location (New Little Bar) with
Belgian beers on the menu and a rotating schedule of national touring
acts and local indie musicians. The crowd skews young — bespectacled
20-somethings with ripped jeans and Converse shoes who raise cellphones
overhead during shows instead of lighters.
说到音乐,很少有哪个中国城市像成都这么热闹。当地酒吧界的先锋是"小酒馆",一个经营了将近20多年的酒吧。它已经成为成都地下艺术家和音乐家的聚集地。(酒吧一直以来的主人是唐蕾,经常被称为"唐姐"。)目前,这个酒吧已经开出第二家更大的店(小酒馆新馆),那里供应比利时啤酒,有各类全国巡演将之作为成都站演出地,也有不少本地独立音乐人
在此演出。酒吧里大多数是20多岁的年轻人,戴着眼镜,穿着破洞牛仔裤和邦威鞋,表演期间他们把手机,而不是打火机,举过头顶。
Sunday
周日
10. Panda Overload | 7:30 a.m.
10. 熊猫出没 | 早上7点半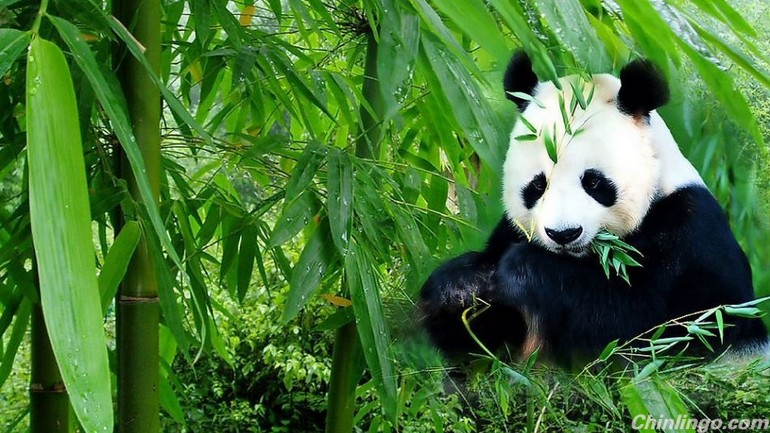 After coming all
this way to see the pandas, a visit to the Chengdu Research Base of
Giant Panda Breeding requires a little strategizing to maximize alone
time with the cuddly bears (more than 135 in all). Skip the hotel
breakfast to be there for the 7:30 a.m. opening when the park is silent
and the cubs in the Sunshine Nursery are just waking up (admission, 58
renminbi). Feeding time for the adolescent giant pandas happens next at
the adjacent open-air enclosure — this is when the pandas are most
active, stripping stalks of bamboo, lying back and eating their weight
in leaves. After the 8:30 a.m. tour buses roll in, escape the crowds for
a leisurely stroll through the beautifully manicured grounds to see the
red panda enclosure. By midmorning, the pandas are ready for their
siesta and the show's over. Just another lazy day in mellow Chengdu.
既然大老远跑来看熊猫,那就得在去成都大熊猫繁育研究基地前制定一些策略,以争取获得和这些惹人喜爱的熊猫(该基地总共有135只)独处的最多时间。酒店早餐就不用吃了,好赶在7点半公园开门之前到达,那时整个公园很寂静,暖房(允许入内,票价55元)里的熊猫幼崽刚刚醒。接下来就到了给青春期大熊猫喂食的时间,它们就在暖房旁边的露天围场里,
这个时间的大熊猫最为活跃,它们会剥掉竹叶,抱着竹竿躺下来,大啃特啃。8点半以后,旅游巴士就会大量到来,这时候躲开人群,悠闲地穿过花草修剪得整齐漂
亮的庭院,去看小熊猫。上午十点左右,熊猫们要开始睡午觉了,这里的节目就结束了。又是怡人的成都懒洋洋的一天。