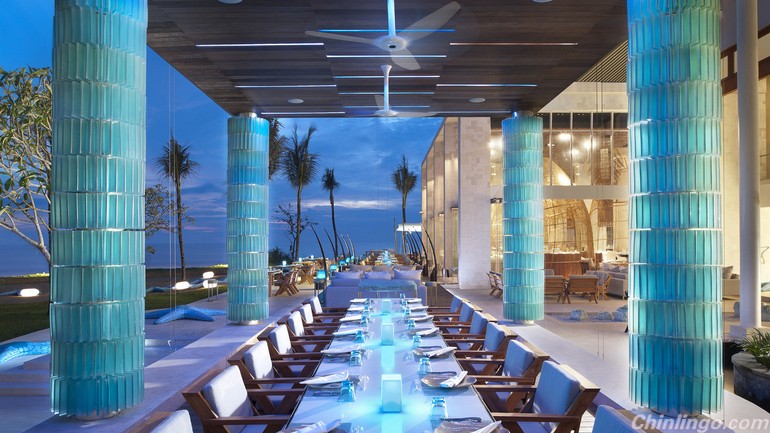 With an estimated 100 million Chinese leaving their country to go on holiday this year, hoteliers worldwide are increasingly adapting to make sure they are 'Chinese friendly'.
今年估计有1亿中国人去海外度假,世界各地的旅馆业者正不断调整自己以确保"对中国人友好"。
Although Hong Kong and Macau are still the biggest holiday destinations for Chinese tourists, and the top five preferred destinations are all in Asia, Europe is becoming more popular. But with Chinese outbound tourism the largest and potentially most important market in the world, there are a number of things hoteliers can do in order to attract visitors, in keeping with Chinese etiquette (礼仪).
尽管港澳仍是中国大陆游客的首要度假去处,且中国人选择的前5个旅游目的地都在亚洲,但欧洲变得愈加受中国人欢迎。为迎合这个最重要的出境游市场,吸引中国游客并符合中国礼仪,全球旅馆业者有很多事要做:
Guests should be greeted politely without any physical contact, and the hotel's business card offered with both hands.
应有礼貌地问候客人,同时不要有任何的身体接触,且应用双手递上商务卡。
Chinese visitors should never be given a room on the fourth floor of a hotel, or a room with the number four in it, because in Mandarin the number four sounds too similar to the word 'death'.
旅馆的第四层或带有数字4的房间千万不要给中国客人,因为中文"4"的发音与"死"相似。
Restaurant menus and all other hotel information should be in Mandarin, and on the subject of food, fruit should always be served in portions, never whole.
餐馆菜单和旅馆的信息应印成中文。水果应该切成一份一份的,而不是整个端上来。
Hot water should be served with meals, and all rooms should have a kettle.
吃饭时要提供热水,且各房间都要配备热水壶。
Waiters should always serve the eldest or the most highly educated person first.
服务生应首先为最年长者或受教育程度最高的人提供服务。
And it is imperative not to point with one finger.
一定不要用一个手指头指人。
Some analysts say it is not enough to cater for Chinese guests simply by serving hot water and cutting up fruit, and that waiters should learn enough Mandarin to be able to ask their guests if they enjoyed their meal.
简单地提供热水等服务还不足以取悦中国客人,服务生应学点汉语,能询问客人是否喜欢饭菜。
But there are signs that the travel industry globally is taking big steps toward making Chinese tourists feel at home.
有迹象显示,全球旅游产业正朝着让中国游客宾至如归的方向迈出大步。
At The Ritz in Paris there is a Chinese concierge, and some luxury stores in the capital have employed Chinese-speaking staff. The Waldorf Astoria in In New York gives Chinese guests a tea kettle and a pair of slippers on arrival. Recently it was revealed that 14 hotels in Spain have been rated 'Chinese-friendly'.
巴黎的Ritz酒店有中国服务生,一些奢侈品商店雇用了会说中文的店员。纽约的华尔道夫酒店在中国客人抵达时会送上茶壶和拖鞋。最近西班牙有14家酒店被评为"中国人友好型"酒店。
The market for Chinese holidaymakers was worth around $129bn in 2013, according to CityMetric Intelligence, and the Chinese recently overtook Americans as the world's biggest-spending tourists, splashing out $165bn in 2014.
根据统计,2013年中国游客市场规模大约为1290亿美元,中国人最近超过美国人成为全球花钱最多的游客,2014年豪掷1650亿美元。