Chengdu might look like a typically gray Chinese metropolis of
skyscrapers and chaotic traffic, but beneath the concrete exterior is
one of China's most inviting, charming cities. Life moves just a little
more slowly here. The teahouses fill up quickly on weekends with locals
practicing calligraphy and cracking sunflower seeds, and at the Chengdu
panda research center, the city's most famous residents seem content
lazing about in trees most of the time. Recently, though, this
unpretentious city has seen its economy boom as one of China's new
high-tech hubs, luring young entrepreneurs to found creative start-ups
and innovative architects to transform the skyline. There's definitely a
buzz about the place, though it's hard to notice over the clacking of
tiles during a rousing game of mah-jongg in the park.
第一眼看过去,成都可能像是一座典型的中国大都市,灰扑扑的,高楼林立,交通混乱。但在钢筋水泥铸成的外表之下,隐藏着中国最迷人的城市之一。这里的生活
节奏相对慢一些。周末,茶馆里很快就会坐满练书法、嗑瓜子的本地人。在成都大熊猫繁育研究基地里,是这个城市最著名的居民——大熊猫们,他们似乎大部分时
间都懒散地呆在树林间。但在最近一段时间,这个低调的城市作为中国新的高科技中心迎来了繁荣的经济发展,吸引着年轻企业家和富有创意的建筑师来此建立创新
企业、改造城市面貌。这里的确有一种有趣的氛围,只不过在公园里噼啪作响、令人兴奋的麻将声中,不太容易察觉到而已。
Friday
周五
1. Poetic Inspiration | 3 p.m.
1. 诗情画意 | 下午3点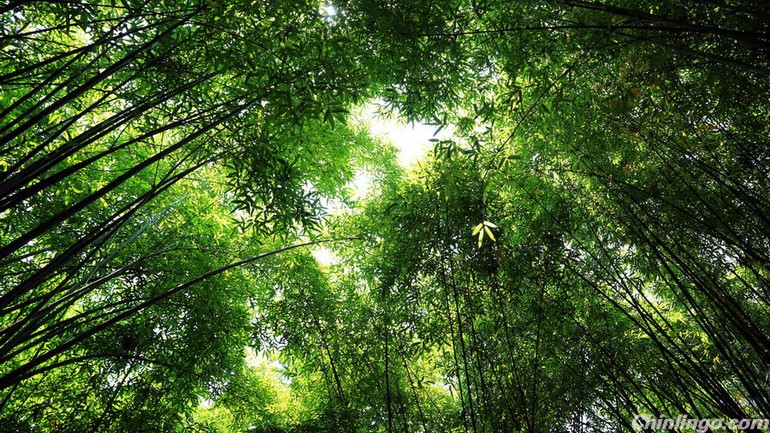 Slip into the
laid-back Chengdu lifestyle at Wangjiang Pavilion Park, a quiet green
space dedicated to a famous poetess from the Tang dynasty, Xue Tao. Xue
loved bamboo — and it's everywhere, some with stalks as wide as small
trees towering 50 feet overhead. Wander through the graceful,
century-old pagodas and pavilions — some of the oldest architecture left
in Chengdu — and then settle in at the atmospheric teahouse next to the
river where locals while away the hours sipping green tea (20 renminbi
per glass, or $3.40, at 6 renminbi to the dollar), chatting and playing
cards. For the brave-hearted, a gentle ear scrub is also on offer from
the roving ear cleaners clanging their metal instruments as they stroll
by.
在望江楼公园享受成都的慵懒生活。为纪念唐代女诗人薛涛而建立的望江楼,是个满目绿意的小公园。因为薛涛爱竹,园内随处可见,有些竹子高高耸立,足有50
英尺(约合15米),竹干粗如小树。你可以在有几百年历史的优雅古塔和亭台(成都留存下来的最古老的一些建筑)间漫步,然后在这家气氛独特的滨河茶馆坐下
来,可以看到当地人一边喝着20人民币一杯的绿茶,一边聊天、打牌,消磨时光。园内还有"舒耳郎"四处走动,他们身上携带的金属工具会跟着叮当作响,勇敢一些的游客可以尝试一下他们动作轻柔的"舒耳"服务。
2. Artistic Revival | 6 p.m.
2. 艺术复兴 | 下午6点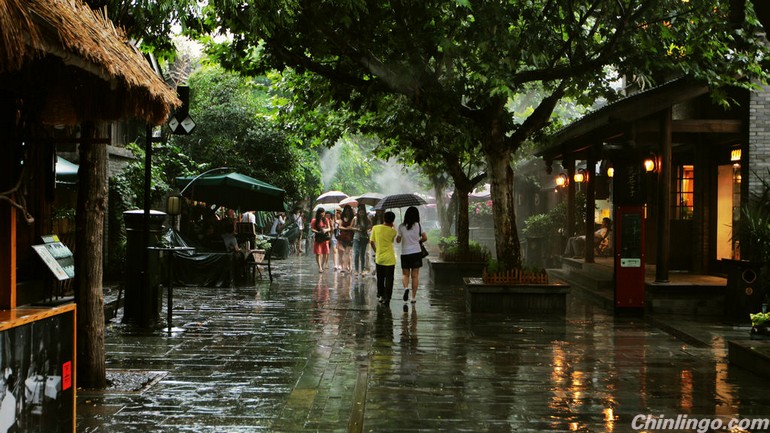 A historic district
restored by the government several years ago, the Wide and Narrow
Alleys offer a glimpse of the city's long-forgotten imperial-era
architecture combined with the commercial excess of modern-day China.
While most of the overpriced silver and trinket shops can be bypassed,
Fingertip Art (24 Kuan Xiangzi) is worth a stop for its brightly
embroidered bags, shawls and pillows, all made by women from the Qiang
minority, whose villages were devastated in the 7.9-magnitude earthquake
that struck Sichuan Province in 2008. The company has trained hundreds
of women how to improve their traditional embroidery to appeal to
well-heeled tourists and returns a share of the profits to their slowly
rebuilding communities.
宽巷子和窄巷子是政府在几年前重新修复的历史街区。在这里,你可以看到这个城市埋没已久的古代建筑和现代中国的商业活动相得益彰。尽管大多数标价过高的银器店和饰品店你都可以绕道而过,但"一针
一线"(宽巷子24号)值得驻足,这里有羌族妇女制作的刺绣包、披巾和枕头。她们的村子在2008年四川发生的7.9级地震中被摧毁。该公司培训了数百名
那里的羌族妇女,改进她们的传统刺绣艺术,吸引高端游客,之后将部分销售利润返还到那些正在缓慢重建的社区。
3. Haute (Not Hot) Cuisine | 8 p.m.
3. 高端(不辣的)料理 | 晚上8点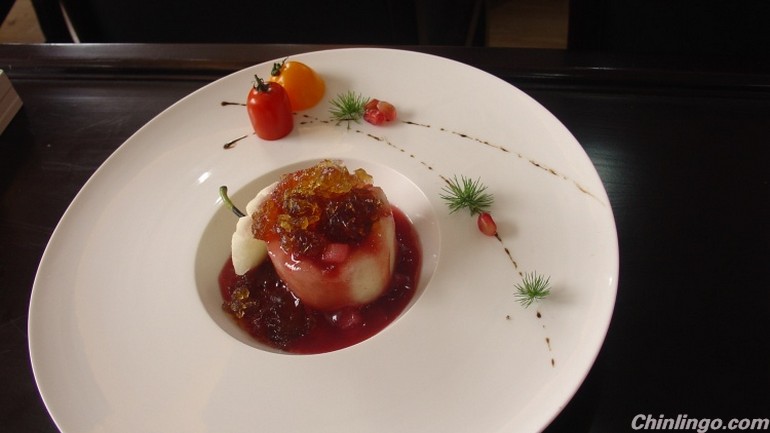 Sichuan food may be
known for its heat, but the cuisine is actually more complex than that.
At Yu Zhi Lan, a tiny restaurant with three private rooms run by the
affable chef Lan Guijun, every course in the kaiseki-like meal presents a
unique balance of flavors, from the spicy-sour sea cucumber to the
delicate sweetness of the bird's nest with snow pears, peach tree sap
and a bit of sugar candy. Lan's goal is to elevate Sichuan cooking by
combining a Japanese-style precision with fresh, locally sourced
ingredients: He makes noodles with duck eggs from a free-range farm, for
example, and slices them thread-thin by hand with a giant cleaver. Even
the pottery used to serve each course was handmade by the chef. The set
menu for two, with 10 cold appetizers and nine mains, starts at 600
renminbi per person.
四川饮食以辣著称,但这里的烹调却不止于此。和蔼可亲的大厨兰桂均经营的玉芝兰是一家只有三个包间的小餐馆。这里的每一道颇具怀石料理风格的菜肴都有一种独特的均衡口感,不管是"家常海参"的酸辣,还是"雪梨桃油"(燕窝、雪梨、桃油和一点冰糖炖成的甜品)微妙的甜味。兰桂均以日式料理的精细方式处理本地获取的新鲜食材,想要以此提升川菜烹饪的
品质。比如,他从自自由放养的农场买来鸭蛋,取蛋黄和面,然后用一把大刀切成极细的面条。连盛菜的瓷盘也是这位大厨亲手制作。这里价格最低的两人套餐价格是每人600人民币,包括10个冷盘和9道主菜。
Saturday
周六
4. A Monk's Life | 11 a.m.
4. 寺庙生活 | 上午11点
With a history of
some 1,400 years, Wenshu Monastery is one of China's most significant
Buddhist centers — and certainly one of its most active. On the
weekends, locals flock to the sprawling complex of gray-tiled temples
and gingko-filled courtyards to light incense from caldrons, rub copper
dragons for good fortune and march in circles around a slender iron
pagoda, hands clasped in prayer. The monastery has some of the
best-preserved ancient Buddha statues in the country, along with
paintings and calligraphy dating back hundreds of years, but the
highlight may be the monastery garden, a shady spot of koi ponds,
pagodas and sculpted rocks where the silver-haired crowd goes to enjoy a
little peace and quiet.
文殊院是中国最重要的佛教中心之一,而且肯定是香火最旺的之一,它有将近1400年的历史。周末,本地人会成群结队地来到这里,在一座座灰砖寺庙建筑前,落满白果的宽阔庭院里,他们在大锅一样的
香炉里点燃佛香,摩挲寺里的铜质龙雕以求获得好运,一边绕着细高的铁塔转圈,一边合十祈祷。这所寺庙有全中国保存最完好的一些古代佛像,还有一些有数百年
历史的书画作品,但这里最精彩的部分的可能要数寺庙内的花园,有绿荫下的锦鲤池、寺塔和奇石,一些上了年纪的白发游客会在这里享受片刻的宁静。
5. Cheap Eats | 12:30 p.m.
5. 便宜小吃 | 中午12点半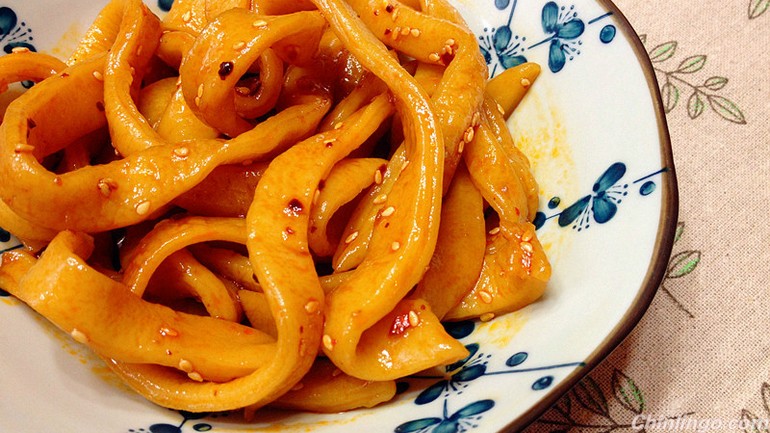 Although the city's
street food vendors are dwindling, Chengdu's tastiest snacks can still
be had for pocket change in hole-in-the-wall restaurants, such as the
noodle shop directly across from the monastery, Zhang Liang Fen. At
lunchtime, a line of customers snakes out the door for the shop's
specialty, tian shui mian (sweet water noodles), a bowl of thick,
hand-pulled noodles topped with mouth-numbing ground Sichuan
peppercorns, chile oil, sesame paste and a spoonful of sugar (6
renminbi). Around the corner, join the queue at Yan Tai Po for another
local must-try: guo kui, a crispy, baked bread pocket stuffed
with pork and a spicy mix of shredded carrots, cucumbers and bean
sprouts (7 renminbi). Menus in Pinyin and English make ordering simple.
虽然成都的街头食品摊正在减少,但是游客还是可以用一点零钱在小饭馆里吃到成都最美味的小吃。比如文殊院正对面这家小面馆——张凉粉。午饭时间,一条顾客的长队从饭馆门口蜿蜒着排出来,吸引他们的是这家店的招牌小吃甜水面(6元一碗)。这是一种手拉的粗面条,上面浇着能让嘴巴失去知觉的花椒面、辣椒油,外加芝麻酱和一勺糖。附近拐角处一家名为严太婆的店外,也排着另一条长龙,等着买当地另一种必尝小吃:锅魁(7元一个),这是一种酥脆的烤制面饼,里面夹着猪肉和辛辣的胡萝丝、黄瓜丝和豆芽。店里的菜单上写有拼音和英文,点单很方便。