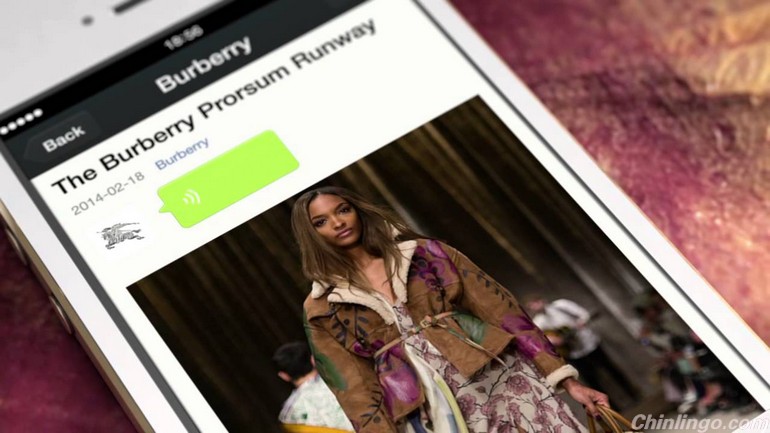 Not long ago, brands (品牌) that wanted a presence in China had to be active on Weibo. But now, WeChat – the country's most popular messaging service – has taken over as the go-to app for consumers to get their fashion fix.
不久之前,想要在中国内地生存的品牌必须在微博上活跃。但是现在,内地最流行的信息服务——微信已经取代了它,因为消费者如今喜欢登录微信APP去与他们喜欢的时尚品牌接触。
From cool independent labels like Shanghai-based designer Helen Lee to the Guccis, Louis Vuittons and Burberrys of the world, brands are using the app to reach a chunk of its estimated 500 million users.
古驰、路易威登以及巴宝莉等这些世界大牌,如今都使用微信APP来与约5亿微信用户接触。
There is also no shortage of cheaper online stores taking advantage of China's army of social media-savvy users, too. Think about all the new products, campaigns and designs that could be broadcast to personal handheld screens; and then there's the special promotions and flash sales that some brands might not want to publicise in print.
一些廉价的网上商店也利用微信做宣传。想想吧,所有新产品、活动以及设计都能够在个人掌上屏幕上播放。还有一些品牌可能不愿意将其特别促销和限时抢购印成纸质的东西来宣传,它们就可以利用微信。
WeChat users even have cash a transfer service at their disposal. The service, linked to your bank account, can settle the bill at restaurants and stores, and transfer funds between contacts. No wonder online shopping channels are rushing to the app.
微信用户还可以利用微信进行转账。这种与用户银行卡相连的服务,可以使微信用户支付用餐和购物的费用,并且在用户之间进行转账。难怪网上商店都急忙使用微信APP。
It's not just stores and brands that are conducting business on WeChat. Consider style leaders such as Leaf Greener, a former senior fashion editor at Elle China and a staple in the streetstyle scene. This year she launched a WeChat style magazine called "LEAF".
在微信上做生意的不仅有商店和品牌。内地版《ELLE》时装资深编辑叶子(Leaf Greener)今年也在微信上创办了一本名叫《叶子》的杂志。
Direct with the potential for powerful influences, we expect to see a lot more brands and individuals offering these kinds of editorial content on WeChat in their bid for to grab a share of that information-hungry crowd of 500 million.
鉴于其个性的风格以及潜在的巨大影响力,预计将有更多的品牌和个人在微信上提供这种编辑的内容,以争取5亿信息饥渴的用户。