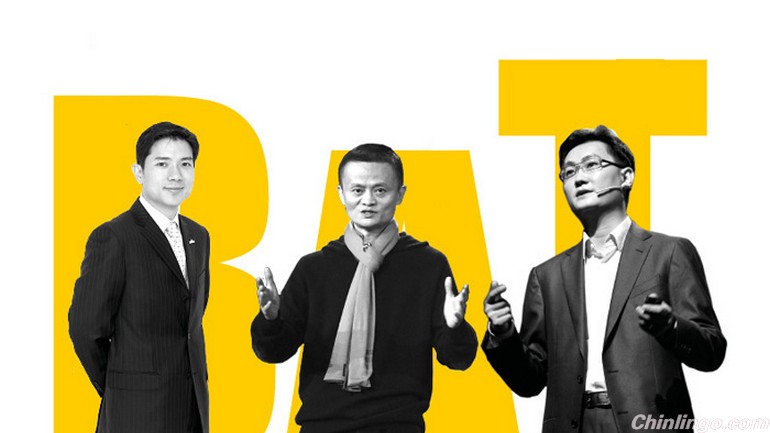 The more disruptive force to be reckoned with these days is epitomised by the three large internet groups: Baidu, Alibaba and Tencent, collectively known as BAT, which have turned much of China upside down in just a few short years. Take the example of Ant Financial. Last week, it completed fundraising that values the company at $45bn to $50bn. It operates Alipay, an online payments system that claims to handle nearly $800bn in e-transactions a year, three times more than PayPal, its US equivalent.
今天的中国,三个网络巨头已经成为中国一股强劲的力量:百度、阿里巴巴和腾讯,一起被成为BAT(取其公司英文名字首字母,意思是蝙蝠),在短短的几年里,他们已经让中国发生了翻天覆地的变化。以阿里巴巴旗下的蚂蚁金服为例,上周它完成了一轮新的融资,其价值达到450亿美元到500亿美元。而蚂蚁金服的在线支付系统——支付宝,号称每年网络交易额达到8000亿美元,比美国的PayPal多出三倍。
That system, an essential part of China's financial and retail architecture, and one familiar to almost every Chinese urbanite. It was the creation of Jack Ma, the former English teacher who founded Alibaba. Mr Ma established the system a decade ago as the backbone for Taobao, his consumer-to-consumer business. The name literally means "digging for treasure", something that Mr Ma, one of China's richest people, has clearly found.
这个系统是中国金融和零售体系中非常重要的一部分,城市里的每个人都对其非常熟悉。马云创建了阿里巴巴,他曾经是一名英语老师。十年前,马云创建了这个体系,成为淘宝的支柱。淘宝的意思就是"挖宝",而马云今天已经成为全中国最为富有的人。
Alibaba handles 80 per cent of China's ecommerce, according to iResearch, a Beijing-based consultancy. China's internet companies hold ever greater sway on how people shop, invest, travel, entertain themselves and interact socially.
据北京艾瑞咨询集团公司数据显示,阿里巴巴控制着中国80%的中国电子商务。中国网络公司影响着人们如何购物、投资、旅行、娱乐甚至社交互动。
The BAT companies, which dominate search, ecommerce and gaming/social media, together with other upstarts, such as Xiaomi, a five-year-old company that has pioneered the $50 smartphone, are upending how people live.
这三大网络集团,主宰着搜索、电子商务和游戏/社交媒体,以及其它不断上升的公司,例如小米,一家成立五年倡导50美元购买智能手机的公司,正在引导着人们的生活方式。
The internet is a liberating force that is unleashing entrepreneurial energy, bringing market forces to bear in diverse corners of the economy and expanding the role of the private sector at the expense of entrenched state enterprises. In China's nominally controlled economy, the private sector long ago outstripped the state as the engine of growth. According to Edward Tse, a management consultant and author of China's Disruptors , this has resulted in the "emergence of a new group of entrepreneurial business leaders……most operating with little direct government influence or support, and all transforming their industries". Privately run businesses, he estimates, account for three-quarters of national output. By 2013, China had about 12m privately held and 42m family run businesses against 2.3m state-owned companies.
网络是一股自由的力量,激发了企业家的能量,让市场充满活力,让国企和私企共同参与竞争。中国政府虽然名义上控制着经济,但是很久以前私营企业就已经成为经济增长的重要动力。管理咨询师和《中国商业的颠覆者》作者谢祖墀评价道,这导致了"一些新的企业家的诞生,他们大部分几乎不受政府的影响,不接受政府的支持,却都在改造他们的行业。"他还预计,私营企业占国家3/4的国民产出。截止到2013年,中国私营企业达到1200万家,家庭小作坊4200万家,国营企业仅有230万家。
At the forefront are technology companies in general and internet companies in particular. As elsewhere, in China the online and offline worlds are colliding.普遍来讲,科技企业处于市场的前沿,尤其是网络企业。像其它地方一样,中国的线上和线下企业正在进行激烈的碰撞。
Taxi apps such as Didi Dache, backed by Alibaba and Tencent, have brought market forces to bear where prices were previously set by the state.
由阿里巴巴和腾讯支持的打车软件嘀嘀打车使得过去由国家定价的市场有所改变。
In finance, where deposit rates are state regulated, the BAT companies and others are offering savings and investment products with much better rates. Yue Bao ("leftover treasure"), a money-market fund distributed by Alibaba over Alipay, has accumulated assets of nearly Rmb600bn in less than two years. Beijing, which wants gradually to liberalise banking, is allowing this crop of private companies to catalyse change.
在金融业,中国一直执行国家定利率,但是这三家网络公司和其它公司为客户提供了利率更高的储蓄和投资产品。悦宝,是由阿里巴巴通过支付宝发放一款理财产品,在不到两年的时间里累积财富近6000亿人民币。北京想要逐渐实现银行自由化,而三大集团的理财产品正好成为了催化剂。