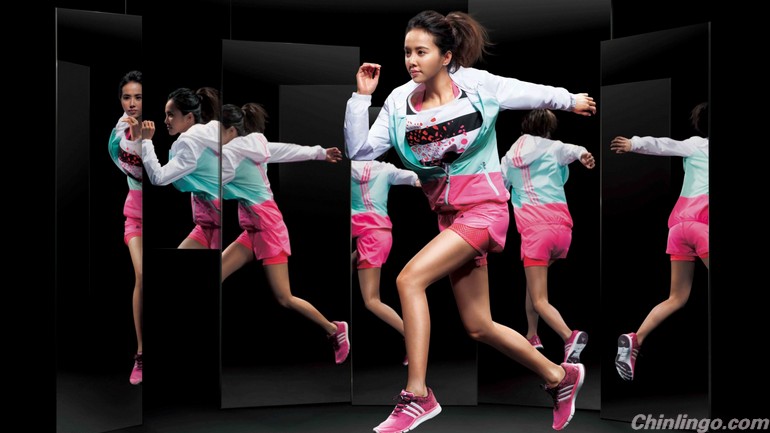 Foreign workout videos have rapidly gained popularity in China where "fitness fever" has swept the nation.
随着"健身热"席卷全中国,来自外国的锻炼视频正迅速走红。
Last month, Shanghai office lady Zhu Ling posted a photo on WeChat of herself in a yellow sports bra, flaunting firm, flat abs and shapely, muscular arms. The picture quickly gained many "thumbs ups" from friends.
上海白领朱玲山个月将一张照片上传到微信,照片中的她有着结实平坦的腹部和匀称强健的胳膊。该照片获得朋友们多个"点赞"。
Zhu says positive feedback from her friends motivates her to stick to her daily exercise routine using an aerobics workout video by South Korean fitness guru Jung Da-yeon. Jung has millions of Chinese fans. It is estimated that links to her aerobics videos on Youkou and Tudou – the country's two leading video-sharing platforms – have exceeded 700 million.
朱说她坚持使用韩国"辣妈"郑多燕的视频进行锻炼,"我们每周至少有4天利用午休时间锻炼。"郑在中国拥有数百万拥趸,在中国主要视频网站上的有氧锻炼视频已被点击7亿次以上。
"A nice figure has become a fundamental need for more and more Chinese women in big cities," said Lian Dao, founder of Shanghai-based fitness website. "It's not hard to feel the 'fitness fever' by counting how many of your friends have shared their gym pictures on WeChat lately."
"一副好身材已成为越来越多中国大城市女性的一项基本需求",总部位于上海的某健身网站创始人廉刀表示,"只要数数近来你有多少朋友在微信上分享在健身房的照片,就不难感受到这股健身热。"
Also trying to cash in on the booming fitness market is Wang Tianhua, owner of the newly opened CrossFit Slash gym in Sanlitun, Beijing. The gym, which opened last month, drew nearly 700 members in just four weeks, more than half of them women.
刚在北京三里屯开了一家健身房的王天华,也希望从中国迅速增长的健身市场中赚到钱。仅开业4周后,这家健身房就已吸引近700名会员,女性占到一半以上。
"China's gym market has reached the point where consumers are willing to pay good prices for good services," Wang said, adding that he broke even in the first month of operating the gym.
"中国的健身市场已发展到消费者乐意为良好服务多花钱的阶段。"王表示,开业的第一个月就实现了收支平衡。
One of the gym's members is Yang Yang, who works at a bridal store.
杨洋是健身房的一名会员,她在婚庆商店工作。
"I follow a number of celebrities on Weibo, and you know what? Their number of fans often increases after they post a gym picture," Yang said. "It's not only because they look prettier and healthier with regular exercise, but it also reflects that these celebrities are people with perseverance and good self-discipline. I hope I can also do a good job in this aspect."
她表示,"我是许多名人的微博粉丝。每当他们贴出一张健身照片,粉丝数量就会增加。并非仅仅因为他们通过经常锻炼而看起来更漂亮、健康,这还反映出这些名人具有坚韧的意志和良好的自律性。我希望自己也能在这方面表现出色。"