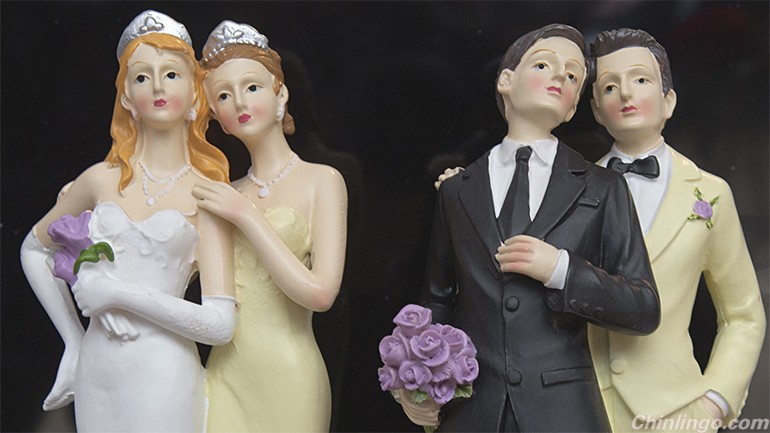 When the U.S. Supreme Court ruled to extend legal marriage nationwide to LGBT couples, it set Chinese social media abuzz with celebratory messages and rainbow flags. Chinese law does not recognize gay marriage, but recent years have seen the beginnings of an LGBT rights movement and broader public acceptance of it in the country.
当美国最高法院近来裁定同性婚姻合法时,引起中国社交媒体上一片欢呼。虽然中国法律并不承认同性婚姻,但近年来越来越多的中国人对此持接受态度。
But by quoting the Chinese philosopher Confucius in its majority decision — "Marriage lies at the foundation of government" — the Supreme Court also reignited another debate about gay marriage: What would Confucius say?
不过,美国最高法院在进行裁定时引用孔子的话支持自己的观点:礼,其政之本与。这在中国引起另一场有关同性婚姻的争论:孔子会怎么说?
Large swaths of China remain deeply opposed to LGBT love, and some of these opponents are rooting their arguments in ancient Confucian texts. Neo-Confucian scholar Fang Xudong quoted a later Confucian text — "There are three forms of unfilial conduct, of which the worst is to have no descendants" — to argue that gay marriage is incompatible with traditional Confucian virtues because it does not produce biological children.
许多中国人根深蒂固地反对同性恋,某些反对者还在古老的儒家典籍中为自己的主张追本溯源。新儒家学者方旭东引用"不孝有三,无后为大"的名言称,由于不能"传宗接代",同性婚姻并不符合传统儒家美德。
"Confucians don't have any discrimination against homosexual people: they can have their own sexual orientation and the right to pursue their own happiness," wrote Fang. "But for a Confucian, duties to one's family must take precedent over the right to pursue your own happiness."
"儒家对同性恋人群没有任何歧视,同性恋者可以有自己的性取向,有自己追求幸福的权利,"方写道,但"作为儒家,对家族的责任要高于追求个人幸福的权利"。
But the narrow readings of Confucian texts cited above have been rejected by scholars such as Sam Crane. As far back as 2005, Crane argued that Confucius disdained sex itself, and he cared far more about social bonds and supportive families, which can emerge from adoption.
但对儒家经典的上述"狭隘"解读一直遭到美国学者萨姆·克兰等人的反对。在克兰看来,现代儒家观点将接受同性婚姻,只要它专注于有建设性地延续家族亲情即可,如领养。
Many Chinese social media users sided with Crane. The most popular comments on the topic argued that Confucian texts were either misunderstood or simply irrelevant. "'No descendants' means you haven't passed on your ancestors or your family's way of thinking, their willpower, their spirit or their wishes," wrote one Chinese poster on Sina Weibo.
中国社交媒体的许多用户也支持克兰的观点。他们中最常见的评论称,儒家经典不是被误读就是完全与此没有关系。"'无后'意味着你没有传宗接代,或者也可以是没有延续你家的思想、意志、精神或愿望。"某微博用户写道。
Regardless of what the ancient philosophers have to say, Chinese society seems to be moving steadily toward greater acceptance of LGBT people. "Chinese media and businesses all had a really positive reaction to America's legalization of gay marriage." Geng told The WorldPost. "Chinese people will start to realize that there have always been LGBT people all around them."
无论孔子会怎么说,中国社会似乎都在稳定地向接受同性恋群体的方向迈进。"中国媒体和企业均对美国同性婚姻合法化做出积极回应。"某同性约会软件创始人说,"中国人将开始意识到周围总会有同性恋。"