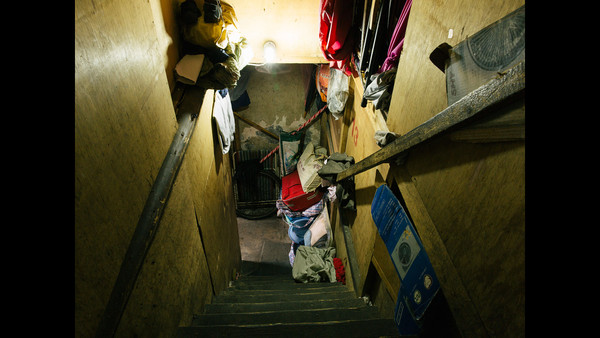 A modern, tarred road leads off the main thoroughfare, but soon peters out into a jumble of narrow footpaths lined by ramshackle two-storey structures scarcely visible behind all the plywood, corrugated iron and plastic lean-tos tacked on to serve as outdoor kitchens or makeshift sleeping quarters. Most residents are migrants, who rent from native Shanghainese landlords, one step up the Chinese pecking order because they have an official urban residence permit, which the migrants lack. Complaints about the landlords are common: on the padlocked door of the room under Cao's, residents have scrawled a note in magic marker on to plywood. It says: "Landlord please fix this room or we will move out." When asked how many people live in the building in total, Cao's husband cannot even hazard a rough estimate. "There are a lot," he says, pointing out that residents turn over regularly, leaving as soon as they find something better.
一条现代化的柏油马路从大道上分出来,但很快就变成了一些杂乱的窄道,两边是一栋栋破旧失修的两层建筑。这些建筑外面都用夹板、波纹铁皮瓦和塑料加盖了斜顶棚屋,作为室外厨房或者临时睡觉的地方,以至于原本的建筑外观几乎都看不见了。大多数住户是农民工,从上海本地房东手上租房。这些房东在社会层级上比这些农民工高上一等,因为他们拥有这些农民工没有的正式城市户口。对房东的抱怨很常见:曹秀珍楼下的房间挂着锁,住户在夹板房门上用记号笔潦草地留下一句话:"房东请修好这间屋子否则我们就不住了。"当被问到这栋房子一共住了多少人时,曹秀珍的丈夫甚至都没办法给出一个大概估计。"这儿有很多人,"他说这里的住户经常换人,一找到更好的地方就会搬走。
The eaves are so low that even a diminutive woman such as Cao narrowly misses braining herself on them. Floor space is so limited that everything that can possibly be hung from the eaves or tacked to a plywood wall has to be. A fat side of pork is suspended from a coat hanger, and the family spatula is tucked between two layers of the cardboard that lines the inside of the roof — to stop the crumbling roof tiles from raining dust into the stir fry.
屋顶很低,以至于像曹秀珍这样的矮小的女人也差点撞到头。地面空间极其有限,所以一切能够悬挂在房顶或者钉在夹板墙上的东西都不得不挂起来或者钉起来。一块肥多瘦少的猪肉挂在衣架上,家里的刮刀塞在屋檐内衬的两层夹板之间,装夹板是为了防止破碎的屋瓦落灰,掉到炒菜锅里。
To cook, Cao has to pull her wok and gas cook-plate out on to the narrow landing, where she fires it up with a gas bottle. A dusty shrine to the Buddhist goddess Guanyin clings to a shelf on one wall. Walls are papered with pages from a 2009 calendar. The bed is a thin bamboo mat on a wooden platform, heaped high with colourful comforters. The loo is down the lane, in the direction the duck was running in.
要做饭的时候,曹秀珍就得把锅和煤气灶板放在窄小的平台上,用煤气罐生火。一面墙上钉着一个架子,架子上放着一个落满灰尘的神龛,供着观音像。墙上贴着从2009年年历上撕下来的一张张年历纸。木板床上铺着薄竹席,上面花花绿绿的床褥垫得高高的。沿着小巷,顺着鸭子跑去的方向走过去才能到厕所。
But still, this isn't Mumbai, or Soweto — or for that matter, parts of Baltimore. What passes for slums in China's most modern city are not quite as desperate as some of those in other parts of Asia or Africa.
不过,这里毕竟不是孟买或者索韦托(Soweto),也不是巴尔的摩的某些地方。在中国大多数现代化城市中,被视为贫民窟的地方并没有亚洲或者非洲的一些贫民区那么无可救药。
One important difference is Shanghai is relatively safe: murders are rare here. And for a big city, it is pretty clean, with no stinking mounds of faeces-strewn trash or fetid waterways of sewage. That's already quite an achievement.
一个重要的区别是,上海的治安相对较好:这里很少发生凶杀案件。作为一个大城市,上海相当干净,没有散发着臭气、满是粪便的垃圾堆,也没有散发恶臭的下水管道。这已经称得上是一项成就了。
And like many such makeshift migrant communities in Shanghai, it is remarkably self-contained, offering many of the necessities of life. Directly opposite Cao's front door, scarcely a metre across the lane, is a laundry complete with dry-cleaning equipment and a sewing machine for alterations. Right next door is a small, dry goods shop selling rice, drinks, soap and other essentials. Down the lane are butchers who display ribs and cutlets and chops and other pig parts, en plein air — as well as caged live chickens, basins of squirming eels and flopping fish, all ready for the cooking pot.
就像上海许多与此类似的农民工临时聚居地一样,这里相当自给自足,提供很多生活必须品。正对着曹秀珍住处正门,不到一米外的小巷另一侧,就有一家洗衣店,里面有干洗设备,还有改衣用的缝纫机。隔壁紧挨着就有一家小杂货店,卖大米、饮料、肥皂和其他生活必需品。沿着小巷往前走,还有人卖肉,肋排、猪肉、骨头和猪的其他部位都摆在外面。还有关在笼子里的活鸡,装在盆子里扭来扭去的鳝鱼、活蹦乱跳的鱼,都在等待被人买走,成为盘中菜肴。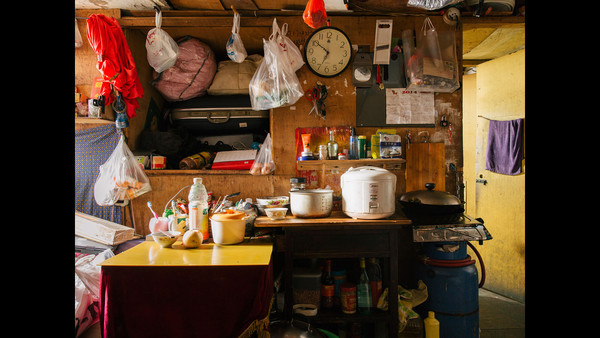 And at 6am, a cooked traditional Chinese breakfast is easily to hand also: an open-air stall dispenses fresh-fried local breakfast delicacies. Frugal Cao makes her own morning repast, a bowl of rice and preserved vegetables, and packs her lunch for the 40-minute tricycle ride to work, to save money. Where she works, in one of Shanghai's most expensive residential and commercial areas, lunch at an upscale diner can easily cost more than her total profit from a 12-hour day.
早上6点,一顿传统中式早餐也很容易买到:露天摊位上售卖刚炸出来的当地美食。节约的曹秀珍为了省钱,自己做早餐——一碗米饭就些腌菜,然后带上午餐骑40分钟三轮车去工作。在她工作的地方,上海最高档的一个居民区和商业区,在高档餐厅吃一顿午餐的花费就轻松超过她工作12个小时所能赚得的总利润。
Cao could live somewhere more expensive: but she prefers to invest what she earns in the future of her 23-year-old son, who plans to attend graduate school to study economics (she also has a 21-year-old daughter, who cost her a fine of three times the family's annual income, because she was born in violation of China's one-child policy).
曹秀珍本可以住在更好的地方,但她宁可把赚的钱投资于她23岁的儿子的未来。她的儿子计划读研,学习经济学(她还有一个21岁的女儿,因为生这个女儿违反了计划生育政策,曹秀珍被罚了一笔钱,相当于整个家庭年收入的3倍)。
"If my son can make Rmb5,000 a month, he will be more than willing to give me Rmb500 or maybe Rmb300 a month when I am old. But if he makes only Rmb2,000 a month, then he will not be willing," she says, assuming like most migrants in China that her son will be her pension. But it will be "quite a few more years yet" before her filial investment begins to pay off.
"如果我儿子一个月能挣5000元(人民币),当我老了的时候,他肯定非常愿意一个月给我500元或者300元。可如果他一个月只能挣2000元,他肯定不愿意给,"曹秀珍说。像中国的大多数农民工那样,曹秀珍理所当然地认为儿子就是她的养老保险。但她对儿女的投资还需要"好些年"才能产生回报。
So every morning she sets off on her tricycle-cart at 7.30am, and each night she returns home more than 12 hours later. From the neon towers, to the room that she calls a "hole", in the city that she calls "fabulous". But she's not complaining: at least it's warm in the winter — and definitely better than where she came from.
因此,在这个她说"太好了"的城市里,她每天早上7点半骑着三轮车出发,工作12个小时,天黑以后才从那些霓虹灯照亮的大厦回到她称为"窝"的家中。不过曹秀珍并不是在抱怨:至少在冬天,这个"窝"是暖和的,而且肯定比老家好得多。