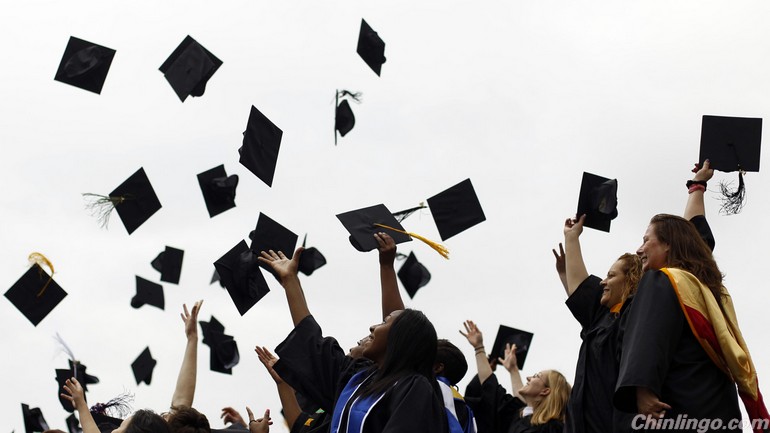 What's the hottest thing among the young European graduates and pre-graduate students in elite schools?
对于现在年轻的欧美名校毕业生和准毕业生来说,最"潮"的事是什么吗?
You would imagine they're all rushing into Goldman Sachs, Citibank and McKinsey, or taking a gap year to work as volunteers in Kenya and Cambodia, but in fact a lot of them are on their way to an internship (实习) in China.
事实上不是你想象的那样,一头扎进高盛、花旗、麦肯锡工作,也不是休"间隔年"去肯尼亚、柬埔寨当义工,而是到中国去实习。
If the world was a stock market represented by all countries, China would be the brightest potential market for the time being. The word "China" written on your resume now represents valuable life experience that will impress your potential employer.
如果全世界以国家单位组成一个股市的话,中国就是当下最炙手可热的潜力股。所以呢,简历上就出现"中国"两个字,是一种足以让未来雇主刮目相看的人生经历。
One of my friends, an elite student at the University of London as well as a hockey and football player had a one-year experience as a volunteer in Africa. However he still thinks it's not enough for him to enter a world-class law firm. Therefore he took an internship in a transnational law firm in Shanghai through an agency during his junior summer vocation.
我的一位朋友,伦敦大学优等生,还是曲棍球和足球健将,有过一整年的非洲志愿者经历。但他仍然觉得,这些还不够,不足以让他跨进一个世界一流律所。于是在大三暑假,他通过一家中介公司安排,去了中国上海的一家跨国律所实习3个月。
According to some agencies, internship in China has become an emerging flourishing business in European countries.
的确,"去中国实习"已经成为欧美国家一门蓬勃发展的新生意,有一些中介公司专事此道。
For the Western undergraduates who come to China for the first time without any Chinese language ability and no Chinese friends, it's difficult for them to live here. They need to live in China and immerse themselves in the local lifestyle, so that they can get an internship opportunity but living in China doesn't come that easy.
对于第一次到中国、不会一句中文、没有一个中国朋友的西方大学生来说,在中国生活工作并不是一件容易的事——他们不但需要实习机会,还需要融入生活。
For that reason, apart from giving internship opportunities, these agencies will also arrange local contacts to help them with all kinds of chores like apartment hunting, shopping in a supermarket, simple Chinese language learning and social activities.
因此这些中介公司除了联系实习机会以外,还会安排本地联系人帮助他们搞掂生活中的各种琐事:找房子、上超市、学习简单的中文,安排社交活动等。
Another friend of mine from a middle-class family knew little about China, he summed it up in three key words: long history, large population and economic miracle. But after three months he made lots of Chinese friends and became a fan of China, saying he might come back to work in China some day.
我的另一位伦敦中产阶级家庭出身的朋友,此前对中国的了解仅限于三个关键词:历史悠久、人口众多、经济奇迹。但3个月后,他不仅结交了一批中国朋友,还变成了"中国迷",还说不排除以后再回中国工作。
After graduation, he got an offer from a top law firm in London, and he said all people in the firm always asked him about his experience in China.
毕业后,他顺利拿到了伦敦一家顶尖律所的工作机会,而且他说所里的人都在问他在中国的情况。
This reminded me of the brave young men in Europe traveling to America to look for new opportunities a century ago. A century later China is becoming the next new world for European young people.
这让我想起,一个世纪前,欧洲勇敢的年轻人纷纷去美国寻找新机会。一个世纪之后,中国成了欧洲年轻人的下一片"新大陆"。