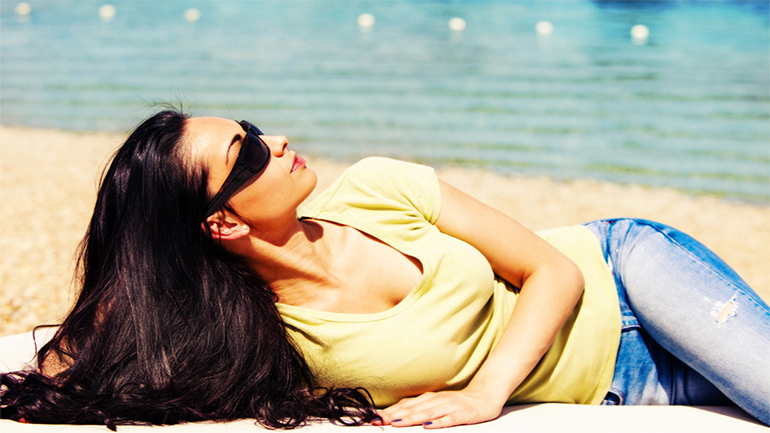 A Harvard study led some Chinese people to declare they were "black and proud."
哈佛一份研究在中国社交媒体上引发关于肤色的讨论,一些中国人说自己"皮肤黑但感到自豪"。
The study made headlines all over the world. Researchers at Harvard, led by Dr Alexandra Kimball, found that a lucky few people have a genetic makeup which protects their skin and can make them look years younger than their actual age.
这份研究引起世界各地的关注。由哈佛研究员亚历山德拉。金博尔博士领导的研究发现,少数幸运的人拥有这样的遗传构成,可以保护皮肤,甚至让他们看起来比实际年纪轻。
Although the research went beyond skin colour, one interesting side note of the study, not yet published but just presented at the World Congress of Dermatology in Canada, is that black people are twice as likely as white people to have the genetic combination for youthful skin.
虽然研究范畴不只集中在肤色一方面,但在加拿大皮肤科世界大会上提出一项有趣的附注,指黑皮肤的人比白皮肤的人多两倍机会拥有此遗传构成。
The study prompted discussion across social media. But, perhaps surprisingly to outsiders, it seemed to strike the strongest chord in China – because of the fact that pale skin has been traditionally associated with beauty.
此研究引起社交媒体的讨论。由于白皮肤一直被视为美的标志,此发现在中国引起的强烈反应或许会令外人惊讶。
more than four million more were reading about the study on popular accounts and thousands were discussing the study on China's Twitter-like microblogging service Weibo,
超过400万惯常使用社交媒体的用户曾浏览此研究,数千人在微博上讨论。
In a culture where darker skin has associations of inferiority, and people go as far as wearing face masks on the beach to avoid getting tanned, some darker skinned Chinese people felt emboldened by the study. One user, Jian Xian Ano said: "I am black and I'm proud."
身处一个以深色皮肤为耻,甚至在沙滩上戴上面具避免晒黑的文化中,一些深色皮肤的中国人因此研究而受鼓舞。其中一名用户写道:"我有深色皮肤,但我自豪。"
Others said paler skin would still be valued more in China, even if there's more chance of looking older. "In China, however, white skin is still regarded as beautiful," said user Track-08, a comment that was liked more than 200 times.
然而,有些人认为,即使白皮肤有更大机会使自己看起来更老,这肤色在中国仍受重视。用户Track-08写下一条得到超过200个赞赏的留言:"白皮肤在中国仍被视为美的代表。"
Several made the point that the study didn't include a break down by racial groups, but merely a comparison between black and white Americans: "They're talking about black people, not dark skinned Asians," says Only Becca Muyou Re.
有些人认为此研究没有包含种族分类,只是比较黑皮肤和白皮肤的美国人。只有名为贝卡·穆尤的网友回复道:"他们是说黑人,不是黑皮肤亚洲人。"
A few commenters replied with crude racial stereotypes, but there was some push back against traditional idea that paleness equals beauty, and vice versa. Jasmine Jing said: "People who are born white are white, born black are black, born with beautiful features are beautiful. People born with beautiful features are not necessarily white."
有少数评论者提到种族偏见,但亦有人反击有关"白就是美"的看法。杰西敏·京说:"人生下来是白皮肤便是白皮肤,是黑皮肤便是黑皮肤,拥有好的肤质便是美丽。人生下来就拥有的好肤质不一定是白的。"
Much of the chatter in this conversation was about comparing the skin tone of Western and Chinese celebrities. Notions of beauty are subject to change, of course, and in some Chinese cities, tanning salons are already starting to take off.
这些对话主要比较西方和中国名人,没有从科学方面争论。对美的看法渐渐改变,在某些中国城市,已开始流行"晒黑沙龙"。