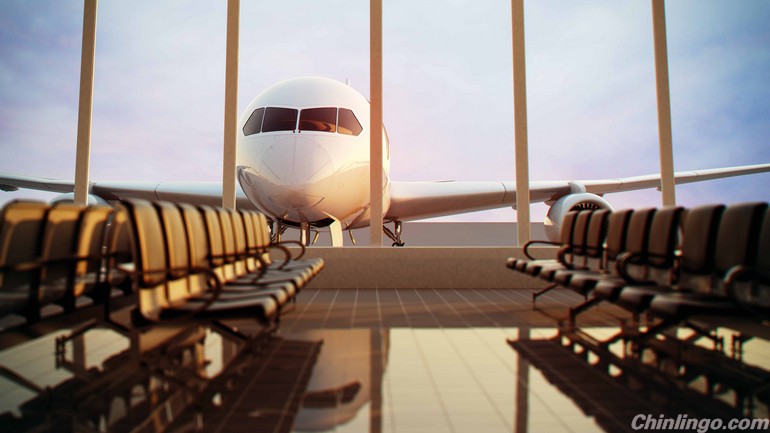 When Mangshi opened its airport two decades ago, the small tropical city on China's border with Myanmar was served by few airlines. China's recent travel boom has changed that – seven carriers brought in more than 1 million visitors last year.
在芒市机场20年前投入运营时,没有几家航空公司为这个位于中缅边境地区的机场开通航线。中国近来的旅游热改变了这一点——去年,7家航空公司带去了超过100万游客。
"We had a hard time attracting airlines in the early days," Li Ping, deputy chief of the airport's expansion steering committee, told Reuters. "Now we are struggling to accommodate flights."
芒市机场改扩建指挥部副总指挥李萍说:"刚开始的时候,吸引航空公司很困难。但现在我们正想方设法接纳航班。"
Mangshi is one of more than 60 inland airports under expansion, with another 30 new regional airports being built. Government planners estimate China's airports will increase to 240 by 2020 from around 200 today.
芒市机场是扩建中的60多个中国内陆机场之一,另外还有30多个新的地区性机场在建。据政府规划者估计,到2020年,中国的机场数量将由目前的约200个增加到240个。
Li Jiaxiang, head of the Civil Aviation Administration of China, said this week the country would invest $80 billion in aviation projects this year alone.
中国民航局局长李家祥称,仅今年一年,中国就将在航空项目上投入约800亿美元。
The aviation market is being lifted by rising business travel and a surge in outbound tourism fueled by an increasingly wealthy middle class in coastal and inland cities.
航空市场正受到商务旅行日渐增多和出境游人数急剧增加的拉动,刺激后者的是沿海和内陆城市中越来越富裕的中产阶级。
The number of leisure travelers going overseas for the first time topped 100 million in 2014, official data shows. Foreign travel is tipped to grow another 10 percent this year as the United States, France and Australia ease visa policies. That has prompted Air China, China Eastern Airlines and China Southern Airlines to fly to New York, Paris and Sydney from Nanjing, Wuhan or Chengdu, or at least with a stopover in those second-tier cities.
官方数据显示,中国出境游人数在2014年首次突破1亿人次。随着美国、法国和澳大利亚放松签证政策,中国的出境游人数今年预计将再增加10%。这促使中国的多家航空公司开通了由南京、武汉或成都飞往纽约、巴黎和悉尼的航线,或者至少经停这些中国二线城市。
China's so-called Silk Road initiative is also certain to boost traffic. Under the scheme, the government aims to extend its economic and political influence to neighboring countries. A network of railways, highways and new air routes are part of the plan.
中国的"一带一路"计划也必定会推升运量。在该计划中,政府的目标是将其经济和政治影响力延伸到邻国。一个由铁路、公路和新航线组成的网络是该计划的重要组成部分。
CAAC's Li said the country's airport expansion is supported by data showing rising passenger numbers.
李家祥称,数据显示乘客不断增加,这为中国的机场扩张提供了支持。
The aviation boom is boosting sales for global suppliers Thales SA, Indra Industries, Raytheon Co, Lockheed Martin Corp and Honeywell Aerospace.
航空业的繁荣正在增加包括泰雷兹公司、因陀罗工业公司、雷神公司、洛克希德-马丁公司和霍尼韦尔航空航天集团在内的全球供应商的销售额。
Thales has sold 40 air traffic management radars in China. It supplies ATM systems to the crucial Beijing, Shanghai and Guangzhou sectors, and has recently added Urumqi in Xinjiang to its client list.
泰雷兹公司已在中国售出了40套空管雷达。它为北京、上海和广州供应空管系统,不久前将新疆乌鲁木齐也加入了客户名单。
"Demand for navigation systems will be on the rise as more airports are built or expanded which will also result in more demands in ATM systems as well as surveillance technologies," Xia Jinsong, deputy chief executive officer with Thales China, told Reuters. "That means more business opportunity for us."
泰雷兹公司中国区副首席执行官夏劲松说:"随着中国建设或扩建更多机场,对导航系统的需求将会增加,这也将带来对空管系统以及监视技术的更多需求。这对我们来说意味着更多的商业机会。"