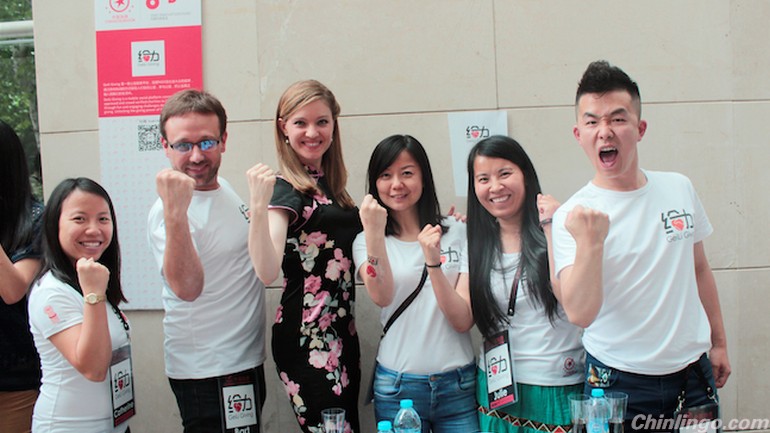 Elyse Ribbons from America has been staying in China for over a decade. During those years, Elyse, who can speak Chinese fluently, worked as an actress, host and she even studied traditional opera for 4 years in National Academy of Chinese Theatre Arts. Now she became an entrepreneur among her many other professions.
柳素英,一个美国女孩,来中国十多年了。这十多年间,她做过演员,做过主持人,还在中国戏曲学院进修了四年的戏曲,她说得一口漂亮的中国话。如今在她众多的身份之外,她又成为一名创业者。
In April, 2015 Elyse Ribbons established her company, "Geili Giving", aiming to build a beneficial social enterprise.
2015年4月,她建立了"给力"团队,立志要办成一个慈善性质的社会企业。
Elyse Ribbons loved the classic story of The Orphan of Chao, a play she learned in college. She said, "all ancient Chinese know the importance of righteousness, which they took as the quality more precious than life. I am convinced that Chinese people still possess that characteristic, but only grow numb in this modern commercial society."
柳素英很喜欢"赵氏孤儿"的故事,这是她在中国戏曲学院里学的一段戏。她说,"中国的古人都知道仁义的重要,并视作比生命更加珍贵的品质,我一直坚信这种血液至今还流淌在中国人的身上,只不过被当今的商业社会所麻木了。"
Compared with Western society, where these sorts of social enterprises are flourishing, in China Elyse Ribbons noticed the atmosphere for social charity is quite positive. An yet, not many companies are tackling the charity issues here.
对比西方社会,慈善性质的社会企业发达与兴盛,在中国,柳素英发现这里的社会慈善氛围真的很微弱。
For that reason, Elyse created a company named Geili Giving, a mobile service platform connecting civil non-profit organizations and ordinary Chinese people. The operating model is to allow users to play funny games to donate money. All funds raised on the platform eventually goes to non-governmental organizations.
柳素英因此发起了"给力",给力是一个移动服务平台,在平台的一端连接着草根公益组织,而平台的另一端则连接着中国普通老百姓的慈善爱心。而平台的运作方式则是让平台上的用户,通过挑战有趣的游戏,捐献自己的爱心,而最终这些募集的资金都会流向NGO。
Geili Giving wants to show that even regular Chinese people can use their own individual humble power to help public welfare and anyone else in trouble.
"给力"要彰显的是,每个平凡的中国人都可以用自己的微薄之力,帮助到社会公益,帮助到有需要的人。
Elyse Ribbons said, "Charity is a subtle issue in China. Many people want to participate but don't know how." In order to solve this problem, Elyse Ribbons hopes to introduce a mature operating mode of social enterprises in foreign countries to help assist local social services.
柳素英表示,"在中国,慈善是一个略显敏感的话题,很多人想参与,却显得无从下手。"面对这一难题,柳素英希望把国外成熟的社会企业运作模式引入中国,来帮助进行社会服务。
"Of course, we don't want to just copy Western rules. We'd like to understand China and be aware of its' specific national conditions." Elyse Ribbons admits that staying in China longer is making her more and more Chinese She said, "When I received the basic music training in college, my teacher tried to punish me. At first it was rather unpleasant, but later I realized that the stricter she was, the better my results got"
"当然,我们并不是照搬西方,我们也希望接地气,了解中国的国情。"柳素英表示,随着自己在中国待的时间越来越长,她的思维都开始"中国化"了。"在戏曲学院练基本功的时候,老师要打我,起初我非常不乐意,但是后来我发现,她越是严格,效果也就越好。"