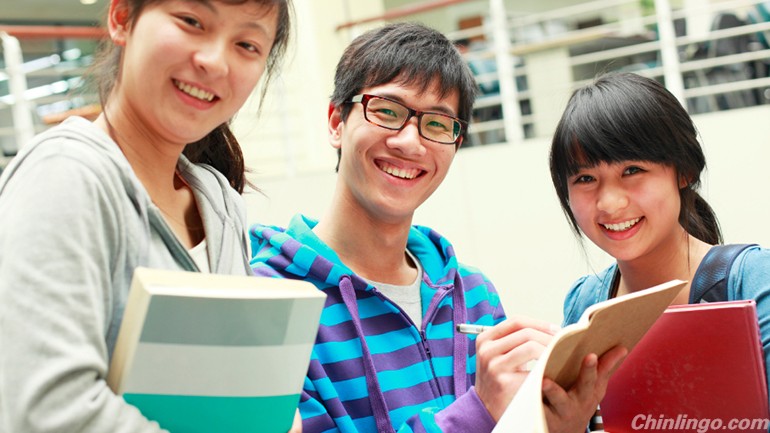 My weekly lunches with a foreign co-worker have too often degenerated into a recap of all of the 'rude' behavior that we have observed (or been subjected to) since we last met. Like being shoved into the side of a bus by a crowd or having someone almost run us over with their scooter as we crossed a campus street. Or seeing someone spit right in front of our shoes on the sidewalk.
和我国外同事的每周演讲都会常遇到一系列"粗鲁"的行为,就象我们过去遇到那些行为一样,被拥挤的人群推耸上车,或差点在街道校园被滑板车压过,或在人行道上看到有人在前面吐痰。
Sometimes we don't even have to talk about such behavior in the past tense. It is happening even as we eat lunch. A boy lets a door slam in a girl's face (and then they go and sit down to have lunch together). Or a boy is talking loudly on his cell phone right behind us apparently forgetting where he is.
有时候觉得在过去我们甚至不必去讨论这些行为。这些行为在进午餐时也会发生,例如一个男孩用力拉门猛打女孩脸(接着他们走到一起坐下来进午餐)或者一个男孩在我们后面大声讲电话,完全忘记了他在那里!
"Chinese people are just rude", my friend remarked to me recently. "People simply don't know how to be polite here".
中国人是粗鲁的,我朋友最近这样提醒我,这里的人们不知道如何变得讲礼貌!
I thought about this statement for a moment before responding. A few years ago, when I first got here, I probably would have wholeheartedly agreed with him. The pushing, shoving, spitting, peeing, yelling, cutting, obstructing, etc, was at first overwhelming for me.
在回答他前我考虑这种观点有一阵子了,几年前,当我第一次来到这里,我可能完全同意他的观点,因为推耸、吐痰、大小便、喧嚣、插队、拥堵等等第一时间我全遇到了!
In fact, if you have been a regular reader of my blog, you know that I have often vented my feelings about this kind of behavior.
事实上如果你常读我的博客,就会知道我过去经常在发泄对这类行为的不满。
But after being here for a few years, something bothers me about calling this behavior outright rude. I'm not sure anymore that it's fair to use that label.
但是在这里呆了几年后,对于公开地定义这类行为为粗鲁开始困惑了。不再确定用这个词是否公平!
"What does the word 'rude' actually mean?" I asked my friend. "Who decides what 'rude' means?"
我曾问我的朋友到底粗鲁是指什么?谁来决定粗鲁的涵义?
This very question has been bothering me for a while now. Thousands of foreigners come to this country each year and very quickly condemn Chinese culture as rude and uncivilized.
这个特别的问题困惑我有一些时间了,每年很多老外来到这个国家,很快他们就指责中国文化是粗暴的和野蛮的!
But aren't we making this judgement on the basis of a comparison between our cultures and Chinese culture? Are we not defining rude behavior as the opposite of the social norms in our countries?
可是,是否我们做这个判断是基于我们的文化和中国的文化作比较的呢?我们并没有站在他们文化的立场来定义粗鲁的行为?
And if so, is it not a bit arrogant to come here and tell the Chinese that they are rude?
既然如此,那来到中国告诉他们的行为是很粗鲁的就不是只有一点傲慢了?
I recently asked a group of students about the way that this uncouth behavior is perceived
我最近问我学生们对这些不礼貌的行为有何感想。
"Do you notice when someone pushes past you to get on a bus or when someone cuts in front of you at the bank because 'they're in a big hurry'"?
"你没有注意到当有人推耸着上车或有人在银行插队时是因为他们很着急么?"
Most of my students said no. Why would they notice or even care? After all, they have grown up in such a culture. These behaviors are just normal here.
大多数同学都说不是,为什么他们要关心或在意呢?毕竟,他们是在这样一个环境中长大的,这些行为在这里很正常!
Yet, I am unwilling to completely let the Chinese off the hook for their 'rudeness'. Aren't there some behaviors that should be condemned in every society? Like when an old person is knocked to the ground while everyone is rushing to catch a subway train? Or when a scooter darts out into the street without looking to see if a car is coming? Or when a child takes is allowed to take a pee right in the middle of the vegetable section in the supermarket?
然而,我不愿意完全将中国人与粗鲁脱钩?是否总有些行为应该在每个社会都会遭到指责呢?例如在每个人匆忙地赶地铁时有一个老人被推倒在地?或者一个玩滑板的在街上漂移时不注意行使车辆?或者在超市的蔬菜区有小孩被允许小便?
Or is that just my ethnocentrism kicking in again?
可能这仅仅只是我的民族优越感在作怪?
I suppose that at one time, like many other delusional foreigners, I somehow thought that I could contribute to changing the 'system' here. I thought that maybe I could help my Chinese students and friends to understanding that looking out for other people is also important.
有那么一次,象其他多数忘想的外国人一样,我在假想我能够为这个社会做出点变化。考虑我也许可以帮助我的中国学生或朋友明白来自于其他国家人民的看法同样重要!
Who was I kidding? And what was I thinking? This is not my country.
我在骗谁呢?我在想什么啊?这可不是我的国家!
In the end, you either have to accept the way the culture is here or get out. And if you accept it, it probably won't be along before it becomes a part of you.
最后,你要么不接受这里的文化行为,要么你就得滚蛋。如果你能接受,很可能不用多久,你身上也会有这些行为了!