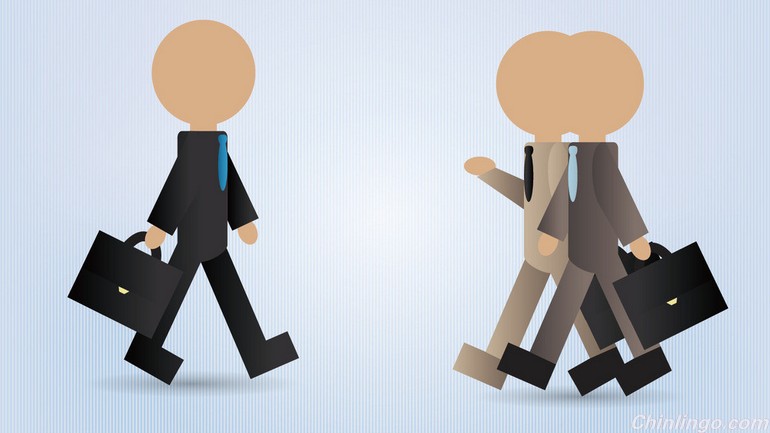 Tired of not putting that hard-earned degree to some good use while drilling those little, snot-nosed 5-year-olds in the ABCs for the umpteenth time? You've learned enough Mandarin to be dangerous, and now you're ready to play with the big kids in China, but you only have a liberal arts major with little in the way of work experience? Shelve that dream of being a high net worth expat or bigwig diplomat for now, such jobs are rare indeed, and require a lot of real work experience. The good news is that nowadays there are a ton of opportunities for Westerners in China, if you just learn to think out of the box a bit. The following are some realistic options for the average millennial halfpat:
1. English Editor/Writer/Journalist
This is a natural transition for an English teacher since you've hopefully, at least in the process of teaching it, achieved a strong command of the English language and grammar. Beijing alone has half a dozen English rags and a plethora of state-run English TV channels, radio stations, newspapers, and news portals blasting their message to the world. Increasingly, it helps a lot to have media experience, but there are always going to be openings as foreign drifters jump from one media outlet to another or finish their gap year in China. The beauty of working for these organizations is you can quickly expand your network and lay the groundwork for future opportunities. A potential downside are late or odd hours at some of these organizations such as newspapers and radio stations. Corporations are also desperate for native English speakers for technical writing, legal document translation, and coherent correspondence with their overseas clients. Some, less scrupulous writers work for college application factories where they churn out essays to help students apply to foreign universities.
2. Marketing Manager
Chinese companies have not yet figured out the difference between marketing and sales, so be prepared for a hybrid between the two or a pure sales job that is "marketing" in name alone. However, as companies such as Alibaba and Xiaomi look to expand their markets abroad, the demand for Western marketing expertise, particularly in SMO and SEO has started to increase. Don't know those acronyms? Well get cracking! Within China, international schools, luxury villas, sheik clubs, and high-end clinics have a need for native speakers with marketing savvy to lure in the rich, fat cat expat.
3. Project Manager
In the Chinese corporate world where managers rule their realm like a feudal lord and staff members have a dubious understanding of teamwork, there is definitely a dearth of quality project managers. In addition to laying out the scope and cost of a project, executing it, and ensuring its timely completion, you'll also need to become a master of QQ to communicate with your minions. Strong organizational skills, mastery of Gantt charts, and fluency in Mandarin are keys to success. Don't make the mistake of starting or expecting to complete a major project within a month radius before or after the Chinese New Year.
4. Voice Talent
Due to the insatiable thirst for the latest and greatest English learning materials in China, countless voice recording studios are ensconced in numerous high rise apartments dotting the capital city. The work may include but is not limited to voice acting for textbook dialogues, TV documentaries, advertisements, tourist audio guides, and dubbing for films. Every 张三李 (Tom, Dick, and Harry) will find themselves lassoed into a voice gig at some point or another, but most of these are low pay. To land more lucrative jobs, you'll need to raise your game by properly training your voice, creating a voice demo reel, and learning to sight-read and edit on the spot.
5. Actor or Model
The undeniable advantage of having a Western-looking face in China is that you can more quickly and easily get face time on TV and in commercials. Even if you don't consider yourself a handsome hunk or a buxom babe, don't worry, Chinese beauty standards for Westerners are very different than your home country. Get yourself a decent headshot and respond to a few ads in expat rags and who knows, you might find yourself on the set of a kung fu movie. Of course, acting and modeling are two completely separate disciplines at the higher level. Full-time Western actors in China take pride in their professionalism achieved through years of honing their craft. When most expats brag about getting into a movie or TV show, chances are they were just a low-paid, background extra. Landing the bigger, higher-paying roles takes a combination of skill and luck and establishing a good relationship with the right agent.
If you want to be a model, you need to be photogenic, tall (by Chinese standards) and in your 20s. You don't necessarily have to be an Adonis or Aphrodite, but you need to clean up nicely for the camera. You also need train in the mirror on facial expressions and poses, not just your "blue steel" but a variety of facial expressions.
6. Advertising Account Manager
Do people describe you as a "go-getter", "proactive", and "passionate"? Do you like a fast-paced, hyper-competitive environment? Well then, my comrade, advertising is for you! The advantage of looking for work in advertising is that they are always looking for new faces with a novel outlook. Experience is not as important as creative instinct and a high amount of energy and drive to land the next big fish or project. As Chinese and foreign companies alike are fighting a dog-eat-dog battle for the Chinese market, foreign ad agencies have a significant presence in 1st and 2nd tier cities looking for fresh foreign flesh.
7. Consultant
Ah the consultant, one of the most coveted positions because you can name your price and when people ask you what you do, it sounds mysterious, yet cool. The reality is that you have to be real road warrior, probably spending more time out of town than at home. The pay can make this worthwhile, at least in the short run before you have kids. It takes a combination of both excellent analytical abilities and people skills–and being able to knock out a slick PowerPoint "deck". It helps to have experience in a specific field to be a consultant of, but you also can fake it until you make as you go along "consulting".
8. Entertainer
In November of 1988, Da Shan(大山, Mark Rowswell) set foot on the stage on the annual TV extravaganza and uttered his first cross talk words in front of half a billion Chinese opening the floodgates for many waves of foreign entertainers trying to follow his footsteps. Nowadays, all manner of singer, dancer, musician, magician, and comedian find work in China's burgeoning entertainment scene, both on stage and TV. After doing almost all of these jobs on this list over 20 years in China, American magician and clown, Christopher Parsons, who goes by the stage name "Mr. Magic" (pictured at top competing on BTV's "The China Hand Show" as Elvis), says he prefers live stage shows because of "the interaction with the crowd and getting to hear their laughter."
9. Trading Company Sales Manager
With everything "made in China", why not get a piece of the pie and ride the gravy train with one of the countless trading companies that hookup Chinese suppliers with Western buyers? Once you learn the trade-related Chinese lingo, day-to-day work is mostly turning emails and other correspondence from Chinglish into something resembling English. Depending on the company and the number of clients, an aggressive, salesy personality may be necessary to survive and get ahead by landing new accounts.
10. Translator
Long gone are the days when being a native English speaker fluent in Chinese ipso facto garnered a high wage. With 250,000 Chinese at American Universities a year, there's a lot of Chinese that speak excellent English and with 750,000 students taking the HSK a year, foreigners are getting pretty darn good at Chinese. The key to success in translation is establish expertise in an industry such as energy, IP law, or gaming. Many companies that are localizing their content into English for the overseas market; the drawback is that work hours will probably be long. The advantage of freelance translation work is that you can set your own hours and are not locked into a particular location.
On the opposite extreme is simultaneous interpretation, which demands being able to memorize what the speaker is saying at the moment and then translate what was said 5-10 seconds ago, not to mention public speaking skills and a complete arsenal of idioms and colloquial expressions. Due to the surplus of Chinese college graduates, the pay is not high in comparison to the stress level.