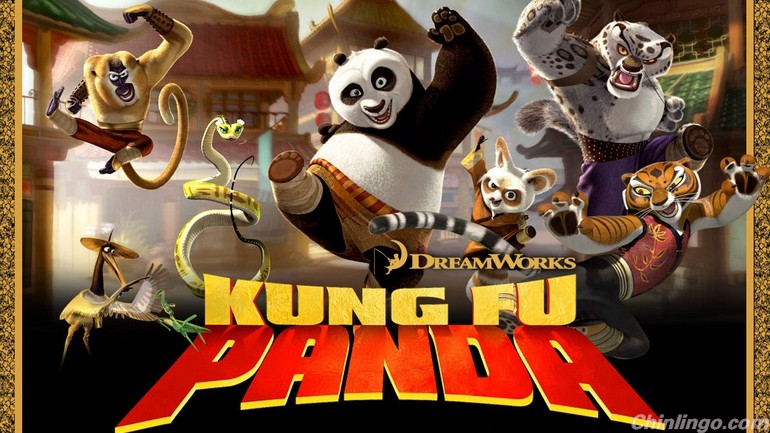 On the 16th floor of a Shanghai office building, dozens of fresh-faced young animators are studying painting, sculpting and acting.
在上海一幢写字楼的16层,数十名面带稚气的年轻动画制作人在学习绘画、雕塑和表演。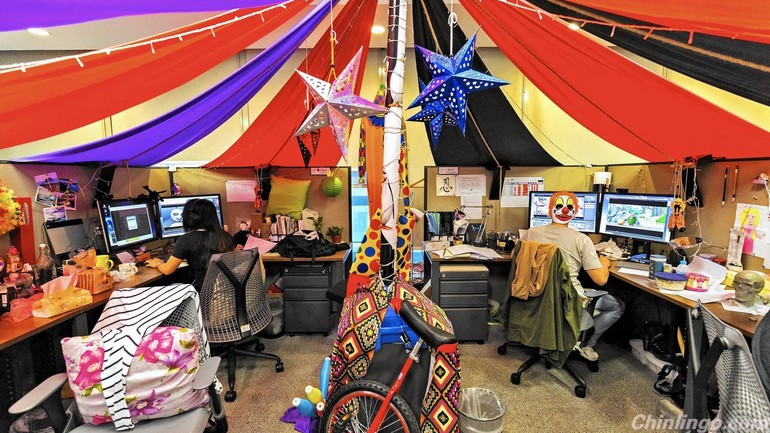 They're participating in film-appreciation workshops — Woody Allen's "Match Point" was a recent pick — and learning the latest software tools. Teaching them via video connections were some of the most experienced artists in Los Angeles, veterans who brought to life hits such as "Shrek" and "Madagascar."
他们正在参加电影鉴赏培训班——最近挑选的影片是伍迪·艾伦的《赛末点》,并学习最新的软件工具。通过视频连线方式为他们授课的是几位洛杉矶经验最丰富的艺术家,这些资深电影人制作过《怪物史莱克》和《马达加斯加》等热门影片。
But it won't take years for these newbies, many of them recent art-school grads, to get their big break working on a Hollywood blockbuster. As employees of Oriental DreamWorks, they're already staff artists on "Kung Fu Panda 3," set for release in January.
但用不了几年时间,这些新手——其中很多人刚刚从艺术学校毕业——就将有幸直接参与好莱坞大片的制作。作为东方梦工厂影视公司的雇员,他们已是定于明年1月公映的影片《功夫熊猫3》美术团队的正式成员。
The runaway success of the "Kung Fu Panda" franchise inspired both awe and envy for Chinese who wondered how Americans came up with a billion-dollar global phenomenon that combines two quintessential elements of Chinese culture — a bumbling black-and-white bear and martial arts.
《功夫熊猫》系列电影的巨大成功让中国人感到既羡慕又嫉妒,他们想知道:美国人是如何制作出一部兼具大熊猫和武术这两项中国文化精髓元素、又实现超高票房收入的全球卖座大片的。
That sense of admiration and frustration helped smooth the way for DreamWorks Animation Chief Executive Jeffrey Katzenberg to create Oriental DreamWorks in 2012, a $330-million joint venture without precedent in the entertainment industry.
这种钦佩与失望交织的情绪为梦工厂动画公司首席执行官杰弗里·卡曾伯格在2012年建立东方梦工厂影视公司铺平了道路。这是一家投资3.3亿美元、在娱乐行业没有先例的合资企业。
"Being able to be a bit of a pioneer in that market, I think could be incredibly and uniquely valuable for us," Katzenberg said in an interview. "If we succeed, it could be a game changer for us."
卡曾伯格受访时说:"能在这个市场上稍稍领先一步,我认为对于我们来说将具有难以置信和独特的重要性。如果我们能取得成功,这对于我们来说可能是扭转全局之举。"
Hollywood studios have been scrambling to expand their business in China to capitalize on a booming box office, which is expected to overtake U.S. box-office receipts by 2018. DreamWorks is in an enviable position: The $96.3-million haul for the second installment of "Kung Fu Panda" in 2011 still stands as the highest gross ever for an animated film in China.
好莱坞电影公司一直在争相扩展在中国的业务,以便从中国不断激增的票房中获益。预计中国电影票房规模到2018年将超越美国。梦工厂处在一个令人嫉妒的位置:2011年《功夫熊猫2》在中国狂揽9630万美元,这至今仍是有史以来动画片在中国取得的最高票房收入。
The creation of Oriental DreamWorks has already resulted in preferential treatment for "Kung Fu Panda 3" in China. The movie's recent designation as co-production will allow the company to receive a larger share of revenue than foreign studios typically receive when their films are allowed into China under its quota system.
东方梦工厂影视公司的成立已经让《功夫熊猫3》在中国受到优待。该片最近被确定为合作片,这一身份将使梦工厂得以获得较高比例的票房分成。而通常按照中国的配额制度,外国影片在获准进入中国市场上映时,电影公司所获得的票房分成并没那么高。
Third installments in even the most successful franchises are far from sure bets, but the studio is making every effort to boost the film's odds of being a hit with Chinese audiences. The movie is breaking new ground by having two versions, in which characters are animated so that their speech is in sync with both English and Mandarin. To create the Mandarin-language version will take about 25% more time and effort, adding to the budget of the film that's estimated near $140 million.
即便对最成功的电影系列来说,第三部影片的票房成功也远非十拿九稳,不过梦工厂正在尽一切努力增加影片获得中国观众青睐的机会。该片将破天荒制作两个版本,两个版本中同一个人物的动画形象将经过不同处理,以便使人物的口形与所说的英文或中文相匹配。制作中文版本将多耗费25%的时间和精力,从而会增加影片的预算。这部影片的预算估计将接近1.4亿美元。