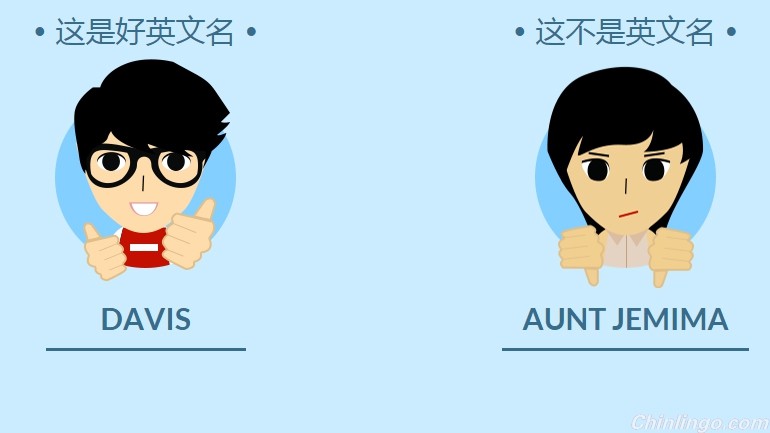 Mosquito, Circle, Tomato-Chinese people come up with strange English names at times, names that can baffle foreign employers and even cost them their chance of securing a high-profile job.
蚊子、圆圈、西红柿——中国人这些奇怪的英文名有时会让外国雇主感到很困惑,有时甚至因此错过一份待遇丰厚的工作。
An American expatriate in Shanghai saw an opportunity here and decided to launch a consulting business on the best choice of English names.
在上海生活的一位美国人发现这一商机,决定建立一个咨询网站,为人们提供更恰当的英文名。
Lindsay Jernigan from Memphis, Tennessee, asks her clients to answer 10 questions on her website (BestEnglishName.com) to help them nail down a suitable name with minimum fuss.
来自美国田纳西州孟菲斯市林德塞·杰尼根建立了一个网站BestEnglishName.com,让顾客回答十个问题,帮助他们确定一个不易引起误解并且合适自己的名字。
After paying 15 yuan ($2.5) by Alipay, China's version of PayPal, they get a choice of five recommended names. Since September, her website has been visited 20,000 times. About 1,800 people have paid to see what answers the quiz yields.
只需通过支付宝支付15元人民币(2.5美元),他们就可以获取5个推荐的名字。2014年9月份以来,共有20000人访问该网站,约有1800人通过付款起名。
About 200 people have forked out more money-120 to 200 yuan ($19 to 32) each-to consult with Jernigan in person or through QQ, a popular online chatting tool in China. Most plan to study or live abroad.
约有200人愿意付更多钱——120-200元不等(约19-32美元)——亲自或通过QQ向杰尼根咨询。这些人中多数打算到国外学习或生活。
Jernigan started her business one year ago when she realized how an inappropriate name could create an awkward first impression and even cost people a shot at a job.
一年前杰尼根意识到不合适的英文名可能会给人留下不好的印象,甚至使人丢掉一份工作。于是,她开始着手经营自己的业务。
She told the story of one young man who was not even granted a job interview by one of Jernigan's friends because he put the name Kaka on his resume in homage to the Brazilian football player.
她讲了一个年轻人的例子:这个年轻人在简历中用了足球运动明星卡卡(KaKa)这个英文名,年轻人甚至没能进入她朋友公司的面试。
The friend found the name strange and inappropriate. It conveyed the impression that he would not be able to handle himself well with foreigners in a social setting or mixed working environment, Jernigan said.
杰尼根说道,她的这位朋友觉得这个英文明很奇怪,也不合适。给人留下的印象是:他在社交场合或复杂工作环境中不能很好地与外国人相处。
Food is another popular choice in China, with many women wanting to be called Apple or Cherry, she said.
杰尼根说道,中国人喜欢的另一类英文名是食物类,许多中国女性喜欢喜欢给自己起名"苹果"或"樱桃"。
Suhail Nasir, who hails from Pakistan but has lived in Shanghai for 10 years, said he and his friends in Shanghai find some local people's English names "hilarious". He said he once had to persuade a colleague at Alcatel Lucent to change his name from Coke to Robert.
来自巴基斯坦的苏海在上海生活了10年。他表示,他和他上海的朋友发现一些当地人的英文名字很"搞笑"。他讲道曾劝一位在阿尔卡特朗讯工作的的同事把名字从可乐改为罗伯特。
"This is an idea that many people had before, but no one thought it could be a profitable business," he said. "I'm just surprised that (Jernigan) actually managed to make a business out of it."
"这个想法许多人都有过,但没有人认为这是一个有利可图的商机,"他说道。"杰尼根竟把它做成了一门生意,我感到很吃惊。"
English names are common in big international cities like Shanghai because many non-Chinese find it hard to read or pronounce Chinese names, said Zhao Ronghui, a director of the Institute of Linguistics at Shanghai International Studies University.
上海外国语大学语言学研究院副院长赵蓉晖认为,英文名在上海等大型国际化城市很普遍,因为外国人很难发准汉字读音。
English-speaking people usually adhere to a pool of names that may have their origins in the Christian Bible or popular Western mythology, whereas, technically speaking, any Chinese character can be used in a Chinese name.
说英语的人使用的名字常可从基督教《圣经》或西方流行神话中追溯源泉。然而,从技术上说,任何汉字都可用来起汉语名字。
Such rules do not apply when choosing an English name, however. Rather than choosing something humdrum, Chinese are just as likely to pick something that has a specific meaning for them-such as their favorite foreign sports star or fruit.
在选英文名字时这些规则并不适用。但他们并不选用单调无意义的名字,而是选择对他们而言有独特意义的——比如他们特别喜欢的外国运动明星或水果。
Jernigan said most of her clients want a name that is unique and easy to pronounce. They pay far more attention to the meaning than their Western counterparts, who may not even be aware their own name is Bible-derived or has another meaning.
杰尼根说道,大多数顾客想要一个意义独特、发音简单的英文名。他们更关注字面意义而不是名字在西方有什么渊源,他们甚至没有意识到自己的名字可从圣经中找到出处或有其它含义。
"Young Chinese have a strong sense of self-awareness. They also hope their English names will be cool, like their names online," Fang Yongde, an associate professor of intercultural communication at Shanghai International Studies University, said.
上海外国语大学国际教育学院副教授方永德说道:"中国年轻人自我意识很强,希望有很酷的英文名,像他们的网名一样。"