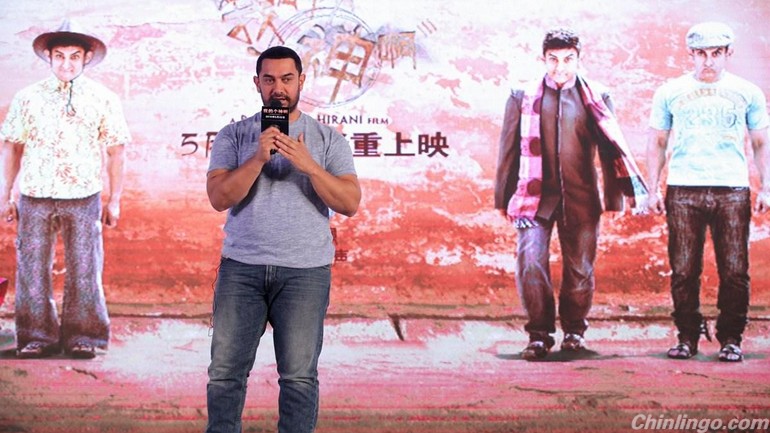 For film makers who have been eyeing the Chinese market for long, Raju Hirani's PK could be the tipping point they have been waiting for, after the Aamir Khan starrer collected more than Rs 100 crore at the box office, reaffirming their faith in the potential of Chinese film market.
对一直关注中国电影市场的海外制片商而言,印度导演拉库马·希拉尼执导的《我的个神啊》可能是他们期待已久的一个转折点。这部由阿米尔·汗主演的电影在中国票房市场吸金10亿卢比,这再次坚定了他们对中国电影市场潜力的信心。
"When I went to China, I discovered that a lot of people had seen other films of mine, which had not been released locally. It showed them to be an open culture and society, interested enough to actively search other cultures. As for PK's success, to me it is actually the first Indo-Chinese co-production. It was a double performance. While the visual was me, the audio was by Wang Baoqiang, a leading actor in China who was I think very generous to do this film." said PK's star Aamir Khan.
《我的个神啊》男主演阿米尔·汗说:"我来到中国,发现很多人已看过我主演的其他电影,尽管这些电影还未在中国公映。这表明他们有开放的文化和开放的社会,非常有兴趣去主动探究他国文化。就《我的个神啊》所取得的成功而言,这是一次合作表演。影片人物是由我主演的,王宝强配音,他是中国的一流演员,而且非常大度地为该片配音。"
China offers a huge theatrical opportunity for any film in the world. "With an average ticket price of $8, any traction that our Hindi films see in this market is going to see a significant spike in the international collections," said Priti Shahani, president of Junglee Pictures, whose Dil Dhadkane Do, will be the next Hindi film to release in China.
中国为全球电影提供了巨大机遇。印度"丛林居民"电影公司总裁普里蒂·沙哈尼说:"中国影院的平均票价为8美元,任何一部在中国市场受欢迎的印度电影都会获得全球票房收入的显著增长。"该公司将拍摄下一部在中国公映的印度电影。
Vijay Singh, CEO OF Fox Star, says the performance of PK has shown that good Bollywood content has a market in China. "Over time, as the Chinese market opens up to more Hindi films, it can redefine the economics for Bollywood," said Singh.
印度福克斯—星空电影制片公司执行总裁维贾伊·辛格说,《我的个神啊》取得的成绩表明,宝莱坞的好故事片在中国有市场。辛格说:"随着时间的推移,中国市场将向更多印度电影开放,这会重新定义宝莱坞的经济学。"
Another key element that was factored in while strategising PK in China was tailoring the content to Chinese audience sensibilities. The trailer was reworked and Hirani worked on creating a version which appealed to the Chinese.
一个重要因素是根据中国观众的口味,量身订制内容。《我的个神啊》的预告片被重新剪辑,希拉尼制作了一个吸引中国观众的新版本。