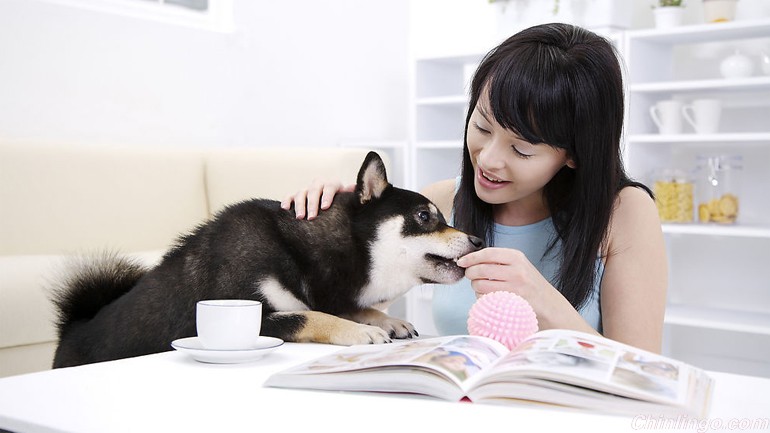 Shanghai bank employee Frances Chen spends about a fifth of her monthly salary on her poodle Cookie, one of the millions of pet owners turning China's pet care industry into one of the fastest growing industries in the world.
上海银行职员弗朗西斯·陈把工资的五分之一都花费在了她的狮子狗Cookie身上。与她类似的千千万万的宠物爱好者推动了宠物护理行业的蓬勃发展,使之成为世界上发展最迅速的产业之一。
Chen takes Cookie to a groomer for a weekly shower and feeds it imported food, costing her some 2,000 yuan ($320) a month. "I want to give him the best," said the single, 26-year-old who lives with her parents. "He's our kid. The only difference is that he can't speak human languages."
陈每周带Cookie去宠物美容师那里沐浴,喂食的都是进口狗粮,每个月要花费2000元(约合320美元)。26岁的陈小姐是单身,与父母一起居住,她说:"我想给他最好的。他就像我们的孩子。唯一的区别就是他不会说话。"
Having a pet has now become a symbol of financial success in China, where consultants Euromonitor forecast the pet care sector to grow by more than half to 15.8 billion yuan ($2.6 billion) by 2019, outpacing the world's biggest market the United States, which is expected to grow just over 4 percent this year to $60.6 billion.
如今在中国,拥有一只宠物成为经济上小有成就的标志。根据咨询公司欧睿国际的预测,截止到2019年,中国的宠物护理行业会增长一半以上,达到158亿元(约26亿美元),增速超过美国。作为全球最大的宠物护理市场,美国今年预期增长4%达到606亿美元。
Dogs are by far the most popular pets and dog food sales alone are expected to almost treble to over $760 million by 2019, Euromonitor data shows, as higher disposable incomes make keeping a pet an affordable luxury for more Chinese, particularly in more developed cities.
目前狗狗是最受欢迎的宠物,截止到2019年狗粮销售量有望提高三倍,达到7.6亿美元,欧睿国际数据显示,随着可支配收入的提高,对与大多数中国人来说,养宠物成为一种平价奢侈品,这种现象在发达国家也很常见。
The loneliness and stress endemic to city life are also driving the pet ownership boom: last year, some 30 million households, or nearly 7 percent of the nationwide total, owned a dog, Euromonitor said.
城市生活的孤独和压力,使得饲养宠物的人大大增加。去年,养狗的家庭达到了三千万,占全国总人口的百分之七。
Matthias Berninger, Mars global head of public affairs, said there was plenty of room for growth in China's pet food market, which was already expanding beyond most industry expectations.
玛氏全球公共事务负责人Matthias Berninger表示,中国宠物食品市场仍有很大发展空间,大大超出大多数行业的预期。
The U.S. firm renowned for its confectionery owns pet food brands including Pedigree and Whiskas.
美国玛氏全球因其甜点而闻名于世,拥有自己的宠物食品品牌,如宝路和伟嘉。
Mars was the market leader in China two years ago with a two-thirds share, according to the latest Euromonitor data. Nestle-owned brands were second with just over 16 percent followed by local firm Nory Pet Co Ltd with an almost 7 percent share.
据欧睿国际最新数据显示,两年前,玛氏占领了中国市场的半壁江山,占三分之二的市场份额。雀巢名列第二,占16%的市场份额,紧随其后的上海诺瑞,占7%的份额。
"There is huge demand for pet food as owners give up feeding their dog rice and meat and switch to proper pet food," said by Chen Xiuqiang, sales manager at pet food importer and distributor Guangzhou Mudi Trading Co Ltd.
"随着人们不再以简单的米肉喂食宠物,转而寻求更适合的宠物食品,未来宠物食品的需求量将大大增加。"宠物食品进口商和分销商广州牧迪贸易有限公司销售经理陈修强,在接受采访时这么说。