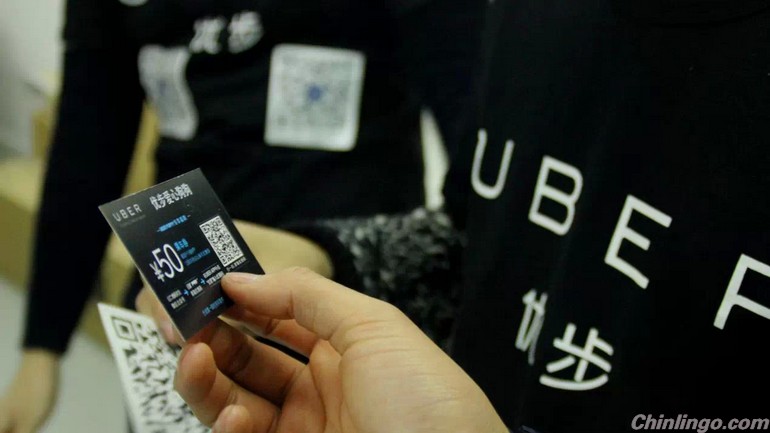 Uber is spending money at a breakneck rate to crack the China market — even paying its drivers more than the fares they collect.
优步正在以极快的速度投入资金,进军中国市场——甚至在提供比司机赚取的车费还要高的补贴。
Fat with almost $6 billion in venture capital, Uber, based in San Francisco, is doling out bonuses up to three times the amount of its fares, in a bet that its exceptional rise in the United States can be matched in China.
总部位于旧金山的优步坐拥将近60亿美元的风险资本。它给中国司机发放的补贴至多达到乘客车费的三倍,希望借此在中国市场上复制它在美国的惊人崛起。
So far, its strategy is working, shattering prevailing assumptions that young American tech companies cannot compete against local rivals.
到目前为止,优步的策略发挥了作用,推翻了盛行的一种说法,即新兴的美国科技企业无法与中国当地的对手展开竞争。
The spending spree has attracted droves of drivers like Jacky, a systems analyst at an international telecommunications company, who recently began moonlighting for Uber with his Ford Fiesta in Shanghai. In late May, Uber said it had created more than 60,000 jobs in China over the past month.
发放优厚补贴的热潮吸引了大批司机,比如在一家国际电信公司担任系统分析员的杰基。他最近开始成为优步的兼职司机,在上海开着自己的福特嘉年华赚外快。优步在5月底宣称,公司过去一个月在中国创造了六万多个就业机会。
Though other ride-hailing services also offer driver bonuses, Jacky said Uber pays the most. In the first three weeks of May, he said, he made the equivalent of about $1,000 from Uber — or almost half of his $2,100 monthly salary at the telecommunications company — with the majority of his earnings as a driver coming from the subsidies.
虽然其他打车软件也为司机提供补贴,但杰基表示,优步给得最多。他透露,在5月的前三周里,他通过优步获得了大约1000美元的收入——几乎是他在电信公司的2100美元月薪的一半。作为司机,他的大部分收入来自优步提供的补贴。
Yet more affluent and cosmopolitan Chinese have flocked to Uber's service, attracted by fares that are on average at least 35 percent cheaper than taxis, with the cars generally more luxurious than cabs and drivers who offer free water and are typically more polite.
不过,越来越多富裕而国际化的中国人纷纷开始使用优步的服务。他们被优步的质优价廉吸引。优步的乘车费用平均比出租车的车费低至少35%,而提供服务的汽车又通常比出租车高档,司机会提供免费的水,一般也更有礼貌。
In the central Chinese city of Chengdu alone, Uber has attracted 20,000 drivers since 2014, compared with 26,000 in New York City who have come aboard since 2011. Travis Kalanick, Uber's chief executive, is teaming up with the Chinese Internet giant Baidu and making multiple visits to the country, including one last month to the provincial capital of Guiyang in the southwest.
从2014年开始,优步仅在中国中部城市成都就吸引了2万名司机,而在纽约市,从2011年开始提供服务算起,累积的数字为2.6万。公司首席执行官特拉维斯·卡兰尼克正在与中国网络行业的巨头百度开展合作。他多次访华,上个月还曾到访位于中国西南部的省会城市贵阳。
Uber began tests in China in late 2013 in the southern cities of Guangzhou and Shenzhen, focusing on a service that would let people hail rides from licensed limousine companies. Instead of following other Western tech firms, which at times have relied on foreign managers with little knowledge of China, Uber hired and empowered local people to act as managers to run city operations as they saw fit. It now operates in nine Chinese cities.
优步从2013年年底在中国南方的广州和深圳开始试运行,只提供让用户从有执照的豪车公司叫车的服务。西方科技企业时常会依赖对中国毫无了解的外国经理人,但优步没有遵循这一路线,它聘请本地人才从事管理岗位,让他们放手用自己觉得最佳的方式去运作。现在优步在中国的九座城市运营。
The company also took a more cautious, cooperative approach in China, unlike in other countries, where it has brazenly flouted authorities. In December, Uber sold a stake in itself to Baidu and began working to offer its service directly on Baidu's popular maps application. Uber recently earned praise from the head of a major Chinese Internet industry group for behaving more like a Chinese company than like an eBay or an Amazon.
在别的国家一向敢于公然挑衅权威的优步,在中国采取了一种更谨慎、更合作的态度。去年12月,优步向百度售出了一部分股份,并开始在百度很受欢迎的地图应用中直接提供优步服务。中国一家主要互联网行业团体的负责人最近称赞优步更像是一家中国公司,而不是像eBay和亚马逊那样。
"We're particularly optimistic in China," Mr. Kalanick said in a speech in China last month. "I've just seen cities everywhere and have found that mayors and city governments are far more focused on progress in their cities here in China than I've seen elsewhere, and it makes me incredibly optimistic."
"我们对中国尤其乐观,"卡拉尼克上个月在中国的一次演讲中说。"我在很多地方见到过很多城市,我发现在中国,市长和市政府与我在其他国家见到的相比,都远更关注于自己城市的进步,这让我异常乐观。"